Flande fans eight in Rockies' loss to Cubs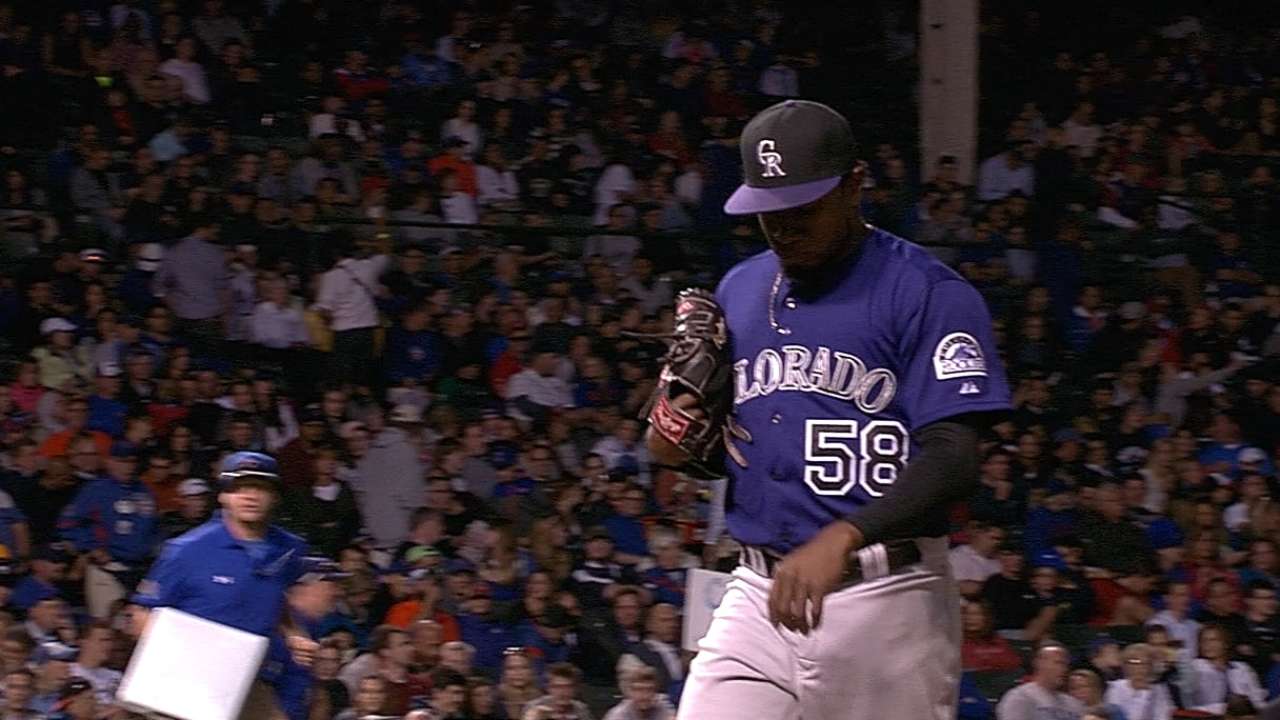 CHICAGO -- Monday would have been a night for the Rockies to celebrate the fine accomplishments of left-hander Yohan Flande if not for the fact his performance didn't stop them from falling to the bottom of the National League.
A fill-in starter in a rotation crushed by injury, Flande pitched like a keeper -- eight strikeouts, four hits, one walk -- intentional -- and two runs in 6 2/3 innings, four outs longer than any of his previous four Major League starts. But the Rockies didn't come close to solving Cubs lefty Tsuyoshi Wada during his seven innings and lost, 4-1, at Wrigley Field.
"Flande did an outstanding job, got us deep in the game -- that's what we needed tonight," manager Walt Weiss said. "He did his part."
The loss allowed the Cubs to leapfrog the Rockies and take the 14th spot among NL teams. At least the Rockies have three more games against the Cubs to escape the league cellar.
Wada (1-1), who earned 107 wins in a nine-year career with Fukuoka in Japan but on Monday took just his first Major League "W," held the Rockies to one run on five hits and struck out six.
"There's obviously some deception there. He had a good changeup, and we certainly didn't get to him," Weiss said.
Wada struck out leadoff man Charlie Blackmon looking and DJ LeMahieu and Carlos Gonzalez swinging to begin the game.
"And we're not talking about bad hitters over there -- we're talking about guys hitting .300 and .280," Cubs catcher John Baker said.
The Rockies' bench was short because Drew Stubbs' left foot, which he hurt while hitting a home run on Friday night, was still sore, and Josh Rutledge, who has gone 13-for-35 while filling in at shortstop for Troy Tulowitzki, was a late scratch because of illness. But no matter who has or hasn't been in the lineup, the Rockies have struggled on the road and are now 16-34 away from Coors Field.
And the bullpen once more was an issue. A one-run deficit grew in the bottom of the eighth when Nick Masset gave up two runs on four hits.
"I didn't think too many of us thought about being [short-handed]," said Nolan Arenado, who drove in the Rockies' sole run. "We're short in a lot of ways. We've been short this whole year. I don't think it crosses anybody's mind. We've still got to come out and do our job."
The Rockies were undone by a 1-for-8 performance with runners in scoring position. The one hit was Arenado's two-out single with runners at first and third and two out in the sixth.
The most frustrating at-bat came in the eighth. Corey Dickerson singled and eventually reached third, but Gonzalez lined hard into the glove of first baseman Anthony Rizzo with the score 2-1.
"It came down to the fact that we couldn't put a crooked number up there," Weiss said.
But it was still a big night for Flande (0-3), who continued the most positive trend for the Rockies -- decent starting pitching since the All-Star break.
Jorge De La Rosa (who will start on Tuesday night), Brett Anderson and rookie Tyler Matzek have gone 3-0 with a 2.04 ERA, 34 strikeouts and 13 walks in 39 2/3 innings in a combined six starts.
De La Rosa is the Rockies' top starter, Anderson was a key trade acquisition and Matzek is a former top Draft pick (2009). Flande debuted this season after a long Minor League career, but on Monday he fit right in with the heralded pitchers.
Flande faced the minimum nine batters over the first three innings. He gave up a single to Emilio Bonifacio and a double to Arismendy Alcantara to open the fourth, then surrendered runs on Rizzo's fielder's-choice grounder and Justin Ruggiano's sacrifice fly.
He retired 10 of his final 11 batters.
"I held a little bit more against those hitters that had a leg kick, like Junior Lake and Starlin Castro, and I did pretty well throwing my fastball inside," Flande said, with catcher Wilin Rosario interpreting.
Thomas Harding is a reporter for MLB.com. Read his blog, Hardball in the Rockies, and follow him on Twitter @harding_at_mlb. This story was not subject to the approval of Major League Baseball or its clubs.