Reds held to six hits in 15-inning loss to D-backs
Mesoraco's homer in second provides lone run; Bailey goes eight solid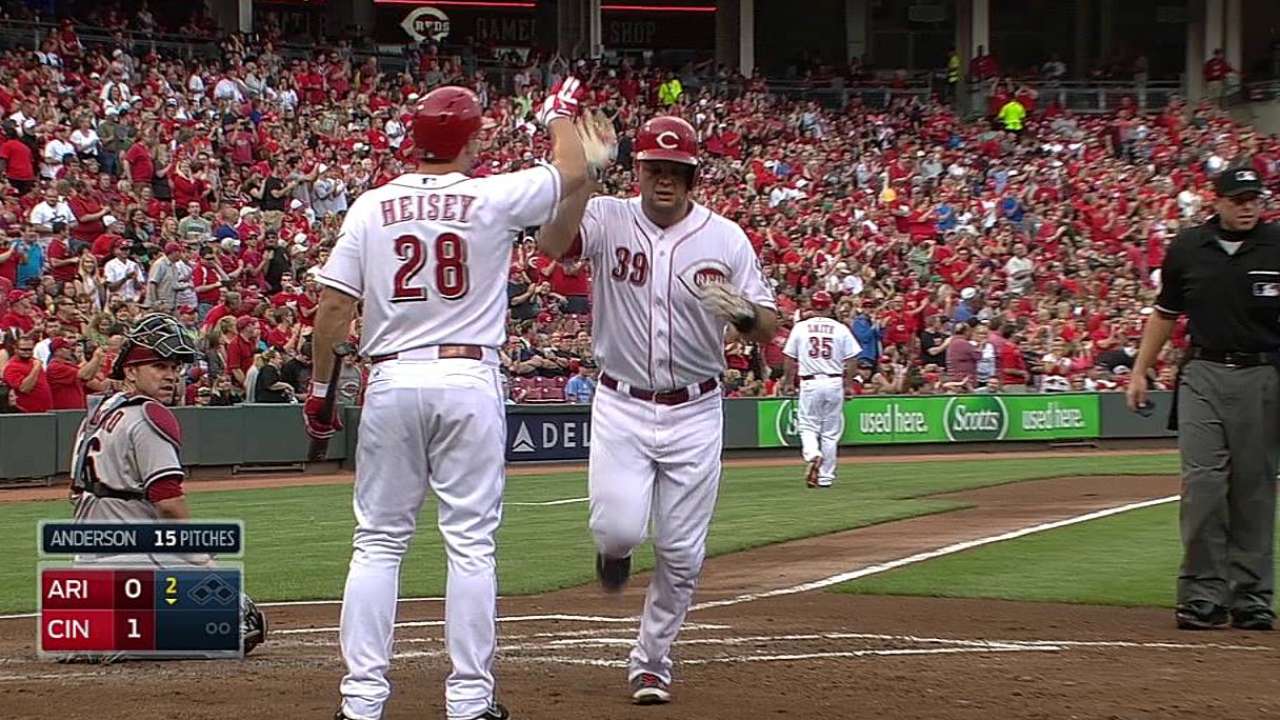 CINCINNATI -- As the Reds near the non-waiver Trade Deadline on Thursday, they've showed that they need more than just a bat to reverse their post-All Star break swoon.
That could not have been more apparent than during a six-hit effort over 15 innings before the Reds were handed a 2-1 defeat by the D-backs at Great American Ball Park on Monday night.
"I can't be critical of the effort, because it's been outstanding. But we're not producing, at all. And we need to," Reds manager Bryan Price said. "We can't waste this type of pitching. You can't play a game like that in this ballpark and play 15 innings and score a run. That can't happen."
Cincinnati, which has dropped nine of its last 10 games, has scored only 17 runs in that span -- an average of 1.7 runs per game. Three of the last four games, including Saturday's 1-0 win, have seen only one run produced.
The Reds are batting .171 since the break and .100 (6-for-60) with runners in scoring position. Now 52-53, it's their first time below .500 they were 36-37 on June 21. Of course, there is no assurance one bat, or multiple ones, can be added to help at this point.
Reliever J.J. Hoover was back for his second inning of work when he walked Martin Prado with one out in the 15th. Prado moved to second base on a Didi Gregorius groundout to first base where Brayan Pena fell down as he snagged the ball and had only the play at first. A Nick Ahmed single to left field provided the go-ahead run.
"We just kept pushing," D-backs manager Kirk Gibson said. "You don't score, you get into games like this and everybody's trying to end it. You try to tell yourself not to do it but the reality of it is, that's what happens."
Reds pitchers recorded a combined 12 strikeouts, only to be outdone by the Arizona staff's 18 K's in the game. The top three spots in both lineups were a combined 1-for-33 with 16 strikeouts.
"There just has not been a series of really good, competitive at-bats," Price said. "Guys are trying. They're busting their tail. They're working hard early. They're doing all the right stuff in that regard. But when we're getting guys in scoring position, we just have to be able to accept the fact that a base hit sometimes is going to drive in a run from second. It doesn't need to be a two-run shot."
Beginning with Homer Bailey's eight innings and the bullpen effort that followed with five relievers, Reds pitching was superb overall. An inning-ending double play for Bailey to escape a jam in the seventh began a stretch of 14 in a row retired.
"The pitchers went out there and did a great job and gave us all the opportunity in the world to win and we couldn't get any runs," Reds catcher Devin Mesoraco said.
Mesoraco's 17th home run of the season led off the second inning against Arizona starter Chase Anderson and was Cincinnati's lone run. The chance to add on was spoiled by a rally-killing decision. Pena was on second base when Kristopher Negron hit a soft single to center field. Pena was waved around third base by coach Steve Smith as Ender Inciarte fielded the ball and easily threw him out at the plate without a slide. Anderson retired the next 15 of 17 without allowing another hit over his seven innings.
It was 22nd time the Reds have had runners thrown out at the plate on non-force plays, the team's most since 1985 (24).
"They're talking points when they get thrown out. They're not talking points when they don't get thrown out," Price said. "It's like anything. When it doesn't work, you're left to answer for it. Look, we're not scoring runs. We're trying to create runs every way we can.
"As we did earlier in the year, one of the things we did was get more aggressive trying to take more chances because we haven't been hitting with guys in scoring position. I don't fault anyone on that play. It was just trying to make something happen."
The consequences of the play were felt when the D-backs evened the game in the fourth inning against Bailey with a two-out single to the right-field wall by Miguel Montero.
A Brewers loss to the Rays kept the Reds at six games back in the National League Central. This is an opportune part of the schedule for Cincinnati, playing the first of 20 straight games vs. teams with losing records.
"There is a lot of heart on this club. We just kind of have to keep believing," Bailey said. "Yesterday is gone. Last week is gone. Somewhere along the way, we're just going to have to turn it around. That's going to come from the 25 guys suiting up every day. It's not just the hitters, not the defense, not the pitching. Either we're going to have to find a way or we're going to be going home early."
Mark Sheldon is a reporter for MLB.com. Read his blog, Mark My Word, and follow him on Twitter @m_sheldon. This story was not subject to the approval of Major League Baseball or its clubs.