Lohse's strong start undone as Brewers fall to Rays
Righty cruises into sixth before walks, Loney's clutch hit turn game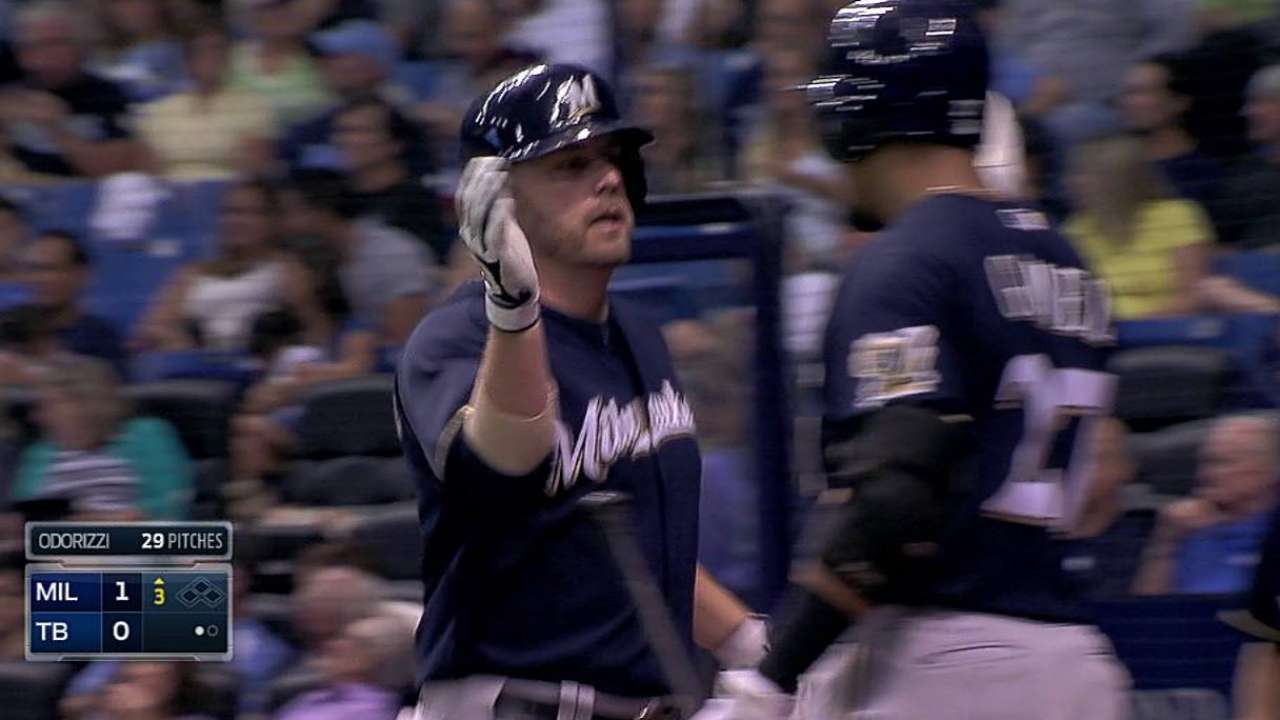 ST. PETERSBURG -- More on the close call that conspired against Kyle Lohse in a moment. The more pressing matter following a 2-1 loss to the Rays on Monday was the fact the Brewers' off-and-on offense has turned off again.
Milwaukee was limited to three hits by former Brewers farmhand Jake Odorizzi and two Rays relievers, who combined to strike out 10 batters, including five of the final six. Over the past four games, the Brewers are 1-3 while scoring eight total runs, batting .165 and striking out 36 times.
Just like the switch flipped on after the All-Star break, now it's been flipped off again.
"That's baseball," said Brewers first baseman Mark Reynolds, a bright spot of late who supplied his team's only run Monday with a third-inning homer. "You've got the hot streaks, cold streaks, and the good teams find some consistency in-between. We're just not swinging well right now. This time next week, we might be talking about how hot we are. You never know."
Overall, the Brewers still rank second in the National League in runs scored, trailing only the Rockies. They have been held to fewer than three runs 32 times in 107 games, tied with the Dodgers for second fewest such low-scoring games among NL clubs.
Brief offensive outages, Reynolds argued, happen to "every team."
"Look at the Rays," he said. "They had, like, the worst record in the league. ... It just takes some guys getting confident and back in the swing of things."
James Loney supplied the decisive swing this time for the Rays, who rode his two-run single in the sixth inning to their 10th victory in 11 games. They were 18 games under .500 through June 10, but have gone 28-12 since then to pull back to within two games of.500 and into the American League Wild Card hunt.
The Brewers, meanwhile, still lead the NL Central but dropped one-half game closer to the idle Cardinals, who are 1 1/2 games back.
"It's tough when you are not consistent scoring runs," Brewers manager Ron Roenicke said. "When we come up against real good pitching, we realize we are not going to score a lot of runs. But I still think we have enough guys -- we should be able to scratch out more than three hits and more than one run."
The man most responsible for preventing them from doing so was Odorizzi, who limited the team that drafted him in 2008 and traded him in 2010 to one run on three hits in seven innings, the only notable mistake a fastball on the inner half of the plate that Reynolds hit for a third-inning home run.
It was Reynolds' fourth home run in the span of 14 at-bats. He'd hit only one home run in his previous 106 at-bats.
Lohse, meanwhile, was enjoying one of his good nights. He allowed only one baserunner through three innings, and didn't allow a hit until Ben Zobrist singled leading off the fourth.
In the fifth, the Brewers' defense helped out with a special play to retire Logan Forsythe, who'd blooped a leadoff double over first base. Reynolds quickly returned the baseball to the infield, where shortstop Jean Segura fielded it barehanded on a hop and sent it to third baseman Aramis Ramirez, who tagged out the runner. Lohse finished that inning without incident.
But in the sixth inning, Lohse's 1-0 lead slipped away in a most frustrating fashion.
He walked Zobrist with two outs before left-handed-hitting Matt Joyce beat the Brewers' infield shift with a single to left field that put runners at the corners. Up next was Evan Longoria, who looked at a full-count changeup that straddled the inside portion of the strikezone. Lohse and catcher Jonathan Lucroy were sure it was strike three, opinions that were solidified later in the video room.
When home-plate umpire Bob Davidson called ball four, Lohse covered his mouth with his glove to keep his reaction private. Loney followed by hitting an 0-1 fastball for a bloop single that accounted for the game's two decisive runs.
"It's just frustrating," said Lohse, who took the loss after allowing two runs on four hits in six innings. "I felt like I threw the ball really well, made some good pitches. It was a tough one. Leave it at that."
Naturally, a different view pervaded the other clubhouse.
"I don't know exactly where the pitch was. I've heard from some guys it was a ball," said Longoria. "And then Loney coming through like he did. Games like this normally hang on a particular moment."
The Brewers will try to flip the switch again on Tuesday against tough Rays right-hander Alex Cobb. Then it's left-handed ace David Price on Wednesday, assuming this week's non-waiver Trade Deadline doesn't get in the way.
"We know we're in for a battle and it's not going to get easier," Lohse said. "I think we've proven that we're never out of a game and we're going to battle to the end."
Adam McCalvy is a reporter for MLB.com. Read his blog, Brew Beat, and follow him on Twitter at @AdamMcCalvy. This story was not subject to the approval of Major League Baseball or its clubs.