Loney, Odorizzi put Rays back on winning path
First baseman provides clutch hit in sixth; Righty goes seven strong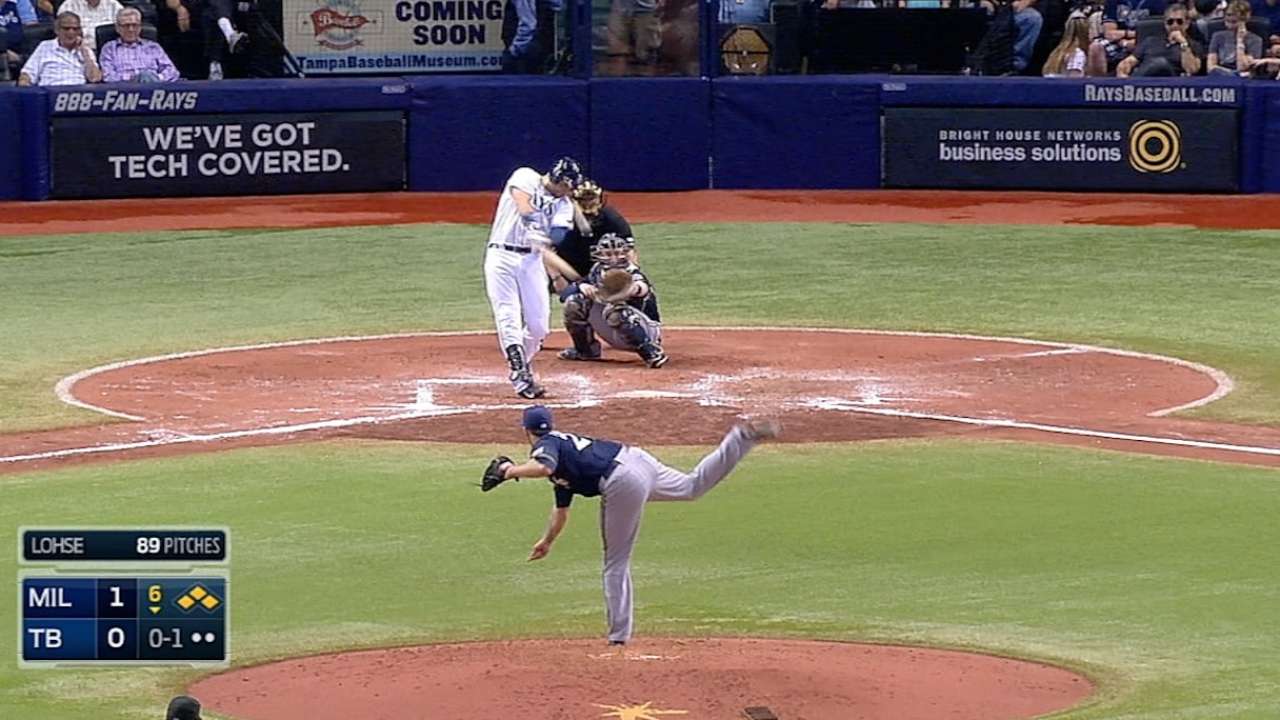 ST. PETERSBURG -- Teams on a roll get the breaks. The Rays got the break they needed Monday night and continued to roll with a 2-1 win over the Brewers at Tropicana Field.
The Rays are now two games under .500 at 52-54, after being as many as 18 games under the break-even mark through June 10. They are 28-12 since June 11 and very much in the American League East and Wild Card races.
Tampa Bay appeared headed for a second consecutive loss after Boston snapped its nine-game winning streak on Sunday. And things just didn't seem to be going their way Monday night.
Jake Odorizzi started for the Rays against the team that drafted him in the first round of the 2008 First-Year Player Draft (32nd overall). Subsequently, he went to the Royals in a 2010 deal that sent Zack Greinke to the Brewers before he joined the Rays in a 2012 deal that sent James Shields to the Royals.
The right-hander pitched two scoreless innings before Mark Reynolds' 18th homer of the season, a solo shot in the third, put the Brewers up, 1-0.
"It was just a bad pitch," Odorizzi said. "I was supposed to get far in. And it was inner third, and he's hit a lot of his home runs in his career and he knows what to do with a mistake. He did just that.
"It was my fault, I threw a bad pitch, he put a good swing on it. It's not like I executed and he took me deep after that. I kind of erased it and I knew we had to score to win anyway. As long as I could hold them to one, we were in a pretty good spot."
Meanwhile, Brewers starter Kyle Lohse cruised through the early going, posting four scoreless frames before the Rays appeared to get something going in the fifth.
Logan Forsythe led off the inning by blooping a double into right field just over Reynolds at first. But Forsythe got greedy trying to turn the sure double into a triple. Reynolds threw sidearm to shortstop Jean Segura, who made a perfect relay to third. Aramis Ramirez applied the tag to the sliding Forsythe to end the rally before it ever had a chance to develop.
"We don't have a line," said Rays manager Joe Maddon when asked whether there's ever a need to draw a line on aggressive baserunning. "I'm not a believer in a line. The line creates tentative baseball.
"I don't want a line. Their guy made a great play. That's what happened. Sometimes when you play professional baseball the other team does something well, too. So I never want Logan to worry about making ... that's not a mistake, that's a great play by Segura."
Karma turned in the Rays' direction in the sixth when the much-needed break arrived in the form of a ball four call that could have gone either way.
Ben Zobrist walked with two outs and Matt Joyce singled to left. Evan Longoria then faced a full count and took ball four, a call the Rays needed that easily could have gone the Brewers' way. James Loney then came through with a two-run single to put the Rays on top for good at 3-2.
"We've had it work both ways," Maddon said. "We've had it work in our favor. I don't know exactly where the pitch was. I've heard from some guys it was a ball. And then Loney coming through like he did. Games like this normally hang on a particular moment."
Maddon then summarized the situation: "I don't know if it was a ball or a strike. It's a ball, because he called it a ball."
Lohse wasn't as pleased with the outcome. After the telling pitch was called a ball by home-plate umpire Bob Davidson, Lohse put his glove in front of his mouth. When asked if he could share what he said into his glove, Lohse offered: "Probably not. And it wasn't toward myself, either."
Lohse allowed that Monday night's outing was "just frustrating."
"I felt like I threw the ball really well, made some good pitches," Lohse said. "It was a tough one. Leave it at that."
Odorizzi allowed one run on three hits in seven innings to pick up his seventh win of the season. He is now 5-2 over his last nine starts with a 2.25 ERA over that span.
"Jake and the Box" -- Brad Boxberger and Jake McGee -- backed up Odorizzi nicely. Boxberger pitched the eighth and struck out the side before McGee pitched a scoreless ninth to earn his 12th save of the season.
Boxberger has made 13 straight scoreless appearances since June 29 with 22 strikeouts in 15 1/3 innings. McGee has 11 saves in 11 chances since June 27. Forty-seven of McGee's 52 appearances have been scoreless. He threw all fastballs Monday night, each of those 11 pitches registering 95 mph or better.
"The biggest thing right now, like I said, is to not abuse [Boxberger] or Jake," Maddon said. "Keep them frisky for 'Aug-tember'."
The Rays have nine wins this season when they've scored two runs or less, tying them with the Padres and Dodgers for most in the Major Leagues.
"All we needed was two [runs] because the pitching was outstanding," Maddon said. "Odorizzi was outstanding and then of course, Jake and the Box, how about that? Almost six punchouts to end the game.
"Their guy was really good. ... Lohse was outstanding. ... All of that considered, it was an outstanding night made even better because we did obviously win the game."
Bill Chastain is a reporter for MLB.com. This story was not subject to the approval of Major League Baseball or its clubs.