Santana fans 11 as Braves blank Padres in finale
Righty continues dominant stretch for 10th win; Gattis provides offense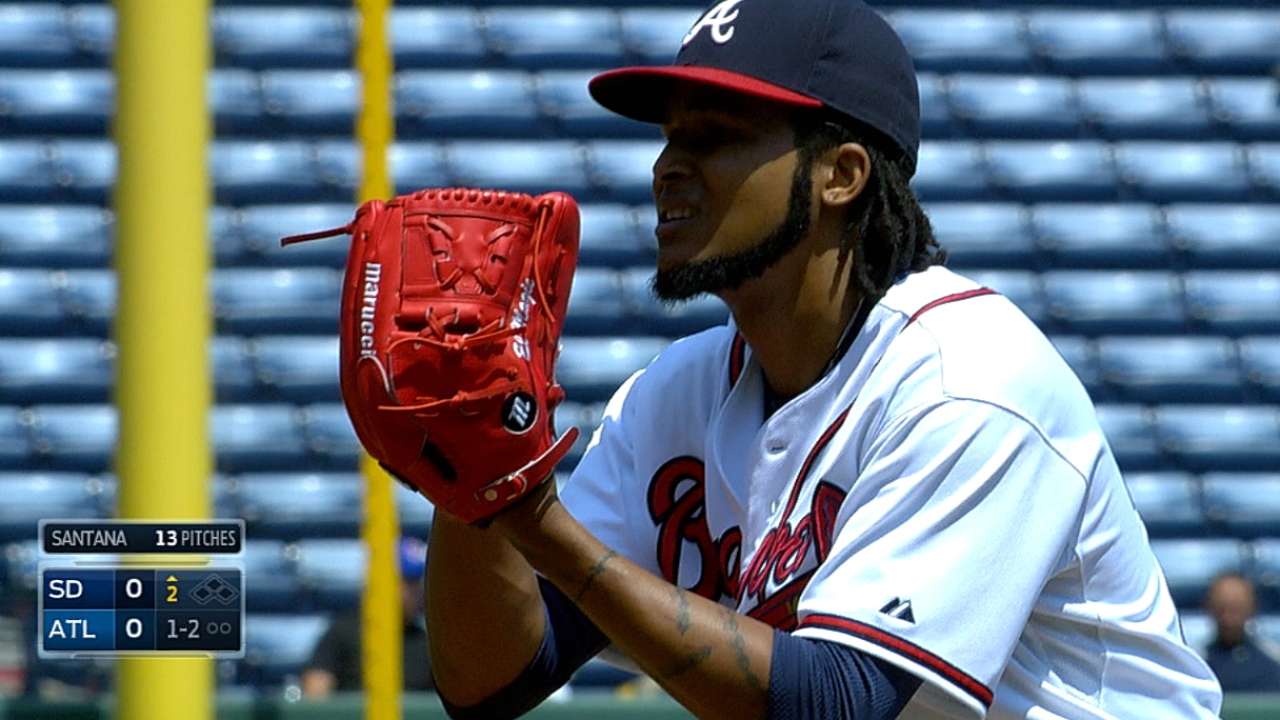 ATLANTA -- The Ervin Santana who compelled the Braves to go over budget and sign to a $14.1 million contract in March has returned.
Evan Gattis homered and Andrelton Simmons made two stellar plays at shortstop in support of Santana, who earned his fifth victory in his past six starts as the Braves beat the Padres, 2-0, on a sunny Monday afternoon at Turner Field.
"Santana obviously set the tone and gave us every opportunity to win the ballgame," Braves manager Fredi Gonzalez said. "Between him, Simmons at shortstop and Gattis got the two runs, that was some kind of exhibition of baseball."
The Santana-Gattis battery gave a much-needed jolt to an Atlanta club that heads west for an eight-game road trip that will pit it against Clayton Kershaw, Zack Greinke and Felix Hernandez. But the Braves are feeling confident on a three-game winning streak.
Santana fanned a career-high-tying 11 in eight shutout innings, retiring 12 of the final 14 batters he faced. One of the two Padres to reach base against him during that stretch was Yonder Alonso, who was thrown out by Justin Upton trying to stretch a single into a double.
The right-hander pitched at least seven innings for the fourth time in his past five starts and struck out 10 or more batters for the second consecutive game, marking the first time he has accomplished that feat during his 10-year Major League career.
"It was just good rhythm," Gattis said. "There were a couple of times shaking [off signs] and sometimes just shaking to throw guys off, but it was unbelievable. His command and game plan and everything, I thought he did unbelievable."
"He's just pitching good baseball right now," Gonzalez added. "He's throwing his breaking pitches for strikes and then expanding with his breaking pitches and making them a lot of swings and misses."
Particularly effective for Santana was his slider, which he used to record 13 of his outs, as nine Padres struck out on the breaking ball.
"It gets everybody off balance, so that's one of the keys for me," Santana said. "It was working very good today."
"He was on. He had a great slider," Padres manager Bud Black added. "I saw him as a young pitcher with the Angels. Today, it was the fastball-slider combo. Our guys were on [the slider], but it disappeared under their hands."
Santana also proved very efficient, firing 77 of his 102 pitches for strikes. He did not have a three-ball count all day and threw first-pitch strikes to 24 of the 29 batters he faced.
"You better not look down for too long because you might miss one," said Chris Johnson, who finished 2-for-4. "It's a lot of fun. He pounds the zone. When he's like, that's his game. When he's like that, it's a lot of fun to play behind."
The Braves tallied eight hits in support of Santana, but they struggled against San Diego hurler Jason Lane, 37, who became the oldest pitcher to make a debut start for the Padres. A converted outfielder, Lane homered against the Braves as an Astros outfielder in Game 1 of the 2004 National League Division Series.
"It's tough any time you face a guy for the first time -- no matter how hard he throws or soft he throws," said Johnson. "It's tough to kind of get that arm slot, see what he's trying to do to you, what he likes to do, his tendencies, stuff like that. So as we got through the lineup a couple of times, it got a little easier."
Gattis added: "It took a second to see what he was throwing and when. He located well. He kept the ball down and everything. He was pretty tough."
It came easiest for Gattis, who smacked Lane's final pitch -- a slider -- over the left-field wall leading off the seventh for his 17th home run of the season. The long ball was the catcher's first since June 18, as he missed more than three weeks in late June and early July due to a bulging thoracic disc in his back.
Gattis was caught off guard by Lane's first-pitch fastball in that at-bat after the lefty started him off with two sliders in their first encounter, but he got the breaking ball he was looking for only one pitch later to give Atlanta the lead for good.
"I feel healthy and then timing just slowly but surely," Gattis said. "I made adjustments each at-bat, and it's just gotten better."
"Now he's starting to see Major League pitching again," said Gonzalez. "He's started to get his timing, so that's nice to see."
Gattis is 5-for-6 with two walks and a hit-by-pitch since drawing a bases-loaded walk in Friday's loss to San Diego, further indicating that his timing has improved since coming off the disabled list.
Gattis gave Atlanta extra insurance in the bottom of the eighth with an RBI single, and Craig Kimbrel struck out the side in the ninth for his 32nd save.
After a great game behind the plate and in the batter's box, Gattis earned dinner on Santana's dime.
"I got you on the plane," Santana told Gattis, laughing. "Anything you want, I'll pay for it."
Joe Morgan is an associate reporter for MLB.com. This story was not subject to the approval of Major League Baseball or its clubs.