Lane's memorable starting debut goes unrewarded
Lefty's improbable path culminates with six-inning effort vs. Braves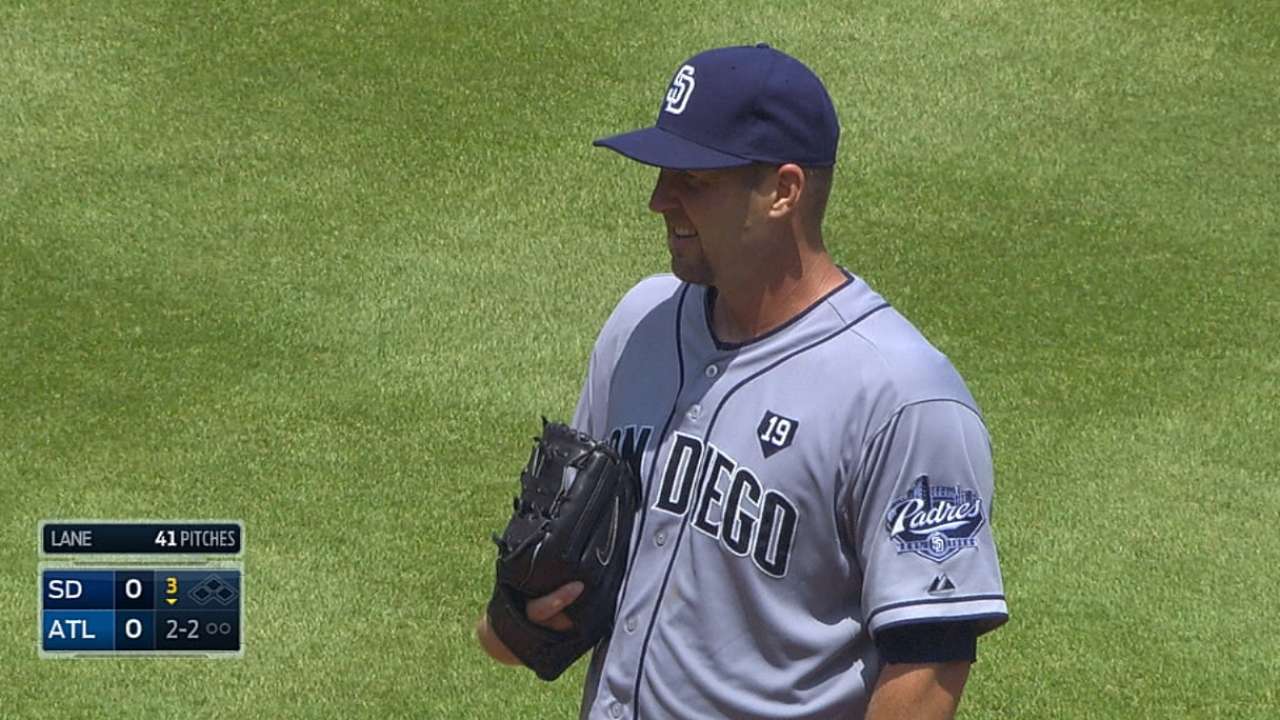 ATLANTA -- This is all going to make such a wonderful -- and altogether improbable -- story someday; the baseball life of Jason Lane, a tale brimming with chapter upon chapter of unpredictable twists and turns.
The biggest of which, really, might have occurred here on Monday, a sizzling July afternoon at Turner Field when the 37-year-old lefty, recalled earlier in the day, became the oldest Padre to make his Major League starting-pitching debut.
"Pretty cool stuff," said Padres manager Bud Black.
Lane allowed one run over six-plus innings -- a home run to Evan Gattis to start the seventh inning -- as the Braves topped the Padres, 2-0, before a crowd of 23,281, who saw starting pitcher Ervin Santana strike out 11 in eight innings and Craig Kimbrel strike out the side in the ninth inning with his electric stuff.
Lane, the former position player turned pitcher, got outs with his slider and a fastball that rarely hit 90 mph. He pitched in the true sense of the word, pounding the strike zone, as 68 of his 92 offerings went for strikes.
"Here's a guy in his mid-30s, he knows what he needs to do to get outs," Black said. "To be able to do it at this level, at this age and get Major League hitters out is great. He knows his combination of pitches and has a great feel for the opposition."
Lane, who made two relief appearances with the Padres earlier this season, played in the big leagues as an outfielder with the Astros and Padres from 2002-07 before making the conversion to pitcher. He had to start at the bottom and work his way back up, which included a stint in the independent leagues.
In fact, when the Padres signed Lane last July, he was pitching for the Sugarland Skeeters of the Atlantic League in Texas. Yes, the Skeeters.
If this all sounds like the makings of a made-for-television movie, don't bother asking Lane about it, as he's too focused on the task at hand to get too introspective about where he's been. His concern is where he's going -- and when he's pitching next.
"It's hard. I don't take the time to think about how rare it is now because I'm still in the middle of it," Lane said. "My goal is still to play and not get caught up in the story part of it."
Lane, who allowed the one run on six hits with two strikeouts, could find himself headed back to Triple-A El Paso as soon as Tuesday. Ian Kennedy, who was scratched Monday because of a sore left oblique, will make his next start.
If nothing else, though, Lane showed -- yet again -- that he belongs in the Major Leagues. But not for his right-handed power like earlier in his career; rather for his supreme command and sharp secondary pitches from the left side.
"That's awesome," Gattis said. "Too cool. My hat's off to him. That's awesome."
Lane has certainly impressed his manager, a former left-handed pitcher himself who didn't rely on plus-velocity to get hitters out.
"That was great to see. For a guy to come in here, where he's been the last number of years … what a performance," Black said. "That was terrific. It's a tribute to him. He matched Santana pitch for pitch."
For the Padres, the loss marked the 16th time they've been shut out this season. They had five hits in the game, two by Yonder Alonso, and had just one runner in scoring position the entire day.
Corey Brock is a reporter for MLB.com. Keep track of @FollowThePadres on Twitter. This story was not subject to the approval of Major League Baseball or its clubs.