Rough stretch continues with blowout loss to Jays
Buchholz, Doubront combine to allow 13 runs, while bats get stifled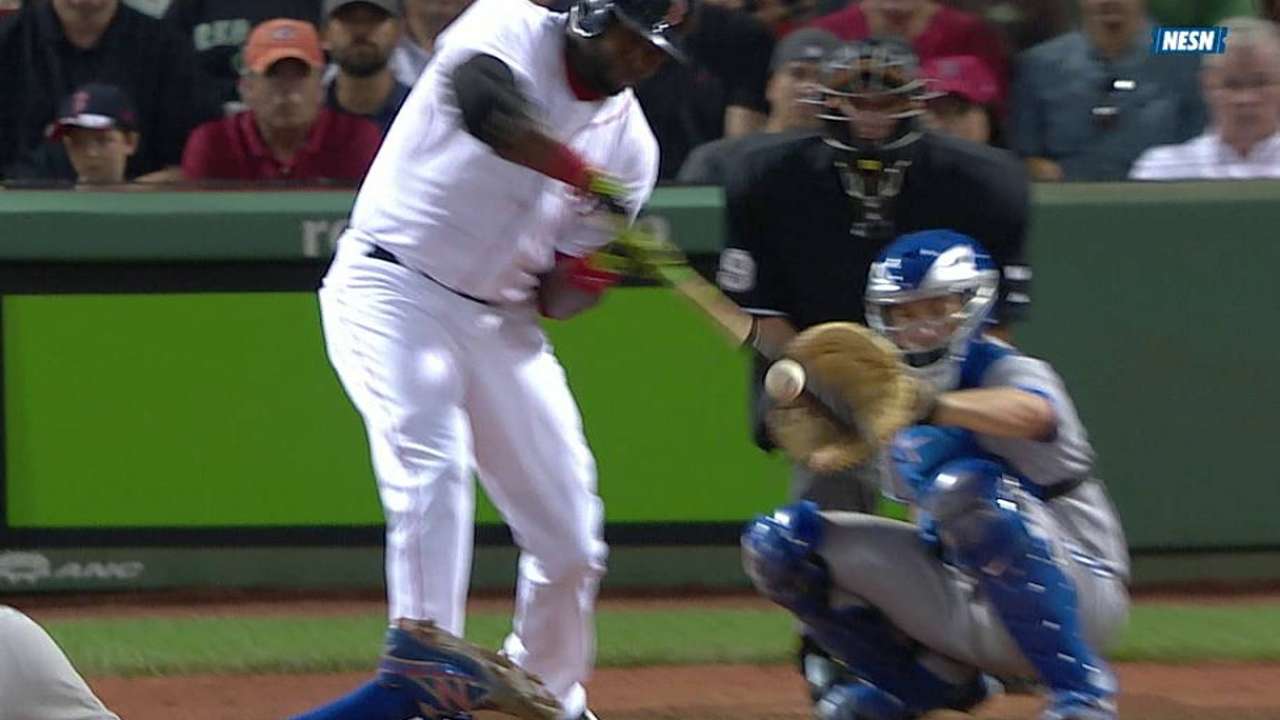 BOSTON --- When Felix Doubront exited Monday night's game, he took the longer route to the left side of the dugout amidst a healthy helping of boos from the crowd at Fenway Park. Normally, a pitcher enters on the right side and receives some support or encouragement from his teammates following the end of his outing.
But the Red Sox had nothing to celebrate or encourage and Doubront took the road less traveled. The Blue Jays, thanks mainly to a nine-run sixth, pummeled Boston, 14-1.
"Through the first six innings," manager John Farrell said, "it was an ugly night from the mound."
Last Monday, the Red Sox went to Toronto and beat the Blue Jays by the same 14-1 score.. They had just swept the Royals at home and things were looking up. But Boston has lost six of seven since and scored just 15 runs in those contests.
There have been plenty of "great pitching with little offense" days for the Red Sox this season. This was not one of them.
Clay Buchholz walked the leadoff batter in three of his five innings. Each of those innings ended with at least two Toronto runs, including the sixth, when he exited after putting the first three runners on. Farrell said Buchholz couldn't find his fastball command and started relying more on his secondary pitches too early.
The floodgates opened in that frame when Buchholz walked Munenori Kawasaki, Josh Thole singled and Ryan Goins doubled. On came Doubront, who said over the weekend that he wants to be a starter. The lefty has made 66 starts for Boston in the last three seasons, including 10 in 2014, but didn't make a compelling case for his desired future with this appearance.
Doubront was unavailable to speak with the media after the game.
"If you're a pitcher, regardless of the role you're in, you're asked to go out and execute pitches," Farrell said. "…If the role is not sitting well and affecting his pitching, then there needs to be I think a different focus to realizing his potential and his capabilities."
Doubront walked Anthony Gose, then Jose Reyes hit a sac fly. Everything the lefty allowed after that was hard-hit.
Melky Cabrera followed with a three-run bomb over the Green Monster from the right side of the plate after a two-run homer off Buchholz into the Red Sox's bullpen from the left side in the first inning.
Colby Rasmus doubled to bring home Jose Bautista, then Kawasaki doubled to score Juan Francisco and Rasmus. Doubront forced a fielder's choice to get the second out of the inning. Burke Badenhop came on two batters later and struck out Steve Tolleson to end the frame.
Buchholz allowed seven hits, four walks and seven runs over five-plus innings. After allowing one walk in five starts following a stint on the disabled list, he's issued eight in his last 11 innings.
"No, mechanics were fine," said Buchholz. "Just missed some pitches."
Doubront gave up six hits, two walks and six runs over two-thirds of an inning. Badenhop allowed a run and two walks over his 1 1/3 innings.
Across the diamond in the opposite dugout sat a locked-in R.A. Dickey, who waited patiently as the Blue Jays' offense continued to bat in the sixth. He surrendered just three hits and one run over seven innings while walking one and fanning 10.
"Almost wish we only scored two runs because I felt like I had that kind of knuckleball tonight and save this outing for when we gave up five," Dickey joked. "But I'll take it. It was fun to watch."
Boston got on the board when David Ortiz floated a single to shallow left in the sixth to score David Ross, who walked and moved to second on a fielder's choice.
"We need contributions up and down the lineup, and tonight is no different than a week ago in which we put up 14 runs," Farrell said. "It's been inconsistent at times, yet you don't see at-bats being thrown away. You see a similar approach and grinding things out."
Boston's clubhouse was quiet after the loss. Players are well aware that some of their teammates and friends may be on the move before Thursday's 4 p.m. ET non-waiver Trade Deadline. For a team 10 games below .500, the last week's worth of losses and trade rumors have been difficult.
"Very draining," Ross said. "Very."
But it's professional baseball, and there are harsh realities that exist in its unique world.
"When it comes to that," Buchholz said, "everybody thinks of it as a business. There's nothing you can do."
Steven Petrella is an associate reporter for MLB.com. This story was not subject to the approval of Major League Baseball or its clubs.