MLB.com Columnist
Jim Callis
Gallo, Blair are Pipeline Prospects of the Week
Rangers 3B homers five times; D-backs RHP fans 16 in first two Double-A outings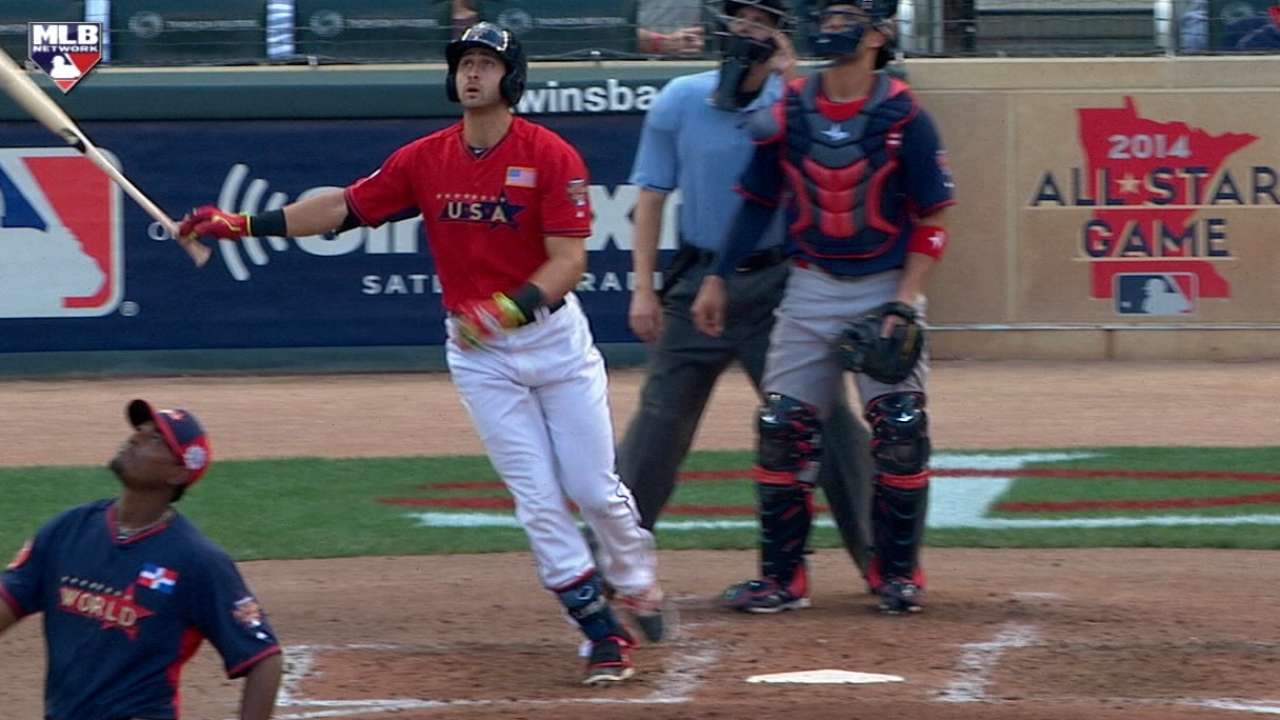 Throughout the season, the MLBPipeline.com staff will name Pipeline Prospects of the Week -- one hitter and one pitcher who excelled over the previous seven days. To qualify for selection, a player must rank among their organization's Top 20 Prospects, as listed on our Prospect Watch.
Pipeline Hitting Prospect of the Week: Joey Gallo, 3B, Frisco RoughRiders (Rangers' No. 1 prospect), 8 G, 9-for-28 (.321/.406/.786), 1.192 OPS, 1 2B, 5 HR, 7 R, 13 RBIs
Apparently, having fellow Las Vegas native Kris Bryant (Cubs) surge ahead of him in the Minor League home run race was too much for Gallo to take. They entered the All-Star break tied at 31, and Bryant went deep in his first two games back to grab the lead. Meanwhile, Gallo went homerless in his first seven contests after the Sirius XM All-Star Futures Game, extending his drought to a season-high nine games.
But last week, Gallo showed why scouts believe he has more raw power than anyone in the Minor Leagues. He homered in five games and had six multi-RBI contests, taking the homer lead back from Bryant, 36-33. Gallo is now batting .300/.421/.685 with a career-high 71 walks in 99 games.
Yes, strikeouts always will come as part of Gallo's package, and he has fanned 137 times in 419 plate appearances. But he has also reached Double-A at age 20 and is handling upper-level pitching better than anyone could have expected. The No. 9 overall prospect on MLBPipeline.com's freshly updated Top 100 Prospects list, he could be knocking balls out of Globe Life Park before too long.
Honorable mentions
Javier Baez, SS/2B, Iowa Cubs (Cubs' No. 2 prospect), 9 G, 10-for-31 (.323/.371/.710), 1.081 OPS, 3 2B, 3 HR, 7 R, 12 RBIs
Greg Bird, 1B, Tampa Yankees (Yankees' No. 13 prospect), 6 G, 7-for-19 (.368/.519/.684), 1.203 OPS, 2 HR, 5 R, 7 RBIs, 7 BB
Matt den Dekker, OF, Las Vegas 51s (Mets' No. 19 prospect), 8 G, 12-for-27 (.444/.531/.778), 1.309 OPS, 4 2B, 1 3B, 1 HR, 6 R, 5 RBIs
Willy Garcia, OF, Altoona Curve (Pirates' No. 13 prospect), 7 G, 14-for-28 (.500/.517/.893), 1.410 OPS, 5 2B, 2 HR, 8 R, 8 RBIs
Justin O'Conner, C, Charlotte Stone Crabs (Rays' No. 13 prospect), 6 G, 10-for-26 (.385/.385/.923), 1.308 OPS, 2 2B, 4 HR, 5 R, 7 RBIs
Pipeline Pitching Prospect of the Week: Aaron Blair, RHP, Mobile BayBears (D-backs' No. 4 prospect), 2-0, 0.66 ERA, 2 GS, 13 2/3 IP, 8 H, 1 R, 1 ER, 1 BB, 16 SO
The D-backs may have pulled off a steal when they landed right-hander Braden Shipley with their first pick (15th overall) in the 2013 First-Year Player Draft. And they may have pulled off another when they grabbed Blair with their second choice, at No. 36 in the supplemental first round.
Another native of Las Vegas and the highest-drafted player in Marshall history, Blair has progressed from Class A South Bend to Class A Advanced Visalia to Double-A Mobile in his first full pro season. In his first two starts at the Double-A level last week, he gave up just one run in 13 2/3 innings while striking out 16.
Blair has challenged for the Minor League strikeout lead all season, and his total of 141 in 121 2/3 innings puts him in second place, two behind Blue Jays right-handed Taylor Cole (yet another prospect from Las Vegas). Blair, who has a 7-4 record and a 3.85 ERA between his three stops this year, has good stuff and even better pitchability. He works with a 92-95-mph fastball and a solid curveball and changeup.
Honorable mentions
Alec Asher, RHP, Frisco RoughRiders (Rangers' No. 13 prospect), 1-0, 0.63 ERA, 2 GS, 14 1/3 IP, 10 H, 1 R, 1 ER, 1 BB, 11 SO
Lucas Giolito, RHP, Hagerstown Suns (Nationals' No. 1 prospect), 1-0, 0.00 ERA, 1 GS, 6 IP, 1 H, 0 R, 0 ER, 0 BB, 7 SO
Brian Johnson, LHP, Portland Sea Dogs (Red Sox's No. 11 prospect), 1-0, 0.00 ERA, 1 GS, 7 IP, 1 H, 0 R, 0 ER, 3 BB, 12 SO
Kevin Ziomek, LHP, West Michigan Whitecaps (Tigers' No. 6 prospect), 1-0, 0.00 ERA, 1 GS, 7 IP, 3 H, 0 R, 0 ER, 1 BB, 11 SO
Jim Callis is a reporter for MLB.com and writes a blog, Callis' Corner. Follow @jimcallisMLB on Twitter. This story was not subject to the approval of Major League Baseball or its clubs.