MLB.com Columnist
Anthony Castrovince
Savvy signings put teams in playoff contention
While Trade Deadline nears, several deals have already made an impact this season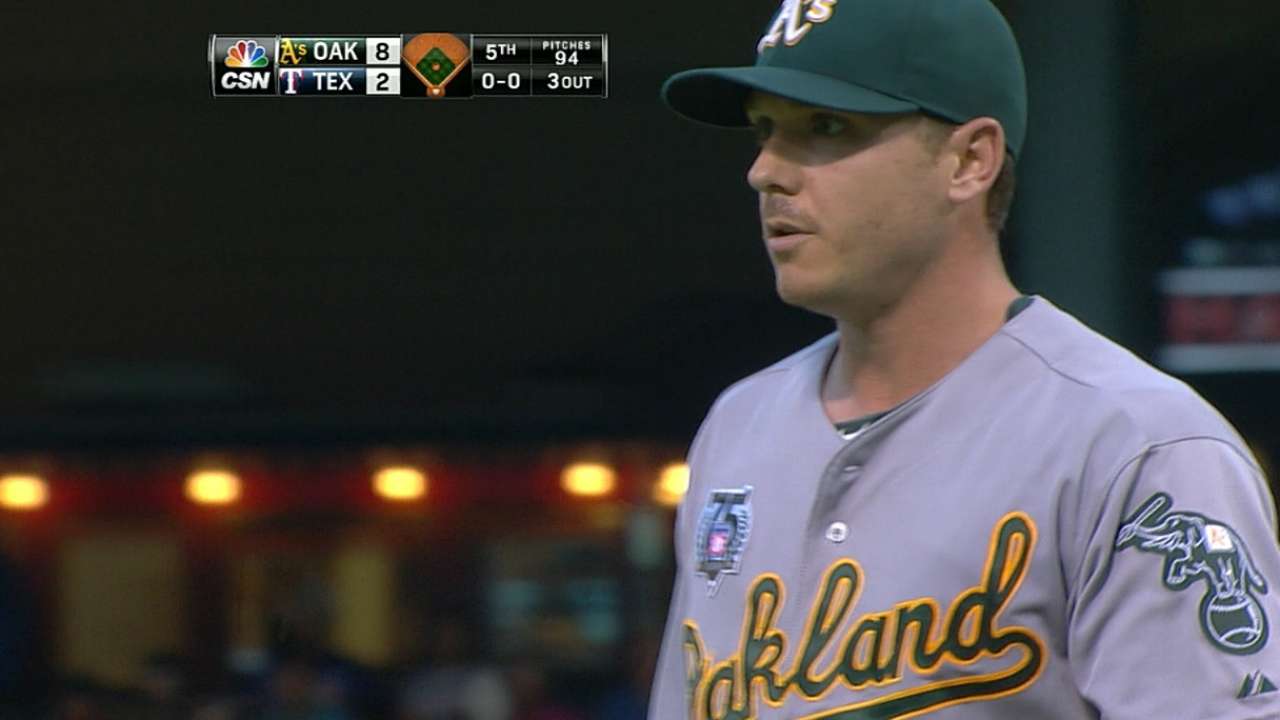 With Thursday's 4 p.m. ET non-waiver Trade Deadline mere days away, the hunt is on for impact acquisitions. But it's important to remember some of the impact acquisitions that helped put teams in contention and on the "buy" side of the trade equation in the first place.
Here, in retrospect, were some of the savvier signings and swaps made before the 2014 season got underway.
Scott Kazmir, A's
Oakland's midseason swap for Jeff Samardzija and Jason Hammel goes a long way toward making the club a legit World Series threat, but where would the best team in baseball be without having taken that two-year, $22 million gamble on Kazmir? The contract made some people in the industry nervous, because Kazmir had not exactly been a workhorse (158 innings) in his comeback season in Cleveland, and he had multiple starts in which a trainer was summoned to the mound. But Kazmir has been a durable All-Star arm this season, posting a 12-3 record and a 2.37 ERA in 21 starts. He could reach the 200-innings mark for the first time since 2007.
J.D. Martinez, Tigers
This was the biggest steal of the spring waiver wire. Martinez was released March 23 by an Astros team that didn't really have any room for him and simply wasn't patient enough with the major swing modifications he brought into Spring Training. The Tigers grabbed him, knowing they could use some depth in power bats, especially after the offseason trade of Prince Fielder. By late April, Martinez was back in the big leagues. And by the All-Star break, he had hit 13 homers, had an OPS of 1.035 and paired with that other Martinez -- Victor -- to give Detroit a dazzling duo supporting Miguel Cabrera.
Joe Smith, Angels
Deals of three years or longer for free-agent relievers are notoriously wrought with risk, but the Angels could not be happier with the first year of Smith's three-year, $15.75 million contract. He provided a rare bit of reliability within Los Angeles' otherwise erratic relief ranks in the first couple months of the season, briefly taking over the closer's role from the struggling Ernesto Frieri. The Halos have since rebuilt the bullpen with trades for Huston Street, Jason Grilli and Joe Thatcher, but Smith, with a 2.08 ERA in 49 appearances, remains a key cog.
Mark Reynolds, Brewers
Hey, say what you want about the .209 average and the 98 strikeouts in only 287 at-bats. Well, actually, you can say plenty. But Reynolds is tied for ninth in the National League with 17 homers, and the defensive metrics actually rate him as one of the more reliable first basemen in baseball this season. So for a measly one-year, $2 million contract, the Brew Crew has gotten good value out of Reynolds. Milwaukee, therefore, is not expected to seek out an upgrade before this week's Deadline.
Doug Fister, Nationals
This one wasn't exactly under the radar, and most analysts seemed to view the Fister trade as a steal for the Nats when it went down in December. But when he turned up with elbow inflammation in Spring Training (and Tigers acquisition Robbie Ray won his first start in May), you had to wonder if that was really the case. It will be years before we have a fair gauge of the trade, but Fister, once off the disabled list, has proven to be everything Washington expected him to be. After Sunday's win over the Reds, he's now 10-2 with a 2.69 ERA in 14 starts.
Nelson Cruz, Orioles
Pretty simple. Wait until Spring Training to sign the guy who sits suspiciously untouched to a low-risk $8 million deal, and watch him hit 29 homers and drive in 75 runs in his first 103 games while you rise to the top of the American League East, and you've pretty much won the offseason. Delmon Young has also been a decent bat off the bench, compiling a .323/.348/.465 slash line in limited playing time. The O's signed Young to a low-risk Minor League deal over the winter.
Justin Turner, Dodgers
A Minor League invitee, Turner made the big league club, and he has provided solid defense and a valuable bench bat for Don Mattingly's crew. He was particularly valuable in June, when he hit .389 with 10 RBIs in 54 at-bats while the Dodgers rose up the ranks in the NL West.
Michael Morse, Giants
You don't go from 10 games under .500 one year to title contention the next without several impact acquisitions. The ageless Tim Hudson (2.65 ERA) has been a key rotation piece after signing a two-year, $23 million contract, and J.C. Gutierrez has been a key bullpen piece after he was non-tendered by the Angels and signed to a Minor League deal by San Francisco. But Morse has probably been the biggest surprise and the best bargain after his miserable 2013. On a one-year, $6 million contract, he's provided a .275/.327/.476 slash line, 14 homers and 26 doubles -- production about 29 percent better than league average.
Aaron Harang, Braves
Rotation desperation led the Braves to Harang near the end of spring camp, after the Indians decided they didn't have a spot for the veteran right-hander. Atlanta picked him up and watched him post a 0.85 ERA over his first five starts. That ERA has since risen to 3.31, but Harang has really only had two clunkers all season. Take an April 30 blowup against the Marlins and a June 18 blowup against the Phillies out of the equation, and he's got a 2.31 ERA in 19 starts. Not bad for a guy plucked off the scrap heap.
Pat Neshek, Cardinals
Jhonny Peralta has been a big help to a St. Louis offense that has needed every bit of it, and his defense has come better than advertised, too. But Neshek's rise to All-Star prominence has been one of the better stories in baseball this season. The A's released him from a mopup role late last season, and the Cardinals extended him a low-risk Spring Training invite. Turns out, he's been far more than the right-on-right specialist they envisioned, posting a sparkling 0.85 ERA with 42 strikeouts through 42 1/3 innings.
Yangervis Solarte, Yankees
Yes, the veteran Minor Leaguer, given his first shot in the bigs, turned back into a pumpkin after an astounding April/May in which he had an .834 OPS. But he was, on measure, an impactful piece for a Yankees team that needed third-base help, and New York has hung around in the East, despite less-than-expected returns from high-profile acquisitions Jacoby Ellsbury, Brian McCann and Carlos Beltran. And after the bloom fell off the rose for Solarte, he became trade bait for Chase Headley, who has also been an impact acquisition early on. So Solarte is the gift that keeps on giving.
Edinson Volquez, Pirates
This one's all about perception. Because very few, if any, of us expected the Pirates to get even meager returns out of their $5 million investment in Volquez, given that he had a 5.09 ERA and a 1.529 WHIP, among other ghastly stats, from 2011-13 in Cincinnati and San Diego. For the Bucs to get a 3.87 ERA and a ballpark-adjusted ERA just shy of league average out of the 31-year-old Volquez is a credit, in part, to pitching coach Ray Searage, the architect of several reclamation projects in Pittsburgh in recent years.
Chris Young, Mariners
Obviously, Robinson Cano came aboard to change the equation for the M's. But after blanking the Orioles on two hits over seven innings on Saturday, Young is now 4-2 with a 2.12 ERA and 43 strikeouts over his last seven starts -- a remarkable surge for a guy who was pondering retirement mere months ago. Young missed all of 2013 because of shoulder pain, and the Nats released him this spring. Seattle picked him up off waivers, and he's been a rotation mainstay on a club in strong pursuit of an AL Wild Card bid.
Anthony Castrovince is a reporter for MLB.com. Read his columns and follow him on Twitter at @Castrovince. This story was not subject to the approval of Major League Baseball or its clubs.