Peavy stung by Dodgers' eventful fifth inning
Right-hander tagged for four runs (three earned) in Giants debut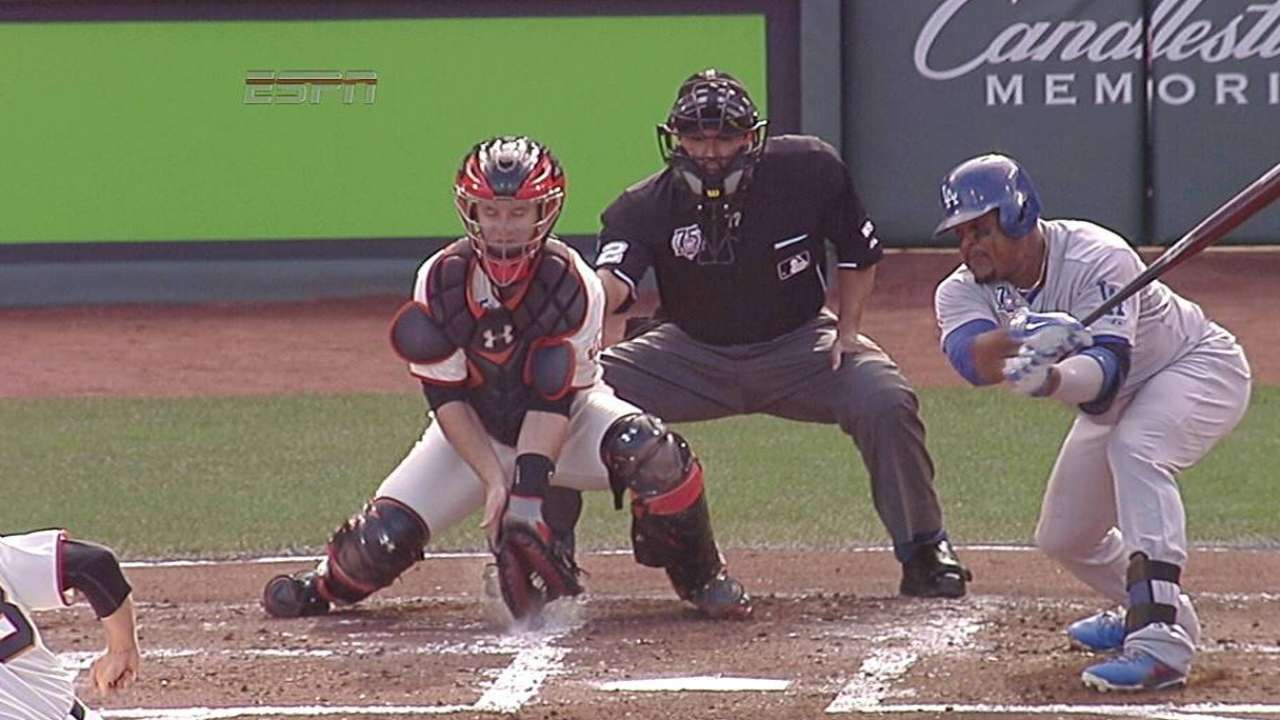 SAN FRANCISCO -- Jake Peavy did exactly what the Giants obtained him to do.
Though Peavy's performance wasn't spotless, he kept the Giants competitive Sunday night against the Los Angeles Dodgers, allowing four runs (three earned) and six hits in six innings. Technically, that's a quality start.
But the rest of the Giants' performance lacked enough quality, resulting in a 4-3 victory for the Dodgers that sealed a three-game series sweep and spoiled Peavy's Giants debut.
The second-place Giants trail Los Angeles by 1 1/2 games in the National League West race, matching the Dodgers' largest lead since July 4. That's hardly an insurmountable margin, particularly with two months remaining in the season. The teams reconvene for three-game series Sept. 12-14 here and Sept. 22-24 in Los Angeles.
But Los Angeles looked superior over the weekend, outscoring the Giants 17-4, and on Sunday, despite the bare one-run margin. Left-hander Hyun-Jim Ryu became the third Dodgers starter in a row to win. Giants second baseman Dan Uggla committed two errors, including a misplayed fourth-inning ground ball that generated a critical unearned run. Dee Gordon's alert dash home from third base, on catcher Buster Posey's throw to first that cemented a strikeout, launched a three-run, fifth-inning uprising from which the Giants never recovered.
"It's going to be important that we put this behind us," Giants manager Bruce Bochy said after his club endured a sweep by the Dodgers for the first time at AT&T Park since July 27-29, 2012, and for the first time overall since June 24-26, 2013, at Dodger Stadium. "We have a tough team [Pittsburgh] coming in here. We have to regroup. You have no choice in this game."
However, Bochy does have choices regarding his lineup. He said he likely would start rookie Joe Panik in Monday's series opener against the Pirates to give Uggla a chance to catch his breath after being rushed to the Majors last Friday. Regarding Uggla's defensive struggles, Bochy said, "I think it's going to get better. He's probably a little rusty. He feels worse than anybody."
The ball bounced even more treacherously for the Giants in the fifth, which they entered with a 2-1 lead. Gordon reached first base with one out by swinging at a third strike that scooted away from Posey for a wild pitch. After Yasiel Puig walked, Peavy flung a 58-foot fastball that eluded Posey for another wild pitch that advanced the runners.
Adrian Gonzalez struck out, but Posey couldn't gather the ball cleanly. He stepped toward the first-base line to grab it and throw out Gonzalez at first. Meanwhile, with Posey facing away from him, the fleet Gordon broke for home plate and scored, beating first baseman Adam Duvall's throw and Peavy's tag. The Dodgers made it a big inning as Hanley Ramirez singled home Puig before scoring on Carl Crawford's triple.
The unfamiliarity between Posey and Peavy, who entered the game with a 14-2 career record against the Dodgers, was evident.
"It's going to take some time for me and Buster to get to know each other," said Peavy, the three-time All-Star acquired Saturday from Boston. "He's tremendous behind the plate. We all know how good he is. The more we're out there together, I'm sure we'll get a better feel."
Posey, who homered in the Giants' half of the fifth, shouldered the blame for the Dodgers' surge.
"It was a weird inning. No excuses; I have to do a better job," Posey said, adding that the mistake "that bugs me more than anything" was the errant third strike that enabled Gordon to reach base. "That's a perfect example of no matter where the pitch is, as a catcher, you got to stay down," said Posey, explaining that the ball struck the edge of home plate and didn't bounce as high as he expected.
Bochy indicated that once Gordon reached third, Posey should have frozen him with a more arresting gaze on Gonzalez's strikeout.
"You have Gonzalez running [to first], so you have time to check him," Bochy said. "He threw to first without looking, and Gordon's got that kind of speed."
Said Posey, "I feel like I glanced [at Gordon] right as the ball bounced away. Hindsight's always 20/20 on that."
Gordon confirmed that Posey looked him back toward third. With his speed, it didn't matter.
"The ball didn't go too far and Posey looked at me and took his eye off me, and I went home," Gordon said. "I figured I'd be close to being safe, so I went."
He thus hastened the Giants' 19th loss in their last 25 home games.
Chris Haft is a reporter for MLB.com. Read his blog, Haft-Baked Ideas, and follow him on Twitter at @sfgiantsbeat. This story was not subject to the approval of Major League Baseball or its clubs.