Angels collar Tigers with stellar pitching, late HR
Freese's blast lifts Halos to series victory over AL Central leaders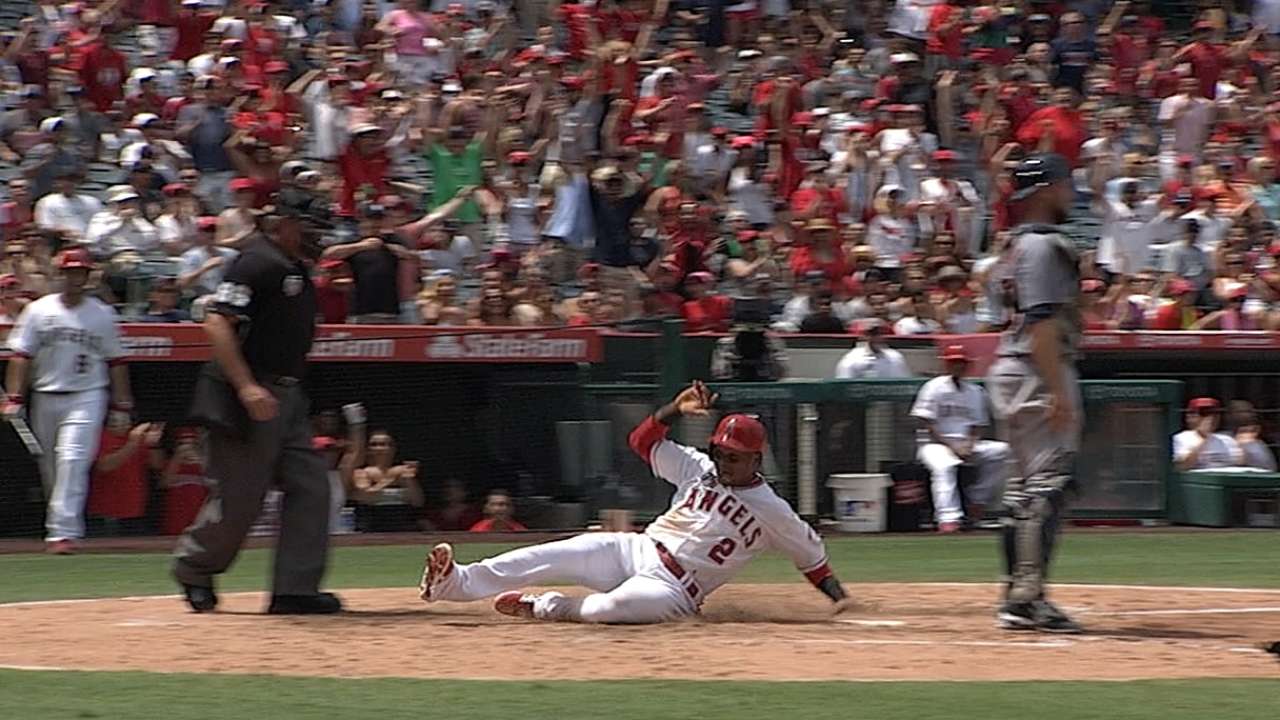 ANAHEIM -- When Mike Morin first learned his changeup in high school, it didn't feel right to him.
His overlapping thumb and index finger felt foreign. But across summer leagues, college and the Minors, his changeup transformed from a nuisance to an out pitch that dips and ducks from bats.
During the Angels' 2-1 win over Detroit on Sunday, Morin used an elevated changeup to strike out Tigers slugger Miguel Cabrera, ending the sixth inning and stranding a runner on second base in a tied game.
"I think it was so bad that it was good," Morin said. "Just a beach ball coming in."
Two innings after Cabrera's strikeout, David Freese launched a solo home run to left-center, giving the Angels a late one-run lead that closer Huston Street finished by also striking out Cabrera.
With the win, the Angels (63-41) improved to a season-best 22 games over .500. The Tigers (57-45) have now lost nine of their last 10 games in Anaheim.
Morin's 73-mph floater to Cabrera came one pitch after he buried a changeup in the dirt, allowing the speedy Austin Jackson to move into scoring position with the two-time American League MVP at the plate. Morin called that pitch the most frustrating part of the at-bat.
"Allowing that runner to get to second, it just opens it up so much more, whether it's a bloop hit, a broken bat or a ball off the wall," Morin said.
Just five days removed from his worst outing of the season (a three-run inning against Baltimore), Morin struck out the Major League leader in RBIs with a pitch from which he once shied away.
Manager Mike Scioscia said the strikeout was one of the biggest at-bats of the game.
"It had a lot of deception and he took a lot of pace off it so he was out in front of him," Scioscia said. "I think that if I got Miguel Cabrera out, I might be walking a little bit taller."
Morin's outing on Tuesday against the Orioles was one of the few poor performances from the 23-year-old rookie, whose ERA now sits at 2.50. He recorded a strikeout in picking up the win Saturday before retiring all five hitters he faced Sunday.
"It was encouraging in that I made a bad pitch and it didn't get hit," Morin said. "It all comes full circle with your luck. That definitely was not intentional to throw a changeup that was a little bit high, but he swung through it and now we're here."
Freese did not swing through Joba Chamberlain's 2-1 slider in the bottom of the eighth, connecting for his sixth home run of the year and his first regular-season go-ahead homer in the eighth inning or later of his career.
Heading into his final at-bat, Freese was 5-for-31 (.161) with 14 strikeouts on the 10-game homestand.
"I've taken some wonderful hacks the last three games or so, just terrible swings," Freese said. "But today, I put a good swing on the ball."
Freese started the year slowly, hitting just .203 through the first two months. Since the start of June, Freese has hit .281 and he has hits in 15 of his last 21 games.
"I guess they call them slumps because you always get out of them," Freese said, "or hopefully you do."
Freese starred as a playoff hero in St. Louis in 2011 and has a 162-game average of 15 home runs and 80 RBIs in his career.
"We hope it's more than one swing," Scioscia said. "We hope that David Freese can finish the season swinging the bat to his capabilities. He's a much better hitter than a guy hitting .240."
Freese would not have even gotten the chance to win the game if Efren Navarro had reached in front of him. John McDonald was in the on-deck circle during Navarro's at-bat and Scioscia said a sacrifice bunt was "an option" if Navarro had reached.
Navarro struck out and Freese sent the Angels to a 6-4 record on the homestand. It was the Angels' fifth straight homestand finishing .500 or better.
Angels starter Hector Santiago made it through 5 1/3 innings, allowing just one run on three hits. In the first inning, Ian Kinsler singled and scored on Victor Martinez's two-out double to right-center. After Martinez's double, Santiago sat down the next 14 Tigers before Jackson's single in the sixth.
The Angels tied the game in the fifth inning following a pair of Tigers mistakes. Erick Aybar reached on a one-out single to right field and advanced to second as Howie Kendrick bunted his way aboard.
Tigers starter Rick Porcello attempted to pick off Aybar at second but his errant throw ended up in center field, moving each runner up a base. After Jackson fielded the ball, he lofted a throw in to shortstop Eugenio Suarez, who received the ball facing away from home plate. Aybar never stopped running and tied the game as he caught the Tigers napping.
"I think that's the way speed helps you outside of just stealing the base," Scioscia said. "Erick ran hard, ran through third base and saw that Suarez, the shortstop, was just out there and not really locked into what really might happen."
Porcello threw seven innings of one-run ball, inducing nine groundouts that included two double plays. He struck out the last four Angels he faced and finished with six punchouts.
Matthew DeFranks is an associate reporter for MLB.com. This story was not subject to the approval of Major League Baseball or its clubs.