Defensive lapse, late homer derail Tigers
Errant pickoff throw proves costly in Porcello's strong outing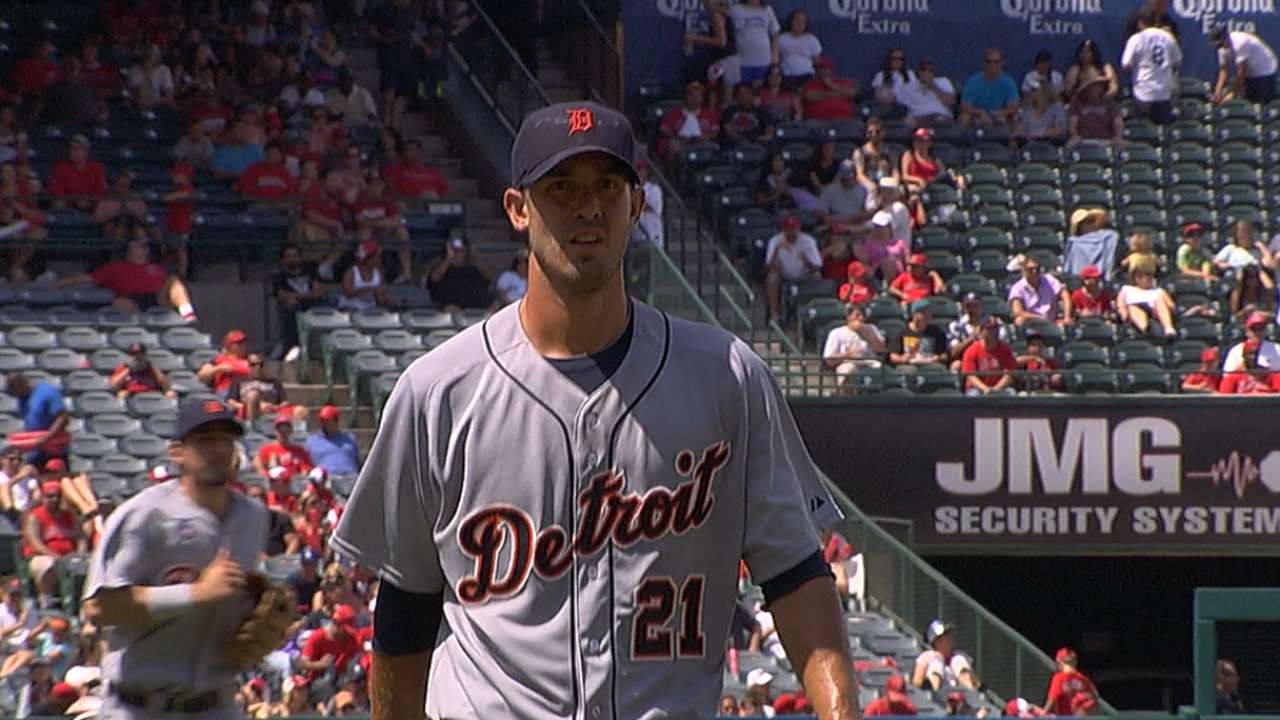 ANAHEIM -- Rick Porcello pitched his way past the ghosts of Angel Stadium on Sunday. Eventually, however, the Tigers' defense haunted him again. Detroit's offensive funk didn't help him, either.
"They pitched outstanding," manager Brad Ausmus said of his pitchers this series after Sunday's 2-1 loss. "We couldn't string hits together to put multiple runs on the board."
In a low-scoring game, little plays become magnified. On Sunday, it was Erick Aybar taking advantage of a defensive breakdown to score the tying run from second base, turning David Freese's eighth-inning home run off Joba Chamberlain into a go-ahead shot.
On Friday, it was a ground ball through the middle from a left-handed hitter off lefty Drew Smyly. In between, it was a couple of shots off Justin Verlander.
In a series that had the foreshadowing of a postseason matchup, the Angels took three out of four in low-scoring October fashion, leaving the Tigers with something to ponder as they headed home from their third and final scheduled West Coast trip. With C.J. Wilson out and Jered Weaver missed, Angels starters not only matched Detroit's vaunted rotation, but outpitched it.
After six runs in the series opener, the Tigers scored two runs on 13 hits over the final three games. Detroit hadn't scored fewer than two runs in a game since June 18, when a 2-1 loss to the Royals completed the Tigers' 9-20 funk.
"Every game was a close game, good pitching games," said Miguel Cabrera, held hitless over the final two games and 3-for-17 in the series despite his opposite-field home run Friday night.
Detroit pitching allowed just eight runs in the past three games and held Mike Trout to 2-for-15. It simply wasn't enough.
"They were all tight games," Porcello said. "It was obviously a battle. It's two good teams going at it. They got the best of us this time around. If we meet them again, hopefully it'll be a different story."
Porcello and Hector Santiago essentially pitched to a draw in a rematch of their April 20 matchup at Comerica Park. That, too, was a 2-1 game, but one that the Tigers pulled out.
The matchup in many minds heading into Sunday, though, was Porcello's last visit to Angel Stadium on April 20 of last year. When Kole Calhoun hit a leadoff single through the middle, just out of shortstop Eugenio Suarez's reach, memories of that 2013 debacle were fresh. Porcello was saddled that day with nine runs over two-thirds of an inning on three infield singles, three grounders through the middle, two soft line-drive singles and a Trout grand slam.
This time, Porcello quieted the rally with two nasty sinkers -- one at 94 mph to strike out Trout, the other to induce an inning-ending double play from Albert Pujols.
Between eight groundouts, two double plays, two ground-ball singles and two strikeouts, Porcello didn't allow a ball in the air for his first four innings. By the time Freese centered a line drive that nearly fooled Austin Jackson, it was the final out of the fifth.
By then, however, the Angels already had manufactured the tying run. After Aybar's one-out single in the fifth, Howie Kendrick laid a bunt single down the third-base line. With a runner in scoring position for the first time all day, Porcello tried to pick off Aybar at second and threw behind Suarez.
"If we don't try to at least show Aybar that we're paying attention to him, he's going to take third," Porcello said. "I think it was a necessary play. You take a chance. Just didn't get it done."
As Aybar advanced to third, Kendrick snuck into second with nobody covering. Jackson debated where to throw, then lofted the ball in to Suarez, giving Aybar the split second he needed to break for home.
"I came up and was looking to throw the ball to third, and then I looked and saw that Howie was going to second," Jackson said. "I kind of got caught in between where I wanted to throw the ball. Aybar, being heads-up, could see that. He pretty much never broke stride. As soon as he hit third and saw the ball wasn't in yet, he kept going. Heads-up play by him and just a brain fart by me, pretty much."
Porcello retired eight of his final nine hitters from there, finishing with seven innings of five-hit ball, no walks and six strikeouts.
It was the type of play that reflects Angels manager Mike Scioscia's aggressive style. However, Scioscia pointed to Suarez as a key.
"Erick ran hard, ran through third base and saw that Suarez, the shortstop, was just out there and not really locked into what really might happen," Scioscia said.
Jason Beck is a reporter for MLB.com. Read Beck's Blog and follow him on Twitter @beckjason. This story was not subject to the approval of Major League Baseball or its clubs.