Rangers' home woes continue in loss to A's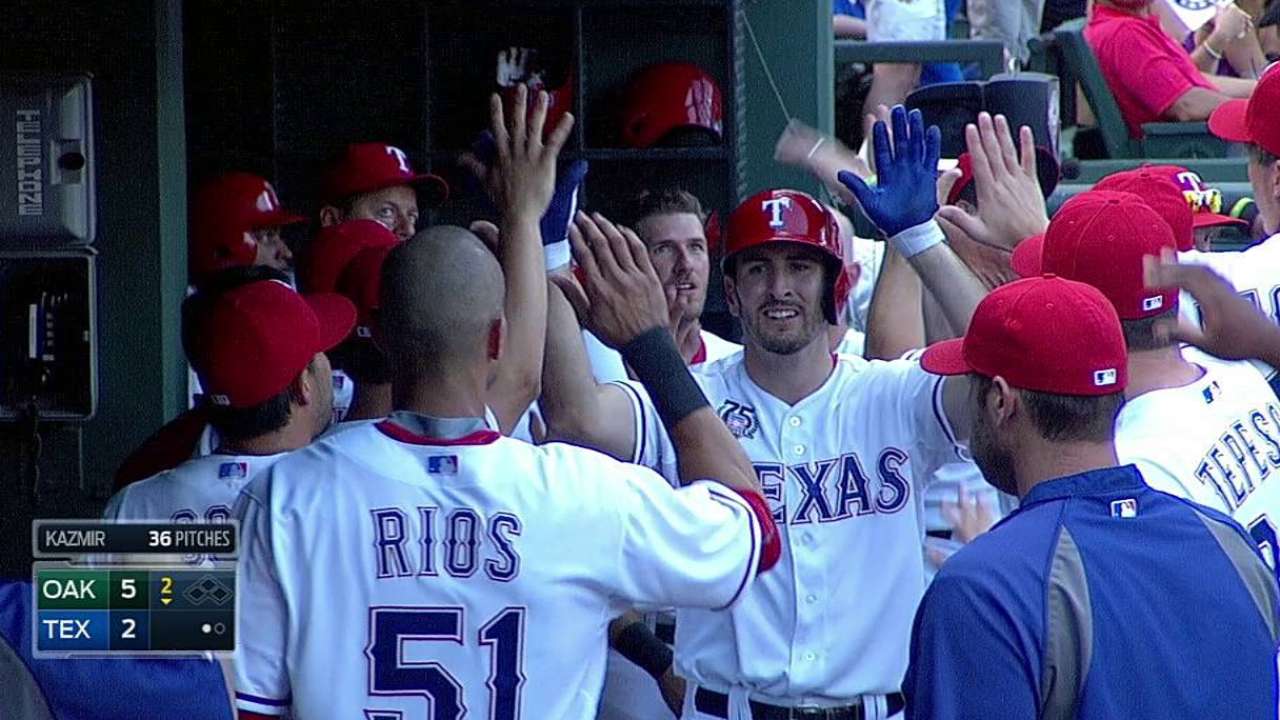 ARLINGTON -- The Rangers drew a crowd of 38,915 on Sunday, their largest in two months, despite a game-time temperature of 100 degrees, the highest of the season.
Maybe it was the snazzy fedora giveaway or it being Texas A&M night, but that's a pretty good crowd for a Sunday night and a team struggling to win at home.
The Rangers' first season in their renamed ballpark just isn't going as well on the field. The Athletics scored five runs in the second inning against starter Miles Mikolas and went on to a 9-3 victory.
The loss left the Rangers with a record of 19-32 at home, for a winning percentage of .373. That would be the lowest winning percentage at home in club history, surpassing the .403 of 1972.
That was in the old Arlington Stadium. Since 1994 the Rangers have had just four losing seasons at home, and their worst record in their current facility was 39-42 (1997 and 2006). Since 1994 there have been only 20 teams that have finished with a winning percentage of below .400 at home in a season.
The pitching hasn't been good this season, what with the Rangers going through a record 32 hurlers. But they also don't hit at home the way they once did, a function of their declining offense, all the injuries and the climate changes that occurred with the home plate renovations done before last season.
"Tonight it was the Oakland A's pitching and inconsistency in the second inning on the part of our pitcher," manager Ron Washington said. "But you've got to score runs. We score runs, but we don't sustain it."
"I don't think there is one specific thing that's not letting us hit here," outfielder Alex Rios said. "Things have happened and didn't work out the way we wanted. It could have been a different scenario if we had all our guys on the team."
The Rangers used to be able to go toe to toe and slug it out with their opponents. Now an early five-run deficit seems almost lethal, as was the case on Sunday night. The Rangers had 50 come-from-behind wins in 2013. They have 15 this season, and it's almost August.
Mikolas got himself in trouble in the second inning with a pair of one-out walks to Jed Lowrie and Eric Sogard. He got Craig Gentry to hit a grounder back to the mound, but his throw to second went into center field.
"If the throw is there, it's an out," Washington said. "In hindsight, you'd like to take the out at first, but I'm not going to second-guess the decision, because if it's a good throw, it's an out."
The throwing error allowed one run to score, and before Mikolas could recover, the Athletics scored four more, on a single by John Jaso, a double by Stephen Vogt and a double by Yoenis Cespedes.
"Walks … giving guys free passes is not a good idea," Mikolas said. "I struggled with my command. I fell into some bad habits that we had worked on."
Adam Rosales hit a two-run homer in the bottom of the second, but the Athletics added three runs off Mikolas in the fifth. He is now 1-3 with an 8.54 ERA in five starts.
The Rangers had eight hits but scored only one more run, on a homer by Adrian Beltre in the eighth. They went 0-for-3 with runners in scoring position, including two strikeouts by No. 5 hitter J.P. Arencibia. Arencibia stranded two in the third against Athletics starter Scott Kazmir, and left the bases loaded in the fifth.
"We had some opportunities, and the opportunities happened in the middle of our lineup," Washington said. "That has been the thing. We've got to drive in some runs. It doesn't matter where, we've got to drive in some runs."
It would be nice if they could do it at home.
T.R. Sullivan is a reporter for MLB.com. Read his blog, Postcards from Elysian Fields and follow him on Twitter @Sullivan_Ranger. This story was not subject to the approval of Major League Baseball or its clubs.