Turner, Marlins finish off record-setting road trip
Righty solid for 5 2/3 innings; Jones, Ozuna homer; Miami caps sweep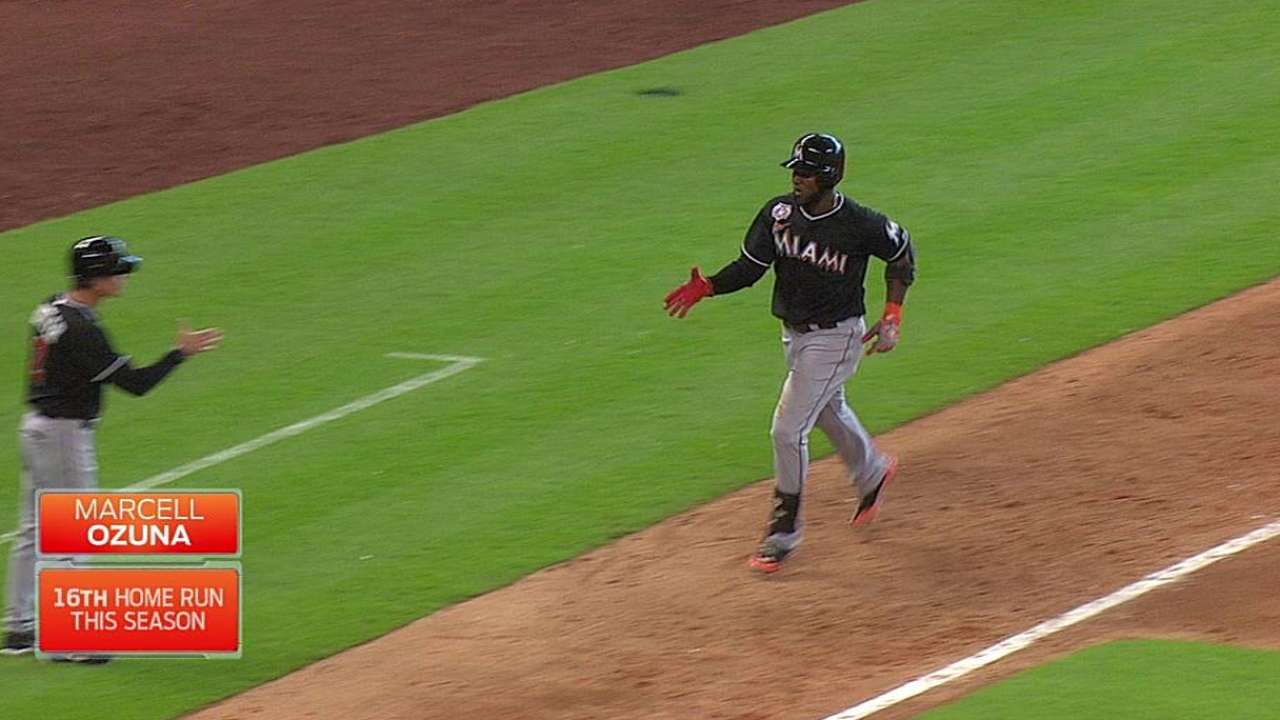 HOUSTON -- Starting pitching may be an area the Marlins are exploring on the trade front, but all weekend, the rotation has been a strength.
On Sunday, it was Jacob Turner who set the tone in a 4-2 win over the Astros at Minute Maid Park.
Garrett Jones and Marcell Ozuna hit solo homers off Collin McHugh, as the offense provided enough support for the Marlins' first three-game sweep at Houston dating back to the days of the Astrodome.
The Marlins have won four straight, and they finished 6-1 on an important road trip -- their best seven-game road trip in team history. Previously, Miami had gone 5-2 three times, the last one Aug. 25-31, 1997.
After losing the first two games coming out of the All-Star break, the Marlins have won seven of eight.
"We went through a stretch where we had some struggles," manager Mike Redmond said. "Right now, our guys are going good and they're feeding off each other. That was huge. That and some timely hitting, and here we are. We had a great road trip, winning six out of seven. It came at a perfect time and we hope to keep it going."
The Astros managed just five runs in the series.
Steve Cishek gave up a homer to Jon Singleton in the ninth inning, but he was able to lock down his fifth save of the road trip and sixth in eight days.
Now 51-53, the Marlins return to Miami to take on the Nationals in a crucial three-game series. With the non-waiver Trade Deadline on Thursday, the Marlins are looking to add on as they try to climb back in the playoff race.
"This run we've been putting together has been good," Cishek said. "Taking three of four from the Braves should be a good indication that we have a good ballclub. I know the front-office guys have faith in us. We've put together a great team. Hopefully, before the Trade Deadline comes by, we'll put together a nice run."
Making his 44th career start, Turner won back-to-back outings for the first time.
"I'm not trying to prove anything to myself," Turner said. "I know the type of stuff I have. I know the type of pitcher I am. At the same time, this is an opportunity for me to show them that I should stay in the rotation and keep going. Each game is huge for the team and myself."
Turner worked his longest outing since allowing five runs on eight hits in 5 2/3 innings in St. Petersburg against the Rays on June 5. He was relegated to the bullpen after his June 11 start at Texas.
Sunday was his second start since returning to the rotation, and he exited after 96 pitches. A homer to Jose Altuve, who had three hits, was the lone run Turner allowed.
The Marlins did damage early off McHugh, scoring three times in the first inning.
Jordany Valdespin hit an RBI triple, Casey McGehee lifted a sacrifice fly to right and Jones homered with two outs.
On the Jones blast to right, credit goes to McGehee, who passed along a quick scouting report. McGehee informed Jones that McHugh's fastball, which was showing at 93 mph on the scoreboard, appeared quicker than the readings.
"[McGehee] just said his fastball is coming in harder than the radar gun is saying," Jones said. "Some guys have a little more deception. The first fastball he threw me, I definitely saw the life. I tried to just time it and get ready a little earlier. I was able to get a fastball in the middle of the plate, and I didn't miss it."
McHugh, who struck out nine, allowed a homer to Ozuna in the sixth.
"You never want to give the other team the early lead like that," McHugh said. "As a starter, I pride myself in coming out and having a shutdown inning to start the game."
It didn't take the Astros long to respond.
Altuve led off with a homer to left-center, his fourth blast of the season. The Marlins weren't sure the ball cleared the high wall, and Redmond asked for a crew-chief review. The call was confirmed after a 45-second review.
"He's a good hitter. I left a pitch over the middle of the plate," Turner said. "I really felt like I had to battle all day. I didn't have my best stuff. But I was able to make pitches when I needed to, and pitched out of jams. That was huge."
Joe Frisaro is a reporter for MLB.com. He writes a blog, called The Fish Pond. Follow him on Twitter @JoeFrisaro. This story was not subject to the approval of Major League Baseball or its clubs.