Astros unable to rally after McHugh dinged early
Altuve, Singleton go deep, but three-run first too much to overcome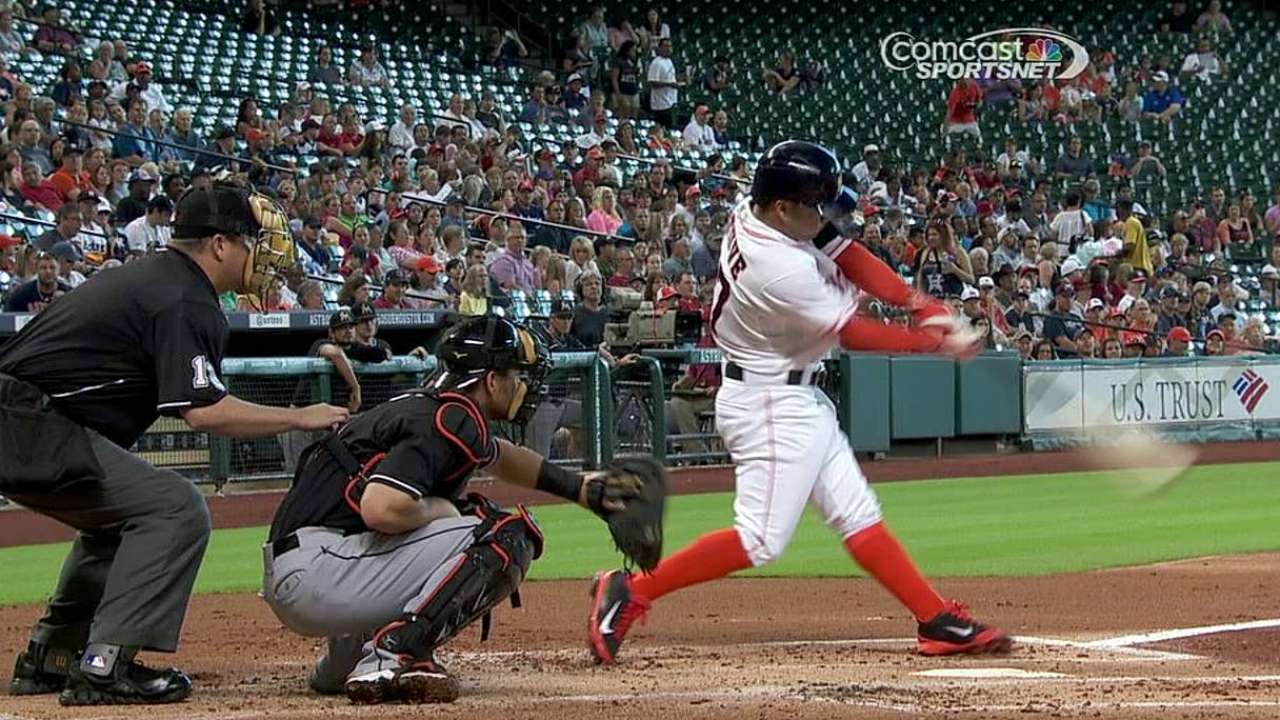 HOUSTON -- With two of their best weapons -- outfielders Dexter Fowler and George Springer -- on the disabled list, the Astros' offense's struggles aren't surprising. So when starting pitcher Collin McHugh gave up three runs in the first inning Sunday, any margin for error was gone.
The first-inning outburst was more than enough for the Marlins, who cruised to a 4-2 victory at Minute Maid Park behind starting pitcher Jacob Turner to sweep the punchless Astros in Houston for the first time in their history.
The Astros, who have lost five games in a row, have scored six runs in their past four games, including five this weekend against the Marlins. Both runs they scored Sunday came on solo homers -- Jose Altuve in the first inning and Jon Singleton in the ninth.
"We're missing a huge part of our offense with Fowler and Springer, but at the same time, it's provided opportunity for other guys to show what it is they can do," Astros manager Bo Porter said. "They have to take advantage of that opportunity. There's nothing they can do about it. Injuries are a part of the game, and we just have to go with the 25 guys we have to go into battle with each and every day."
Altuve, the only hitter in the lineup batting better than .280, went 3-for-4 for his Major League-leading 46th multi-hit game. He leads the Majors in hits (148), multi-hit games and three-hit games (18), and he is hitting .429 during his nine-game hitting streak.
The Astros managed only five hits in between the homers -- all singles. They were 0-for-8 with runners in scoring position Sunday, and 1-for-23 in the series.
"We're all going to go out there and give 110 percent," said Singleton, who snapped an 0-for-11 funk with his seventh homer. "With those guys out, it does [stink], but we've still got guys out there that are willing to play hard and give it all they've got."
McHugh, who was on the DL with a loose nail on the middle finger of his throwing hand, worked 6 1/3 innings and allowed four runs and seven hits while striking out nine. He gave up one run and four hits after the first inning.
"At the end of the day, you can pitch well -- if your guy throws a shutout and your score a run, obviously you win the game, 1-0 -- but you have to score runs," Porter said. "We had opportunities, and right now we're not getting the big hit. Altuve continues to swing the bat well, but we need some other guys in the lineup to get it going."
In the first inning, Christian Yelich led off with a single and scored on a triple to right by Jordany Valdespin, who scored on a Casey McGehee sacrifice fly. Garrett Jones followed with a home run to right field to make it 3-0. Marcell Ozuna homered for the Marlins in the sixth to push the lead to 4-1.
"Really, the pitch in the first inning I wish I could have back is the one that Valdespin, that he hit down the line," McHugh said. "It was a curveball and I think it was the right pitch. It was executed pretty well, but he put a pretty good swing on it and snuck that ball down the line, so ... obviously you tip your hat to those guys for coming out of the gates swinging."
Jones got some advice from McGehee.
"He just said his fastball is coming in harder than the radar gun is saying," Jones said. "Some guys have a little more deception. The first fastball he threw me, I definitely saw the life. I tried to just time it and get ready a little earlier. I was able to get a fastball in the middle of the plate and I didn't miss it. We've been doing that all year, giving each other little tidbits, giving each other an edge. Against a new guy we hadn't seen yet, it definitely helped me that at-bat, for sure."
McHugh said his role as a starting pitcher means he doesn't have time to worry about the team's offensive woes, even after giving up a three-spot in the first.
"We have one job as starters: We go out, and for however many pitches we get -- whether it's 95, 105, 120 -- you go out and you get outs," he said. "The offense, their job is to do their thing and get on base and score runs, and if everybody does their job, we win. If one of the parts of game struggles like we did early in the game, sometimes it doesn't go your way. The talent is there, we're fighting hard and we will hit ourselves out of it. It's the way baseball goes in the dog days of summer."
Brian McTaggart is a reporter for MLB.com and writes an MLBlog, Tag's Lines. Follow @brianmctaggart on Twitter. This story was not subject to the approval of Major League Baseball or its clubs.