Home struggles continue as 'pen lets game get away
Elias makes strong start and offense keeps it close but O's win in 10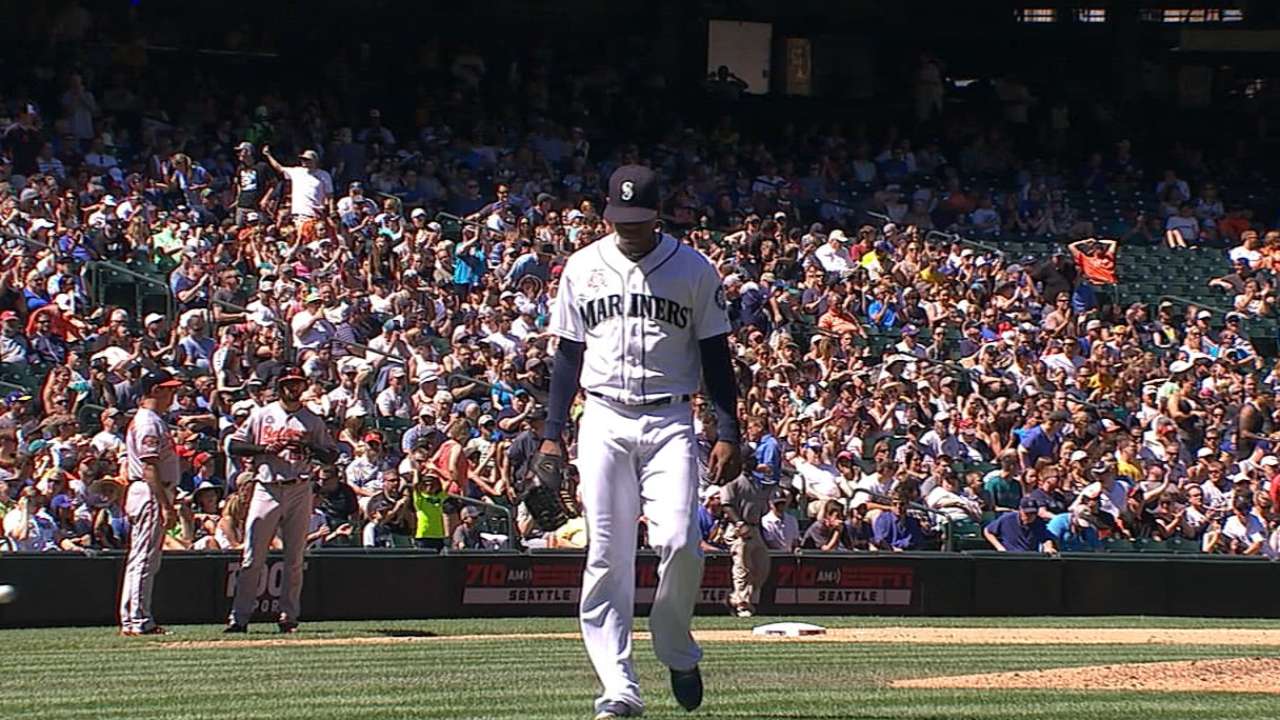 SEATTLE -- The Mariners' struggles at their home park continued in Sunday's 3-2 extra-inning loss to the Orioles, as Seattle dropped to 26-31 this season at Safeco Field.
Manny Machado's sacrifice fly off reliever Yoervis Medina (4-2) in the 10th inning helped Baltimore break a 2-2 tie. But the afternoon also underscored the need for Seattle's offense to improve before the club falls further in the playoff race. The Mariners are 3-7 since the All-Star break and trail the Blue Jays by 1 1/2 games for the second American League Wild Card spot.
"We got guys out there but [when] you're 1-for-7 with runners in scoring position in a ballgame like that, that's just not going to get it done," manager Lloyd McClendon said after the Mariners left 11 runners on base and dropped three of four games to the O's.
Much went right.
The Mariners received five innings of one-run ball from rookie left-hander Roenis Elias, a three-hit effort from surging left fielder Dustin Ackley, two from rookie shortstop Chris Taylor in just his second big league start and a 3-for-4 performance from catcher Mike Zunino.
They finished with 10 hits.
"We know we're getting the hits," said Ackley, who's hitting .375 with eight doubles and five RBIs in July. "We just got to get them at the right times … we're kind of spreading them out throughout the whole game. Maybe we need that one inning where we just put up some runs. Doing it early would be great too."
When Machado hit a two-out, RBI infield single in the top of the eighth inning to give Baltimore a 2-1 lead, Zunino followed with a solo blast -- his 15th home run of the season -- in the bottom of the frame to tie the game at two.
Seattle's pitching staff, which entered Sunday with the best ERA (3.07) in the American League, held the powerful Orioles offense to just a single run -- a Jonathan Schoop RBI single in the third inning -- through the first seven frames before Baltimore broke reliever Brandon Maurer's streak of 15 consecutive scoreless frames to take a 2-1 lead in the eighth.
The O's rallied when Jones hit a one-out double. Nelson Cruz was intentionally walked, then Chris Davis fanned. After J.J. Hardy walked to load the bases, Machado hit a dribbler to Taylor's right, which he fielded cleanly but threw high to Robinson Cano covering at second. Cano's foot came off the bag and the runner was ruled safe while Machado was credited with the hit.
"It's frustrating," Taylor said. "I really thought I should have had that. It got away from me a little bit. That's gonna happen. That's baseball. I'll make the play next time."
"I don't think I rushed," he added. "I just made a bad throw. I don't have any explanation for it. It just happened."
The Mariners, though, were first to score, taking a 1-0 lead in the second inning when Taylor hit a two-out, RBI double down the left-field line.
Meanwhile, Elias retired four of his first five hitters via the strikeout. After two perfect innings, the O's nicked him for a run in the top of the third. Machado led off with a single, then Caleb Joseph followed with a double, setting up Schoop's game-tying RBI single. Elias got Nick Markakis to fly out and Steve Pearce to ground into a 5-4-3 double play to escape the big inning he's had trouble avoiding during his up-and-down rookie season.
"He threw the ball really well today," Zunino said. "He had all three pitches working for strikes. I think that was the biggest key for him.'
In the fifth, Elias recorded the first two outs of the inning before issuing back-to-back walks to Schoop and Markakis. Pearce then followed with an infield single to load the bases for Jones, who grounded out to Kyle Seager for a fielder's choice, to end another O's threat without allowing a run.
That putout ended Elias' day after 85 pitches, 52 for strikes. The Cuban-born rookie allowed one run on four hits. He struck out six, walked three and settled for the no-decision while dropping his ERA to 4.31.
"I definitely wanted to go back out there," Elias said through a translator. "They made the decision to take me out. I had forearm cramps my last start and that was just the decision they made."
With the loss, the Mariners finished their homestand 2-5, as their record dropped to 54-51.
The have Monday off before opening a three-game set Tuesday in Cleveland, then head to Oriole Park at Camden Yards for three more against Baltimore.
The good news: The Mariners are 28-20 this season on the road.
Adam Lewis is an associate reporter for MLB.com. This story was not subject to the approval of Major League Baseball or its clubs.