Blue Jays outlast Yanks for rare series win in Bronx
Navarro's go-ahead hit keys second straight win after extended slide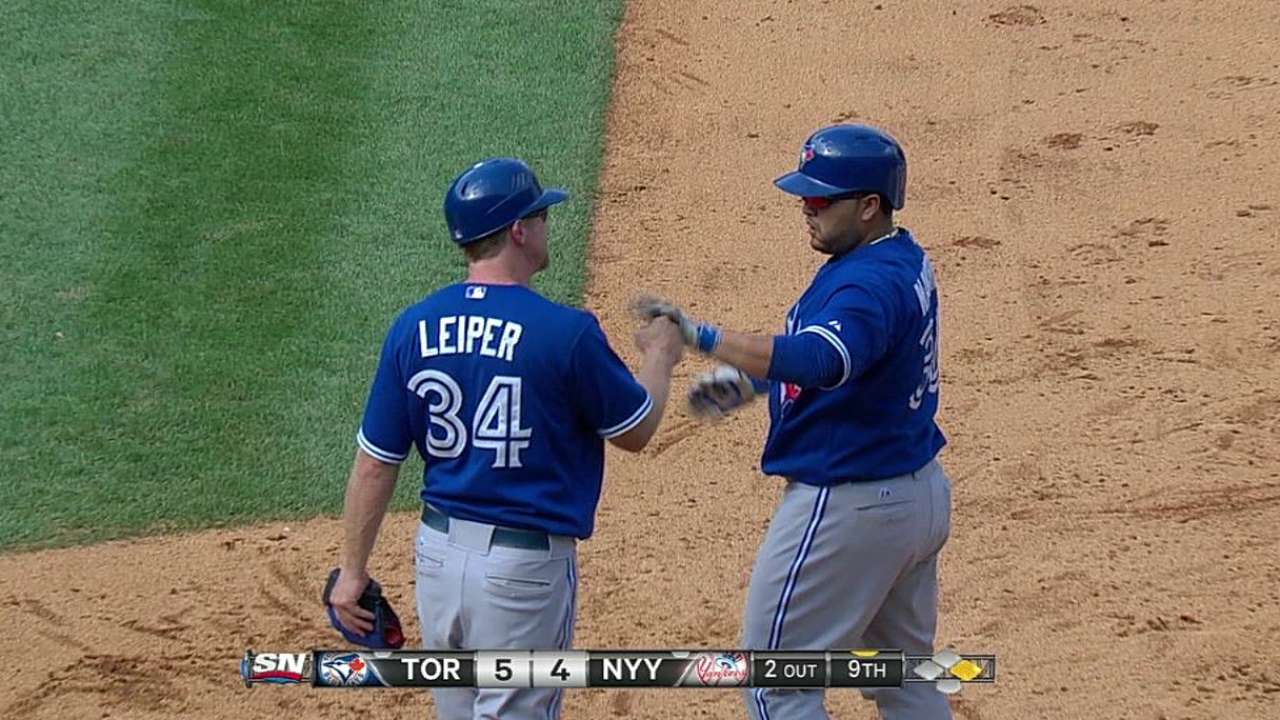 NEW YORK -- The Blue Jays were in a tailspin earlier this month, but all of a sudden they have renewed hope and are very much alive in the American League East.
Toronto entered the All-Star break having lost eight of its final 10 games. A six-game lead atop the division turned into a four-game deficit and everybody seemed to be writing off a team that once seemed almost guaranteed of meaningful baseball in September.
It seems like the tides have turned yet again, as the Blue Jays rallied after the Midsummer Classic to take their first three series. What makes it even more impressive is that Toronto has been able to bounce back with Edwin Encarnacion, Adam Lind and Brett Lawrie still on the disabled list.
"It is kind of a resilient group," manager John Gibbons said after his club's hard-fought 5-4 victory over the Yankees on Sunday afternoon. "We have some guys that didn't start with us, they're getting some opportunities and they're doing good things for us.
"That's important, guys are filling in and they have to do the job for you. We were struggling going into the All-Star break, so playing better coming out of it was very important to us."
One of the most difficult challenges of the season came this week in New York. The Blue Jays entered the three-game set having lost their previous 16 contests at Yankee Stadium, and the trend continued with a 6-4 loss on Friday night.
The first signs of life in the Bronx came the following day when the Blue Jays took advantage of some shoddy Yankees defense en route to a 6-4 win. The streak -- or curse, as some people had been calling it -- was over, but there was still plenty of work left to be done.
A series loss still would have resulted in a significant disappointment -- especially considering the opponent -- and for a while, that's exactly where the Blue Jays were headed. But Jose Bautista and Dioner Navarro teamed up in the ninth to make sure that didn't happen.
With two outs and closer David Robertson on the mound for New York, Bautista stole second without a throw. Navarro then fought off a pair of tough pitches before lifting a single to right-center field. Bautista easily scored and Casey Janssen came on in the home half of the inning to record his 16th save of the year.
Navarro's crucial RBI came two innings after he hit into a fielder's choice with the bases loaded. At the time, it looked as though his inability to drive in a run would be the turning point of the game, but he ended up getting a second chance. Navarro has 11 hits over his past seven games and is hitting .339 (19-for-56) with five doubles, two homers and eight RBIs since July 8.
"Not only today, there have been a couple of opportunities where I've come up with runners in scoring position, less than two outs, and I haven't been able to get the job done," a relieved Navarro said after the game. "It [ticks] me off -- the RBIs that you're not supposed to get, but should get -- because that's how you're going to win games. I'm so glad that I got a second chance and came through."
Sunday's win, combined with Saturday's triumph, gives Toronto its first series victory on the road since June 3-5 in Detroit. This win will feel extra special considering it came against a division rival and in a stadium where Toronto has struggled, to say the least.
The Blue Jays have won seven of their past nine games and have now taken each of the past three series. Each of those series victories came despite losing the first game, which marks the first time the Blue Jays accomplished that feat since Sept. 25-Oct. 1, 2006.
"We have to do the little things to win, and we played a great game," Navarro said. "We battled and battled and battled and we came through in the end."
The win was somewhat similar to the one Toronto had the day before, because once again the club benefited from a Yankees miscue in the field. The sides were locked into a 3-3 tie on Sunday afternoon when Colby Rasmus led off the eighth inning with a walk.
New York's Dellin Betances then made a pickoff attempt to first base. Betances' throw wasn't even close to first baseman Brian McCann and bounced off the wall in foul territory. Rasmus ran all the way to third and later scored when Munenori Kawasaki lifted a fly ball to left field as Toronto took a 4-3 lead.
That lead proved to be short-lived, though, as the Yankees battled back in the bottom half of the inning, but it was enough to keep the Blue Jays in it long enough to strike again.
"It's a frustrating loss," Yankees manager Joe Girardi said. "Team that we're fighting with, obviously, and it's a frustrating loss. We fought back a couple of times and just were never able to get the lead. ... Our miscues are what cost us in this series."
Gregor Chisholm is a reporter for MLB.com. Read his blog, North of the Border, and follow him on Twitter @gregorMLB. This story was not subject to the approval of Major League Baseball or its clubs.