Yankees lose battle of bullpens in finale vs. Jays
Club caps 7-3 homestand after rare hiccups from Betances, Robertson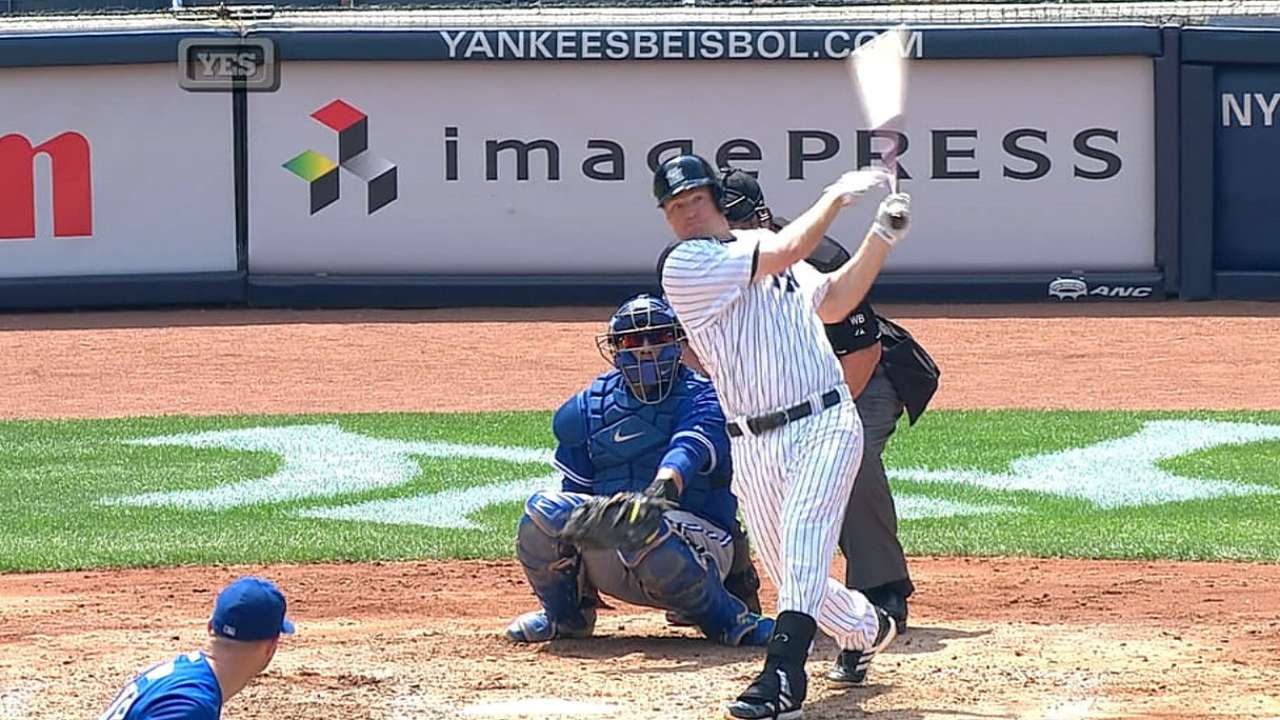 NEW YORK -- If the Yankees want to compete late into the season and reach the playoffs, they'll need to have consistently strong homestands like the one they wrapped up on Sunday -- albeit in frustrating fashion.
The Yankees' last 10 games have seen contributions come from nearly every corner, particularly their newest additions in third baseman Chase Headley and starters Brandon McCarthy and Chris Capuano. They've been in close games on a regular basis, rallying to win five times in the past week.
But after a tough 5-4 loss to the second-place and division-rival Blue Jays in Sunday's finale at Yankee Stadium, it was hard not to let disappointment seep in after Toronto earned the series win in a hard-fought game.
"It's always a disappointment to lose," said Derek Jeter. "We don't go into the last two days worried about what we did in the last eight. You try to win every day."
The Yankees had a shot late, but in the ninth inning, David Robertson wasn't paying any attention to Jose Bautista at first base. With two outs in a 4-4 game, Bautista stole second without a look or throw.
Then, just a few pitches later, Dioner Navarro lofted a sinking liner to right-center, plating the go-ahead run to deal the Yankees their first series loss since the All-Star break.
"I wish I had done a better job of holding Bautista on first," said Robertson. "[I] just kind of let it slip from my memory there for a second, and that's all it took and he was on second."
"It's a frustrating loss," said manager Joe Girardi. "[It's] a team that we're fighting with, obviously, and it's a frustrating loss. … We fought back a couple of times and just were never able to get the lead."
The Blue Jays led four times, the first three of which the Yankees came back to tie the game, the last coming on a Carlos Beltran RBI single in the eighth to score Brett Gardner.
That came after Dellin Betances nearly threw the game away in the top of the frame with an errant pickoff throw, allowing Colby Rasmus to skip to third base and eventually score a batter later on a sacrifice fly to give Toronto a 4-3 lead.
"My cleat got stuck," said Betances. "And as soon as that happened, I had a feeling I was going to throw it away, so I just tried to be quick instead of taking my time, and I threw it away."
It was the first time all season that both Betances and Robertson surrendered runs in the same game, a rare occurrence in roles they have otherwise held down very well.
"Today just wasn't our day," said Robertson. "We've been doing a pretty good job of pitching out of the bullpen. I just didn't have my sharp stuff today, and I wasn't able to get it done."
In the seventh, the Yankees were beneficiaries of some shaky defense when Brian McCann bounced a ball into the shift in short right field. Bautista couldn't collect a one-hop throw from Jose Reyes, and Jacoby Ellsbury, hustling from second, scored to tie the game at 3. McCann was awarded a hit on the play.
The Blue Jays jumped ahead right away off starter Shane Greene thanks to a Bautista RBI groundout in the first. Juan Francisco then added to the Toronto lead in the fifth with a solo shot to right, pushing the game to 2-0.
But the Yankees responded with their own power in the bottom of the inning. Headley ripped his first Yankees home run to left field and Francisco Cervelli immediately followed suit, launching a high one just out of Melky Cabrera's reach in right-center to tie the game.
Greene settled down nicely after the early outburst, inducing plenty of ground balls and letting his defense help out in the process. That included cutting down a run in the fourth when right fielder Zelous Wheeler, making his first start in right field, threw out Dan Johnson thanks to a nice tag from Cervelli.
"That was huge," said Greene. "He definitely bailed me out of that situation, for sure."
But the righty was lifted with one out in the sixth, the shortest outing of his four starts, after Rasmus roped an RBI double to left-center to give the Jays a 3-2 lead. Toronto stacked eight lefty bats into its lineup, which worked to the tune of eight hits and two walks off Greene. David Huff, as he did Friday, cleaned up the sixth to keep the deficit at one.
"I felt pretty good," said Greene. "I made some good pitches. I've just got to be better later in the game."
Happ went the same distance and was mostly strong, save for the back-to-back home runs. His line ended up being similar, relieved after 5 1/3 innings and three runs by Brett Cecil, part of a Blue Jays bullpen that held the Yankees just enough to preserve the game.
"We're used to it," Girardi said of playing close games. "It's not something that we're not used to. I've said all along for us to have success, we're going to have to win these close ones."
In large part, the Yankees have. But all those battles have surely made each game exhausting, which seemed to be evident during the last two losses. For now, they'll head to Texas pleased with their production at home and knowing they have a blueprint for the road ahead.
"You win seven out of 10 the rest of the season, you make the playoffs," said Gardner. [We] definitely would have liked the last few days to have gone differently, but we feel good about where we're at, and hopefully we can have a good road trip."
‪Jake Kring-Schreifels is an associate reporter for MLB.com. This story was not subject to the approval of Major League Baseball or its clubs.