Nelson's strong start spoiled by one swing
Righty allows two-run homer to Mets' Duda in sixth inning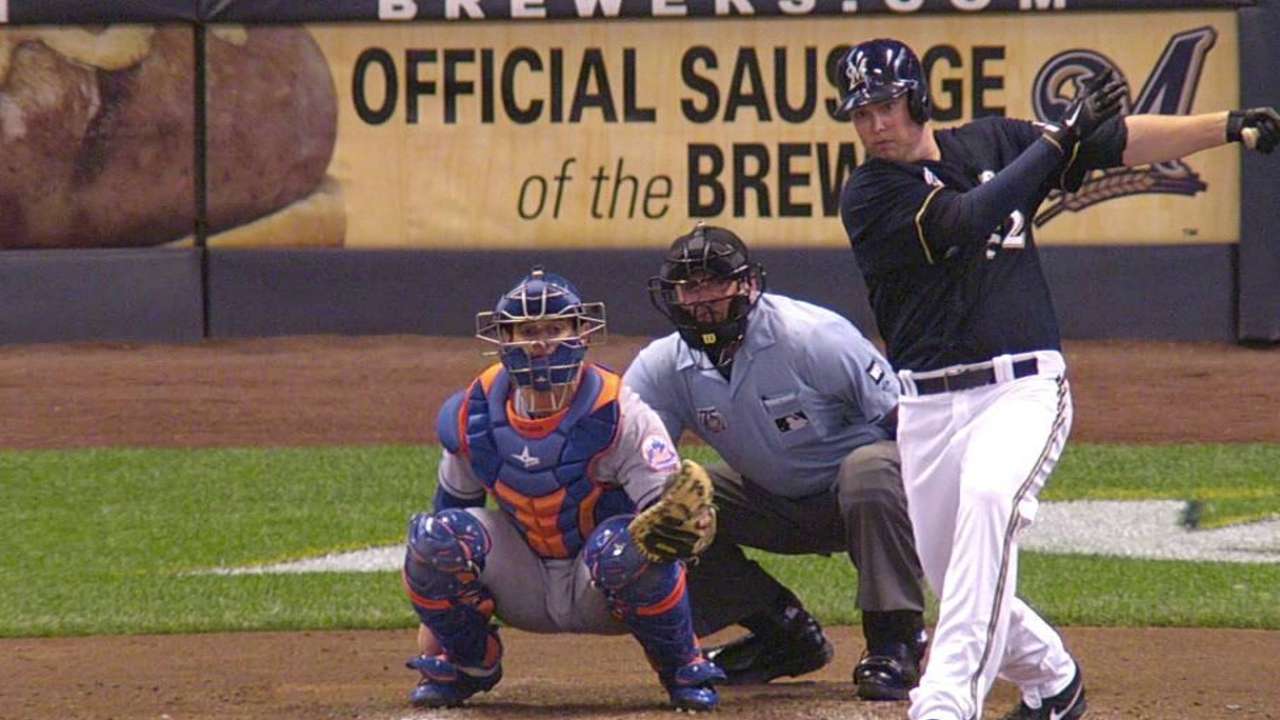 MILWAUKEE -- Manager Ron Roenicke had a simple, if obvious, explanation for his club's inability to solve Mets rookie Jacob deGrom.
"We just didn't swing the bat that well against real good pitching today," Roenicke said.
Rookie right-hander Jimmy Nelson allowed just two runs over seven innings, but deGrom was even better as the Brewers dropped a 2-0 decision Sunday afternoon.
With the loss, the Brewers lead in the NL Central shrunk to two games over the Cardinals, who defeated the Cubs, 1-0, on Sunday. Milwaukee begins a three-game series at Tampa Bay on Monday, followed by three in St. Louis.
"We know we've got great pitchers we're facing the next three days and it doesn't get easier in St. Louis," said Roenicke, with the Brewers set to face Jake Odorizzi, Alex Cobb and David Price for the Rays. "So, we've got to find a way to scratch out runs and our pitching, they have to be good on the road."
The Brewers, who have been shut out eight times this season, managed just two singles through six innings against deGrom, who won his fourth consecutive start. In those four games, deGrom has allowed just two earned runs in 27 1/3 innings for an 0.66 ERA.
"He's been very good," Mets manager Terry Collins said. "We keep talking about it, I guess he has to go out each time and prove it. He's been very good. He was very good today. Threw a lot more pitches than we wanted, but against a good lineup you can't make mistakes, and he stayed away from mistakes."
The Brewers almost got to DeGrom and the Mets in the seventh. Khris Davis singled to open the inning and advanced to second on Jean Segura's one-out single. Vic Black came on in relief and retired pinch-hitters Scooter Gennett and Aramis Ramirez on pop outs.
"I felt pretty good with Scooter and Rami coming up to bat," Roenicke said. "They're going to get good fastballs usually from Black. He got Scooter 3-2. I thought we had a good shot there."
The Mets, who stranded runners in scoring position in the second, third and fourth innings, finally broke through against Nelson in the sixth.
Daniel Murphy opened with a double to center. After David Wright flied out, Lucas Duda lined an 0-2 pitch deep over the right-field wall for his career-best 18th home run and a 2-0 lead.
"I was trying to throw it down and in and left it up a little bit," Nelson said. "Big league hitters will take advantage of that."
Nelson walked two and hit a batter, but was aided by inning-ending double plays in the first and second.
"I kept us in it. I was still a little wild," said Nelson, who was 10-2 with a 1.46 ERA at Triple-A Nashville before being called up earlier this month. "I felt like they picked me up behind me. I know we had a couple of double plays there. I made the pitch when I needed to, except for the one to Duda. I just got too much of the plate and he did what he was supposed to with it."
The Mets' Jenrry Mejia pitched a scoreless ninth for his 15th save in 17 chances since moving to the bullpen in mid-May after seven starts.
With one out in the ninth, Davis beat out an infield single on a chopper to short. Mets manager Terry Collins challenged the call, which was upheld after a review of one minute and 46 seconds.
In the fourth inning, Davis drew a two-out walk and Mark Reynolds followed with a towering fly ball that hit a roof support cable down the left-field line. Davis was rounding third as the ball bounced back into left field, but it was ruled foul, based on where it struck the cable per the ground rules for Miller Park.
Roenicke said he didn't challenge the call because bench coach Jerry Narron indicated that a replay was not available.
"When I went out there, I looked back at Jerry and he said no because we didn't have a shot of it," Roenicke said, although he checked with home-plate umpire Dan Bellino. "Once it went up there, it disappeared on me. I didn't know where it hit. It's a hard one for the umpire if it goes up. You're not used to looking up there at it. But, Dan said he was on it and he said it hit foul."
Nelson singled with one out in the third inning for his first professional base hit. He was 0-for-59 in the Minors and 0-for-7 with the Brewers.
"I think my thumbs are still in the batter's box," Nelson said. "It's been a while since I got one of those, about 10 years, so it was good."
Duda accounted for both Mets victories in the four-game series. His two-run homer capped a three-run ninth inning on Friday when the Mets rallied to win, 3-2.
Still, the Brewers finished the seven-game homestand at 5-2 to remain in first place, a spot they have either held or shared since April 5.
"Any homestand you finish above .500, obviously we would rather have went 6-1 or swept it, but that's where we're at," Reynolds said. "You've just got to go keep playing."
Jim Hoehn is a contributor to MLB.com. This story was not subject to the approval of Major League Baseball or its clubs.