Carroll strong but bullpen falters in finale
Rookie exits early with blister as relievers struggle vs. Twins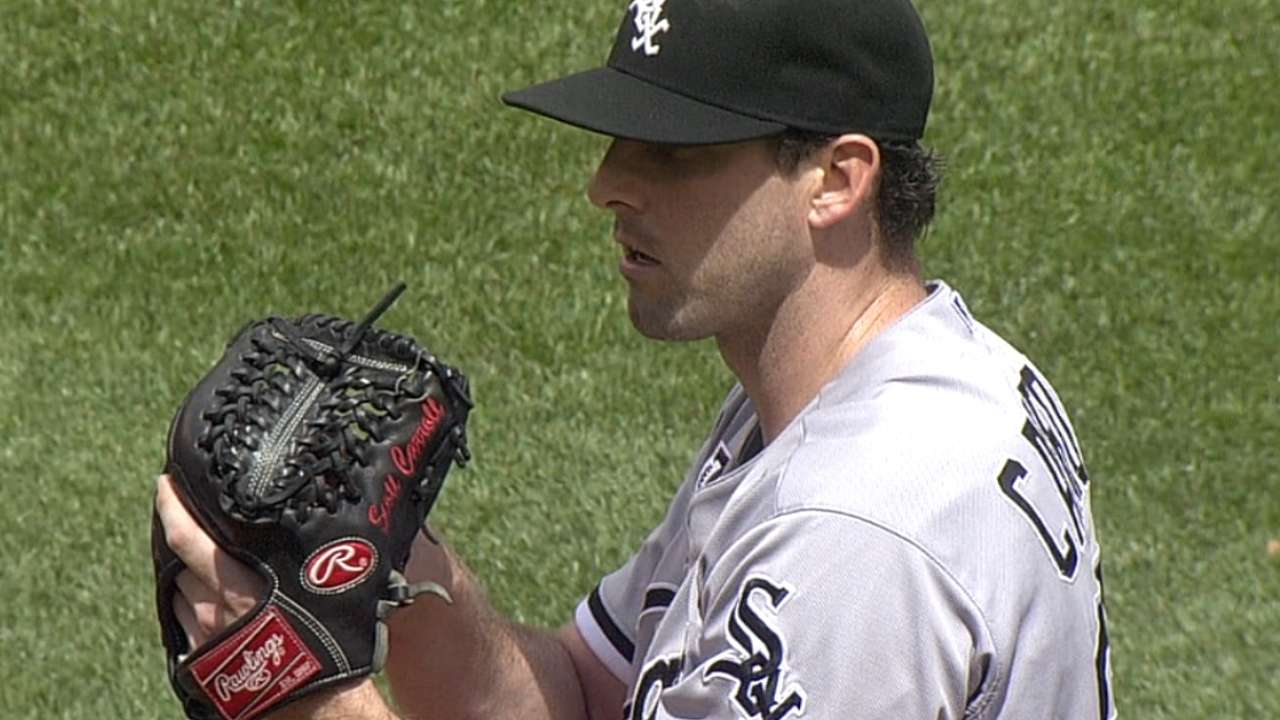 MINNEAPOLIS -- A blister and a rosin bag might have been the only things standing in the way of a four-game sweep for the White Sox this weekend.
Sam Fuld hit a two-run single with two outs in the seventh as the Twins rallied against Chicago's bullpen for a 4-3 victory Sunday at Target Field.
The Twins rallied after starting pitcher Scott Carroll was forced out of the game with a blister on the middle finger of his throwing hand. Carroll had only thrown 78 pitches and given up just one run on four hits, but the blister cropped up after the bottom of the sixth and manager Robin Ventura didn't want to push it.
"I wasn't going to send him back out there the way his hand was, so we started going to the bullpen," Ventura said. "We have an off-day tomorrow so we could start a little bit earlier."
That didn't turn out as well as he had hoped. Ronald Belisario entered the game, but before he could even throw a pitch, plate umpire Jeff Kellogg made a trip to the mound and said Belisario had too much rosin on the left sleeve of his undershirt. Belisario returned to the foul line where his sleeve was cut off at the elbow. He also had to remove a bracelet he had tucked under that sleeve.
Ventura wouldn't blame Belisario's performance on the snafu, but the pitcher clearly wasn't happy about having to change his routine, especially when he felt he wasn't using any more rosin than normal.
"Yeah, I got mad," Belisario said. "I mean, I always wear it like that."
Leading, 2-1, Belisario walked Josh Willingham on four pitches to lead off the inning, and Chris Parmelee followed with a single. A wild pitch moved both runners up, and Belisario walked light-hitting backup catcher Eric Fryer to load the bases with no outs.
Javy Guerra inherited that mess and got Eduardo Escobar to foul out to Alexei Ramirez behind third base for the first out. Danny Santana lifted a fly to shallow right-center that Adam Eaton tracked down for the second out. Willingham decided to test his arm, and when Nieto couldn't make a sweep tag off Eaton's short-hop throw, the Twins had tied the game. Both runners moved up on the throw home, and Fuld brought them home with a single up the middle to put Minnesota on top for good.
"I was just trying to stay within my approach and not let the moment get to me," Fuld said. "I was just trying to shoot it up the middle and stay short."
But the White Sox weren't done. Adrian Nieto's first Major League home run -- an opposite-field shot just over the flower beds in left field -- pulled the White Sox back within a run in the eighth, and they made things interesting in the ninth against All-Star closer Glen Perkins.
Jose Abreu led off with a single, and pinch-runner Leury Garcia moved to third on Paul Konerko's pinch-hit single. Perkins fanned Dayan Viciedo on three pitches, then walked Conor Gillaspie to load the bases with one out. But Alejandro De Aza went down swinging at a slider in the dirt for the second out, and after a couple of close calls on foul balls, Gordon Beckham was retired on a routine fly to left to end the game.
"We had a chance there -- we just didn't get that big hit," Ventura said. "Gordon had a great at-bat to finish the game. He didn't get a hit, but he had a couple shots that were pretty close to dropping something in."
After being thoroughly dominated the first three games of the series, the Twins took their first lead of the series in the third inning when Santana's one-out triple scored Escobar from second for the first run of the game.
But that was all the Twins would get off Carroll, who has given up zero or one run in three of his last four starts.
"I think the biggest thing I can take away from this is just staying within myself," Carroll said. "I didn't have my best stuff, but when I execute and not try to be too fine I think that's when my stuff plays really well."
In the end, after being swept in a four-game set in their last trip to Minnesota, the White Sox can be satisfied with taking three of four this weekend, setting up a three-game set with the first-place Tigers in Detroit starting Tuesday.
"Last time we were here they knocked us around pretty good, so it's nice to get some under our belt here," Ventura said. "We know we've got a tough series coming up."
Patrick Donnelly is a contributor to MLB.com. This story was not subject to the approval of Major League Baseball or its clubs.