Shoemaker tames hometown club in three-hit outing
Rookie outduels Verlander; Navarro belts first Major League HR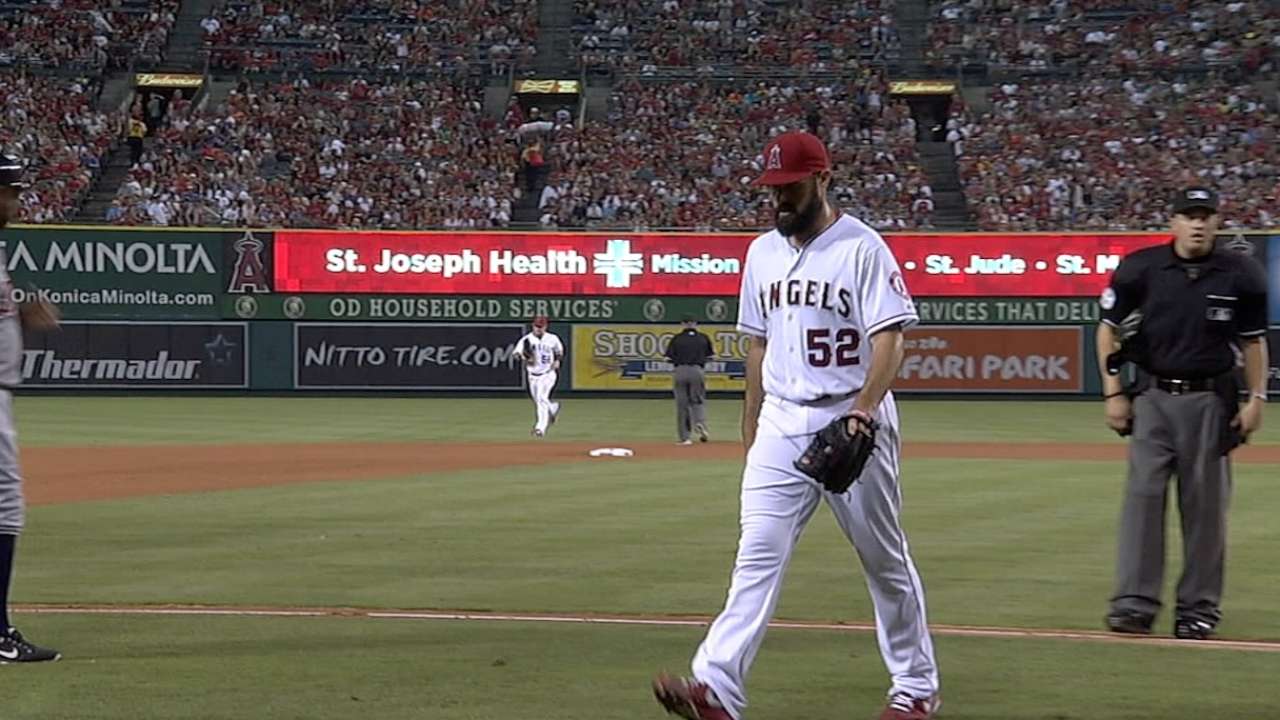 ANAHEIM -- For Matt Shoemaker, home has been a few different places.
It's been Rockwood, Mich., a suburb 25 miles south of Detroit. It's been the Minor Leagues, where he pitched in nearly 150 games. It's been the bullpen. It's been the rotation.
But on Saturday night, his home came to Angel Stadium.
With his mother, father and sister in attendance, Shoemaker threw seven shutout innings as his Angels beat his hometown Tigers, 4-0. He became the first Michigan-born starting pitcher to beat the Tigers since Derek Lowe in 2005.
"I've gotten so many encouraging messages from friends who are die-hard Tiger fans, and it was awesome because they were like 'Hey, we're rooting for you today,'" Shoemaker said. "So it was pretty special."
Efren Navarro continued his hot streak with two RBIs and his first career home run as the Angels (62-41) kept pace with the division-leading Athletics to stay two games back. The Tigers (57-44), meanwhile, have now lost nine of their last 10 games in Anaheim.
Shoemaker needed just 78 pitches to get through seven innings, gave up three hits and did not walk a batter for his third consecutive outing.
"It was one of those games where he wasn't going to beat himself, he was going to make good pitches and make those guys hit the ball," manager Mike Scioscia said.
The Tigers had no such luck.
After Ian Kinsler's one-out double in the first inning, the 27-year-old rookie allowed only two more baserunners and no Tiger reached second base in Shoemaker's final six innings. Following Kinsler's double, Shoemaker faced the minimum 16 batters in the next 5 1/3 innings before Austin Jackson's two-out single in the seventh.
"He moves the ball around, pitches in and out with his fastball," said Tigers manager Brad Ausmus, who was ejected in the third inning. "He's got a very good split-finger. He's done a very good job for them and he was very good tonight."
Scioscia decided to lift Shoemaker -- and his low pitch count -- after the seventh and turn toward his bullpen. Kevin Jepsen and Jason Grilli each threw scoreless innings to preserve the win.
"Shoe got us to where we needed to be," Scioscia said.
Though he wanted to return for the eighth, Shoemaker said he understood the decision.
"It was a 3-0 game at the time, there's a reason we have [them] at the back of our bullpen," Shoemaker said. "They're in there to shut it down, and they did."
Navarro, whose solo shot to right off Justin Verlander gave the Angels a 1-0 lead in the second inning, notched his first career multi-RBI game. The 28-year-old rookie is hitting .333 during his third stint with the Angels this season.
"Of all the things he does, probably the thing that you don't expect him to do is hit a home run like he did tonight," Scioscia said.
Navarro hit only 18 homers combined in the past three Triple-A seasons before ripping a 1-1 Verlander fastball into the right-field seats.
"When you see him between first and second, he's on cloud nine and you can tell," Scioscia said. "I think that's a great moment in any Major Leaguer's career and Efren, like we've talked about, he's waited a long time and worked very, very hard for this opportunity, and we couldn't be happier for him."
He became the first Angel since 1977 to pick up his first career home run against a former Cy Young winner. Shoemaker, meanwhile, moved to 3-0 against former Cy Young winners this season. He also defeated Cliff Lee and David Price.
Shoemaker and Navarro combine for just 47 Major League starts but were still able to lead the Angels to a win over a playoff-caliber team.
"The depth of our club this year has really been fortified with some guys that maybe weren't household names even in Spring Training," Scioscia said. "Matt Shoemaker pitched himself into our rotation. Efren Navarro played himself onto our team to get at-bats. These are things you have to have if you're going to get through this grind of a season."
In four of the last five Angels wins, the game-winning hit has come from a player who was not on the Opening Day roster
"There's always guys coming in in different spots to help out the team," Shoemaker said. "We're guys who want to keep showing them what we can do and contribute to this team and get us wins so we can be around for a long time."
With outfielder J.B. Shuck joining the team from Triple-A, Navarro moved across the clubhouse to a new locker before Saturday's game. But for Navarro, it meant he still had one.
"I'm happy I have a locker," Navarro said.
With a locker, he, too, has a home.
Matthew DeFranks is an associate reporter for MLB.com. This story was not subject to the approval of Major League Baseball or its clubs.