Cosart, Astros don't get the bounces against Marlins
Righty allows five early runs; rally fizzles on liner off Fish hurler's back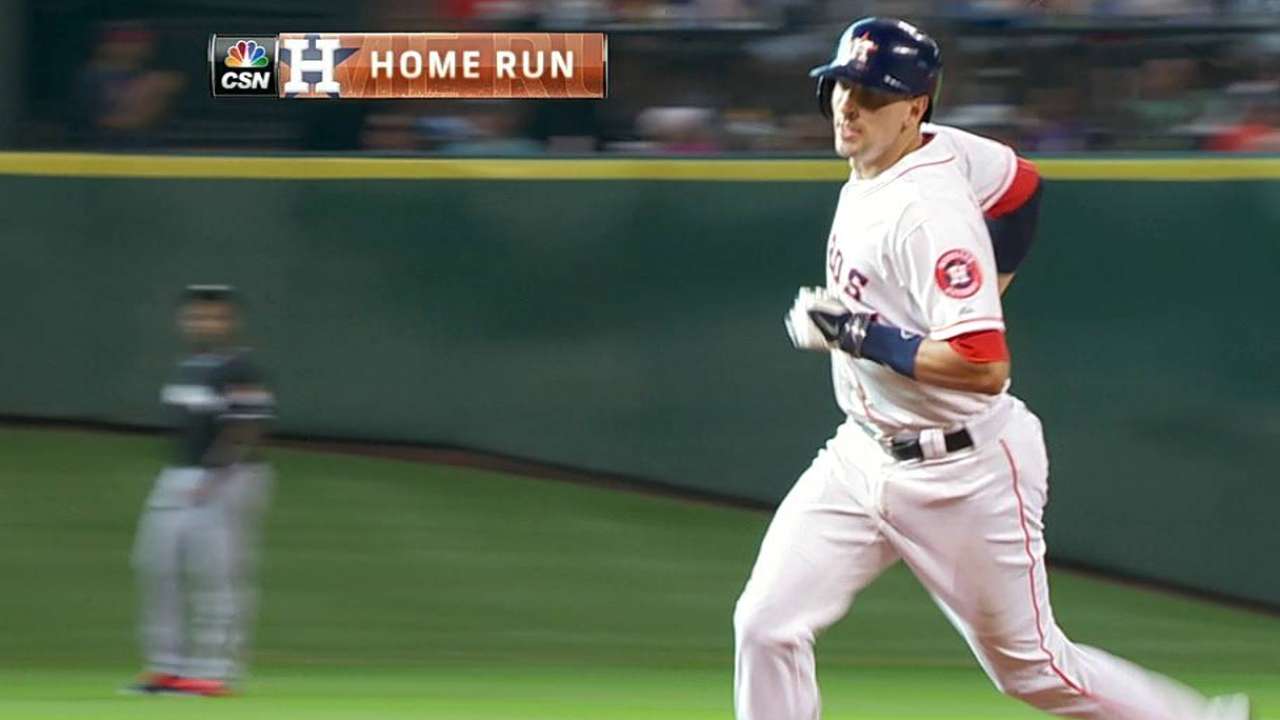 HOUSTON -- It was the kind of night when a line drive that was sure to be an RBI single instead hit the pitcher's back and floated into the shortstop's glove.
Even when things went right for the Astros, they ended poorly in their 7-3 loss to the Marlins on Saturday night at Minute Maid Park.
With Jose Altuve on third and Marwin Gonzalez on first with no outs in the third inning, Chris Carter zipped a hard-hit line drive up the middle of the field. Marlins pitcher Tom Koehler's back interrupted the path of the ball, which landed in Adeiny Hechavarria's glove.
Koehler was not only able to stay in the game, but he struck out Jason Castro and Matt Dominguez to get out of the troublesome inning unscathed.
"We would've at least put another couple runs on the board there," Castro said. "That's not something you see often, but that would've driven in a run there."
It was Castro who made sure early that the Astros wouldn't be shut out for a second consecutive game, hitting his ninth homer of the season that plated Carter in the first.
The Astros didn't have too much trouble getting on base, collecting 12 hits, but they couldn't convert.
"We had some opportunities there and had the right guys up there," manager Bo Porter said. "We hit one line drive off the pitcher's back or shoulder and the shortstop catches the ball. It's just one of those things. We had some opportunities and we could not get the big hit."
The Astros notched an additional run in the fifth after Jose Altuve and Marwin Gonzalez singled and Carter knocked Altuve in with a single of his own.
Koehler made it through five innings, giving up three runs on nine hits, as the Miami bullpen kept Houston scoreless.
Jarred Cosart struggled early, as his pitch count quickly rose to more than 50 pitches in two innings, mostly due to the Marlins' devastating four-run second.
Giancarlo Stanton had the shortest at-bat of that inning and delivered the most damage, clearing the bases on the first pitch from the Houston right-hander. It was no incredible display of power from the slugging Stanton, but his three-run double put the Astros in a hole too deep to climb out of while Cosart threw 39 pitches in the second.
"Same as always when I have a bad game," Cosart said. "Just didn't throw strikes."
At that point it looked as if Cosart's outing wouldn't last very long. Instead, he battled through 5 2/3 innings and didn't give up another run after the Stanton double.
Cosart said he was able to make some adjustments, including throwing his changeup more effectively to stabilize the early damage.
"The last four innings is what I need to build on," Cosart said.
Mike Vernon is an associate reporter for MLB.com. This story was not subject to the approval of Major League Baseball or its clubs.