Stanton's scorcher helps seal series win in Houston
Grounder in second reaches wall, plates three to back gutsy Koehler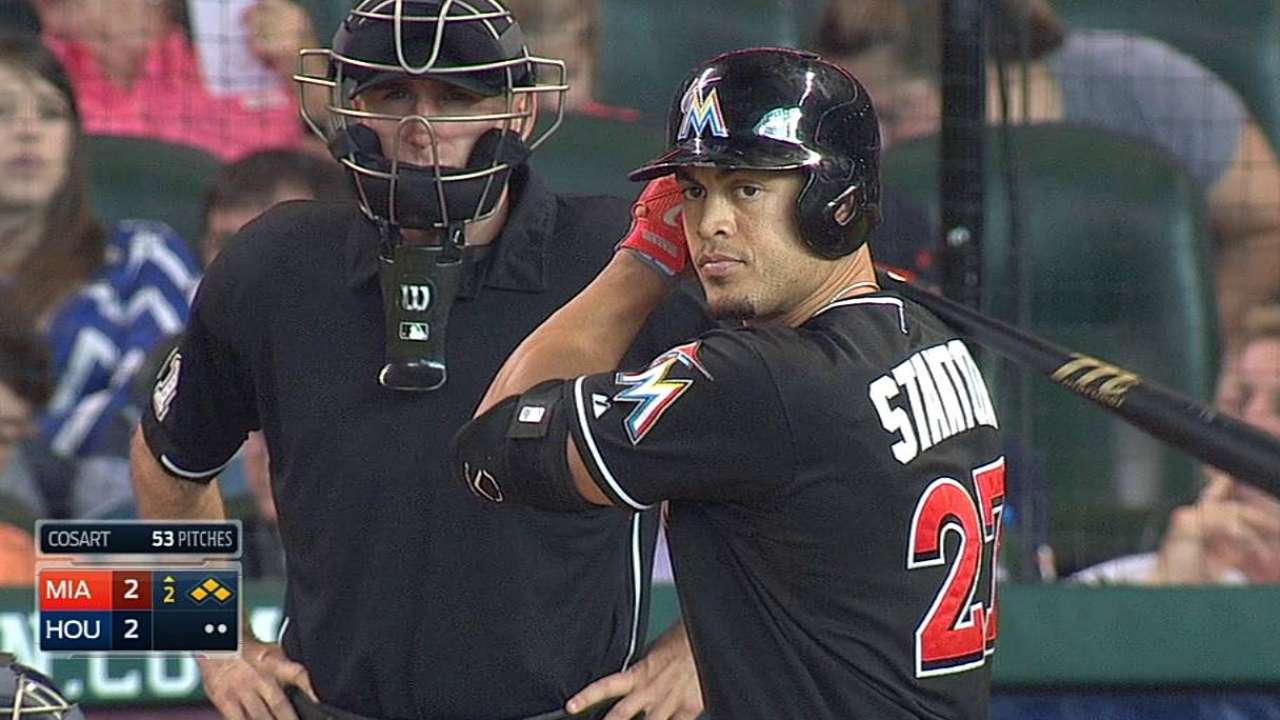 HOUSTON -- It wasn't how far Giancarlo Stanton swatted the ball that made the difference on Saturday night. It was the placement of the slugger's blistered double that provided the big boost for the Marlins.
Stanton's three-run double in the second inning loomed large, as it lifted the Marlins to a 7-3 win over the Astros at Minute Maid Park.
In many ways, how Stanton goes, so go the Marlins.
Stanton had gone 33 straight games since July 16 without a multi-RBI game before his bases-clearing double in the second inning.
The Marlins have now secured a series win in Houston and a successful road trip after taking three of four in Atlanta. They've won six of seven and improved to 50-53 overall. Last year, Miami won game No. 50 on Sept. 1. Improvement has been made, but ground needs to be made up to climb back into the race.
"If we come out tomorrow and get a sweep, we're in pretty good shape," Stanton said. "Atlanta was huge, too, because they're a team we need to gain on the most, along with Washington."
Against a rebuilding team like Houston, Stanton says the Marlins need to take care of business.
"Teams like this have good potential," the slugger said. "But it's teams like this that we've got to stomp and then stay even keel with the best of them. Obviously they're a great team, but we can't take them lightly. We've got to get sweeps in series like this."
Tom Koehler had a struggle over five innings, yielding nine hits, while striking out two. But the right-hander was able to minimize trouble, allowing three runs. He exited after 71 pitches and his team up by two, and he won for the first time since July 2.
"I walked that tightrope, kind of, the whole day," Koehler said. "Fortunately I stayed balanced enough to get through five and hand it over the bullpen. They did a great job today."
Jordany Valdespin provided insurance with a two-run homer in the ninth off former Marlins reliever Chad Qualls, allowing Miami to avoid using closer Steve Cishek in a save opportunity for the sixth time in seven days.
The Marlins have an uphill climb to get back into contention, but they're battling to make things interesting.
"We're aware of what we need to do," Koehler said. "There is no secret in that. As a team, we've been united all year."
Astros right-hander Jarred Cosart overcame a rough start and made it through 5 2/3 innings, giving up five runs on seven hits with four walks and four strikeouts.
Miami was all over Cosart early, scoring five times in the first two innings. The Houston right-hander was at 56 pitches through two frames.
The big hit of the four-run second inning was Stanton's two-out knock on a ball scorched just out of shortstop Marwin Gonzalez's reach. Because the ball was hit so hard, it found the gap in left-center, clearing the bases. Christian Yelich slapped an RBI single to left, capping a nine-pitch at-bat, to help set Stanton up with the bases loaded.
"I was surprised that thing kept going, but nobody was there," manager Mike Redmond said. "It looked like a single a couple of steps from the shortstop, and fortunately we were able to score three runs on it. We'll take it."
Stanton knew the ball was a hit, but wasn't sure he had a three-run double.
"I didn't know where the center fielder was," Stanton said. "For me, he's usually on the pull side. I'm glad it worked out. I told Yeli, I was going to whoop him if he didn't score."
Yelich walked to open the game, and he scored on Casey McGehee's two-out RBI single to center. McGehee came into the game leading the Majors in batting average with runners in scoring position (.371).
Miami's advantage didn't last long.
With two outs in the first, Chris Carter singled and Jason Castro connected on a two-run homer to right.
Koehler worked out of trouble, and he avoided injury in the third inning when he absorbed a liner off his back by Carter. But on the play, the break went Miami's way. The ball deflected behind second and was caught by shortstop Adeiny Hechavarria. Koehler struck out Castro and Matt Dominguez, working out of the first-and-third, no-out jam.
"We're starting to win some of these games we were losing before," Koehler said. "We're continuing to fight all the way through."
Joe Frisaro is a reporter for MLB.com. He writes a blog, called The Fish Pond. Follow him on Twitter @JoeFrisaro. This story was not subject to the approval of Major League Baseball or its clubs.