Brewers ride two-out rally to victory vs. Mets
Crew pulls ahead with three-run fifth; K-Rod rebounds to notch save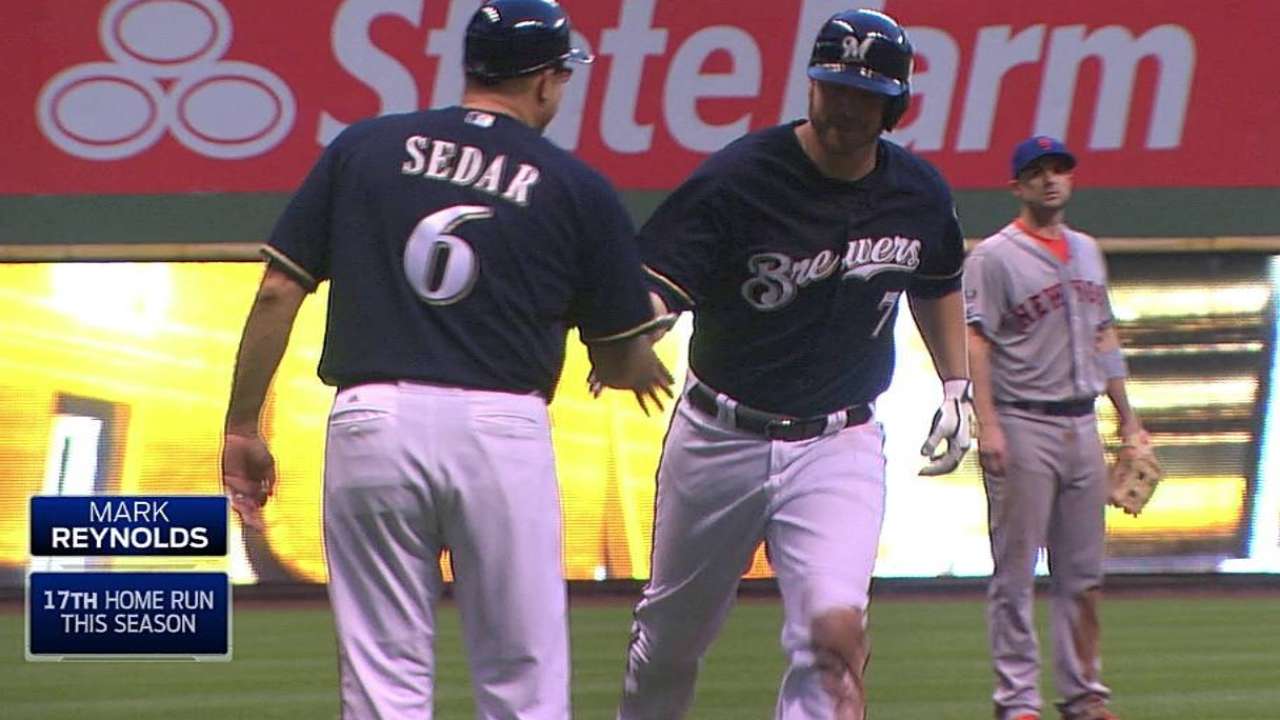 MILWAUKEE -- Fortunately for the Brewers, closer Francisco Rodriguez has a short memory when it comes to save situations.
One night after blowing a two-run lead in the ninth inning and absorbing the loss, Rodriguez rebounded with a scoreless ninth to preserve the Brewers' 5-2 victory over the Mets on Saturday night at Miller Park, maintaining Milwaukee's three-game lead in the National League Central.
"That's part of the game," said Rodriguez, who notched his 30th save in 34 chances. "One day, this game can put you on top; next day, it can put you on the ground. So you've got to be consistent and just take it day by day, and have a short memory."
Rodriguez's effort capped a solid performance by the bullpen after starter Wily Peralta battled his way through 5 2/3 innings. Zach Duke, Jeremy Jeffress, Will Smith and Rodriguez allowed just two hits while striking out eight over 3 1/3 scoreless innings.
Peralta, who allowed one earned run in 14 innings in his two previous starts, allowed two runs on six hits while needing 103 pitches to get through his outing. He walked three and struck out two to win his third straight start.
"This is one where you really had to battle and make your pitches," said Peralta. "When you have your best, it's easy to go through the lineup, but when you don't have your best, you're not commanding very well, you have to make one pitch at a time and try to make a pitch to keep your team in the ballgame."
The Brewers erased a 2-0 deficit with three runs in the fifth off starter Jon Niese. Jean Segura manufactured the first run, reaching on a fielder's choice, stealing second, advancing to third on Peralta's flyout to center and coming home on a wild pitch.
With two outs, Carlos Gomez singled and then scored on Jonathan Lucroy's double off the center-field wall. Ryan Braun singled to score Lucroy. The double was Lucroy's 34th of the season, second in the NL behind Arizona's Paul Goldschmidt, who has 39.
"I don't know if his concentration was broken after the ball got by the catcher and the run scored, but after that, all of his sudden his balls started to come up in the zone a little bit," Mets manager Terry Collins said of Niese.
Mark Reynolds extended the lead to 4-2 in the sixth with his 17th home run, a two-out solo shot to left-center off Carlos Torres.
The Brewers added a run in the eighth when Rickie Weeks hit a two-out single and scored on a double by Khris Davis. Milwaukee appeared to score again when Reynolds reached as first baseman Lucas Duda was ruled off the bag by first-base umpire Dan Bellino. The call was overturned after review to end the inning.
All of the Brewers' runs came with two outs.
"With two outs, whenever you're able to put together runs, it says a lot about your offense and really battling up there at the plate," Brewers manager Ron Roenicke said. "Not just figuring, 'Well there's two outs and the inning's over and we'll go on to the next one.' Two outs, a lot of things can happen and they did for us tonight."
The Mets took a 1-0 lead in the third. Curtis Granderson snapped an 0-for-18 skid with a leadoff double to center and moved to third on Daniel Murphy's groundout. After David Wright walked, Lucas Duda followed with an RBI single to center.
Both runners advanced on a wild pitch, but Peralta escaped by retiring Travis d'Arnaud on a flyout to right and Chris Young on a groundout to second.
Granderson made it 2-0 when he opened the fifth with his 15th home run, his first in 51 at-bats since his homer on July 8.
"When you're up 2-0 and Jon Niese is pitching as well as he was, you like your chances," Collins said. "We had a chance to get out of that inning and we didn't."
The victory kept the Brewers, who have been alone in or tied for first place since April 5, three games in front of St. Louis, which defeated the Cubs on Saturday. Pittsburgh lost to fall four games back, but Cincinnati won to remain six out.
"It's definitely a good win," said Roenicke. "We had to scratch to get a couple runs there and then nice to add on at the end."
Jim Hoehn is a contributor to MLB.com. This story was not subject to the approval of Major League Baseball or its clubs.