Vogelsong, Giants overmatched by Kershaw
San Francisco shut out by Dodgers' ace, falls to second place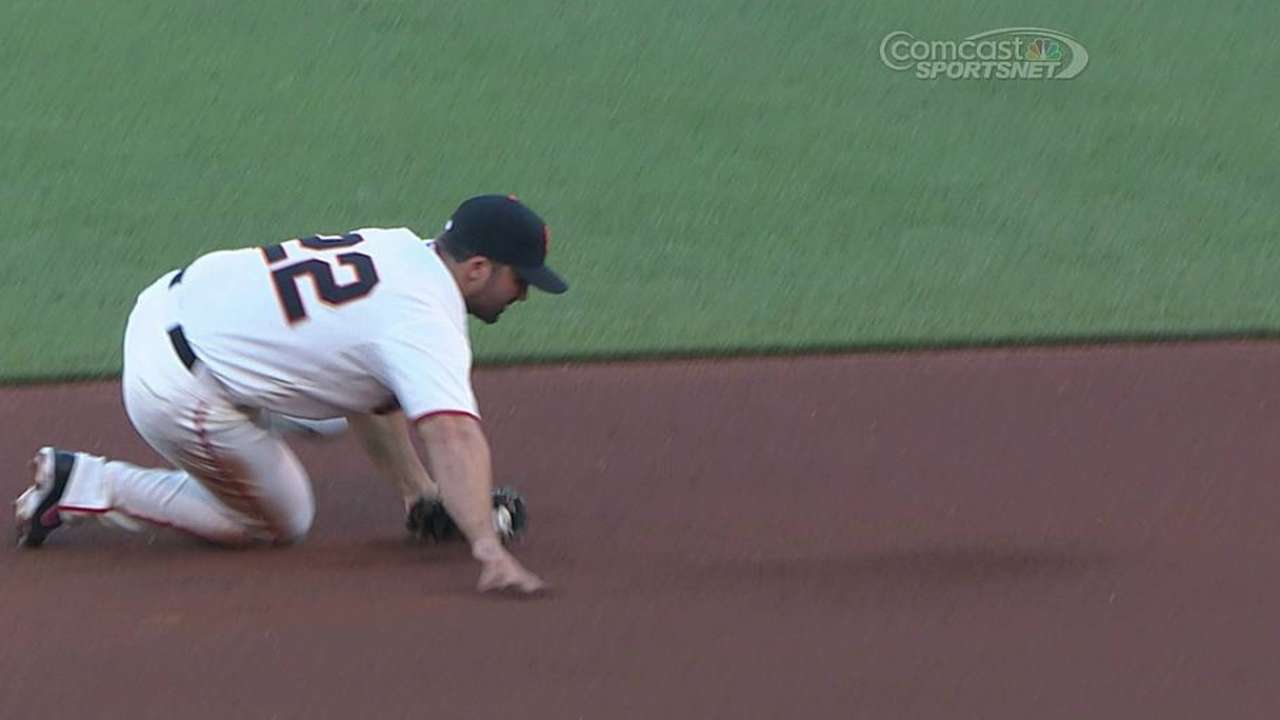 SAN FRANCISCO -- Ryan Vogelsong has been hampered by a slew of bad luck throughout this season -- seeing-eye grounders, illness and historically inept run support, to name a few. A new culprit reared its ugly head on Saturday night:
The sun.
Vogelsong was perfect through 3 2/3 innings when Adrian Gonzalez smacked a fastball a few steps to Hunter Pence's left in right field. Only problem was, given the early 6:05 start, the sun had yet to disappear to the west of AT&T Park, and Pence never saw the ball.
Gonzalez reached second base and scored what'd prove to be the winning run one batter later, as the Giants lost both the game, 5-0, and their slim National League West lead to the Dodgers, who were powered by another brilliant outing from ace Clayton Kershaw.
"We're not going to start blaming it on that stuff," said Vogelsong, who was saddled with the loss after the Dodgers tagged him for four runs (two earned) on eight hits in six innings. "I do believe there is some luck involved in this game, but at the end of the day, I feel like you create your own luck most of the time. A lot of that comes from making good pitches and setting guys up. It does seem that way, though, that nothing's gone my way for a while."
With Kershaw on the mound for Los Angeles, the Giants' chances of winning pretty much disappeared along with the ball in the sun. Kershaw was his usual dominant self, as he allowed just two hits while striking out seven in a shutout along the shores of McCovey Cove.
His latest Cy Young-caliber outing lowered his career AT&T Park ERA to 0.69 (six earned runs in 78 2/3 innings) -- the lowest ERA among any pitcher who has thrown at least 75 innings there. Four of his nine career shutouts have come against the Giants.
One night after being dominated to the tune of four hits in seven innings against Zack Greinke, the Giants fared even worse against Kershaw. The Giants had just four baserunners: Michael Morse walked in the fifth, Joaquin Arias reached on an error in the sixth, and singles from Gregor Blanco (first inning) and Morse (seventh inning) were their lone hits.
"He was good; he's always good," Pence said. "He did good and we didn't hit him good. He won today.
"I don't know how to define it; he's just good."
So, that'd appear to make Kershaw the antithesis of Vogelsong's luck. Though, according to Vogelsong, that's his fault.
One batter after Gonzalez's sun-aided double, Vogelsong was again stricken with misfortune, as Morse failed to corral a broken-bat blooper to left from Hanley Ramirez, which dropped to give the Dodgers a 1-0 lead.
A trio of singles doubled that lead in the fifth. After Carl Crawford and Matt Kemp reached to leadoff the inning, Juan Uribe scored Crawford with a single to left. Given the opponent, the game got out of hand as the Dodgers' lead again doubled to 4-0 in the sixth.
"You can talk about Hunter losing a ball in the sun, but it wasn't a good pitch -- the ball was in the middle of the plate and up. If I throw the ball where I want to, he probably doesn't even hit it over there," Vogelsong said. "Hanley broke his bat and hit one down the line. I haven't looked at it yet, but I'm assuming the pitch probably wasn't in a very good spot, because if I throw it where I want to, there should be no contact. It's on me. I've got to make better pitches and that's all there is to it."
When you fail to score, it doesn't really matter how the other team scored, just that they scored. Vogelsong would know, since the Giants have failed to provide him with a run of support in five of his last six outings.
"Vogey's had some tough luck. Not just this start, but in a lot of starts, things have just gone awry for him," manager Bruce Bochy said. "He gave us a chance and eventually the game got out of hand. When you're going up against one of the best, you're going to have to find a way to scratch and claw for runs and hope your pitcher is on top of his game."
Ryan Hood is an associate reporter for MLB.com. This story was not subject to the approval of Major League Baseball or its clubs.