Rays on cloud nine after shutout of Red Sox
Hellickson, four relievers blank Boston for ninth straight victory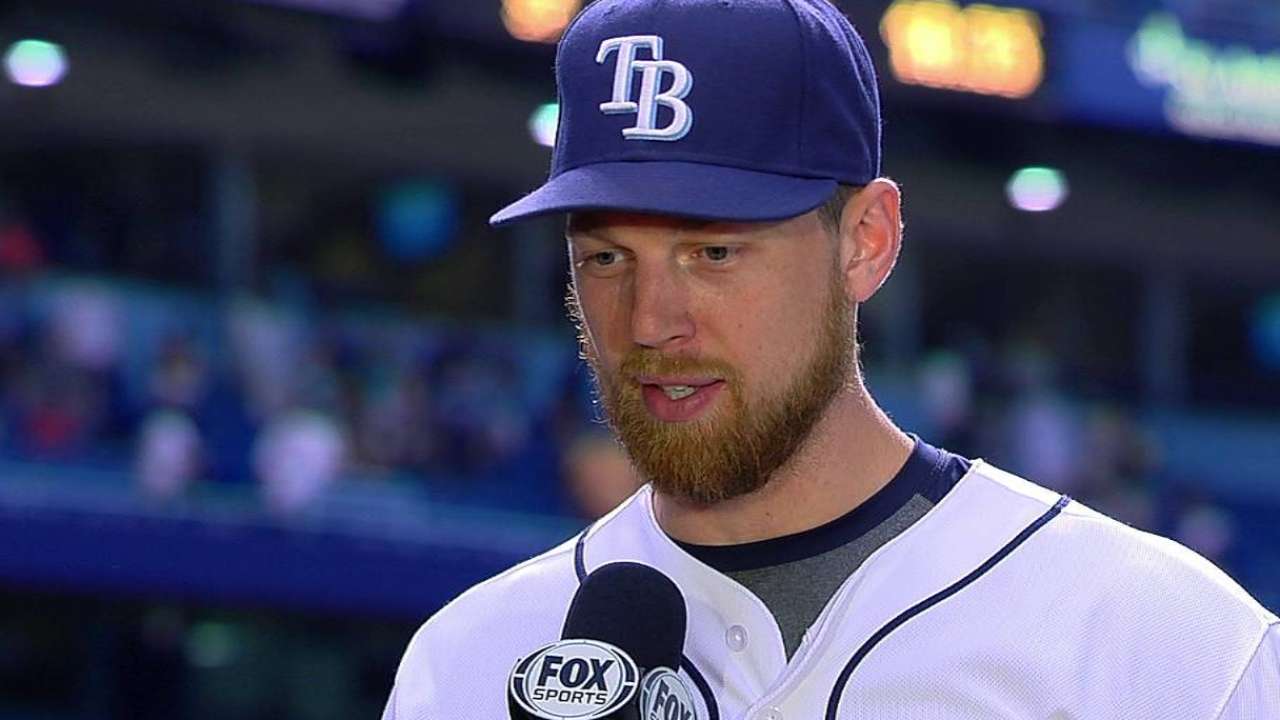 ST. PETERSBURG -- The final score read like a pitchers' duel, but the Rays' ninth straight victory, a 3-0 win over the Red Sox on Saturday night, didn't exactly fit that description.
Tampa Bay starter Jeremy Hellickson didn't last five innings at Tropicana Field, despite holding Boston scoreless. He was pulled with two outs in the fifth -- and David Ortiz looming -- after throwing 96 pitches, walking two and allowing five hits.
"It just came back to Papi," manager Joe Maddon said. "Ortiz has got this tremendous flair for the dramatic, and I didn't want to see that tonight."
Hellickson's counterpart, John Lackey, made it through seven, but not before allowing four walks and eight hits and giving up all three runs.
Both pitchers, in fact, characterized their outing as "pretty good," and really, that's what they were -- pretty good, but not good enough to dominate, like David Price and Jon Lester did for long stretches in Friday's series opener.
"I wish I could have went longer than one more out than I did last time, but when David throws eight innings every single game, that bullpen's ready to go," Hellickson said. "I've got to get ahead of guys a lot better. I fell behind too much, threw way too many pitches those first two innings. I made a big pitch when I needed to, that was a positive."
Hellickson and Lackey weren't good enough, either, to keep a 3-0 game from lasting almost three and a half hours. That was due to the sheer number of runners who got aboard -- and stayed there.
Through four innings, the Rays had stranded six runners. Through six, the Red Sox stranded eight. The Rays grounded into two inning-ending double plays. So did the Red Sox -- although one was an unusual 4-3-2 twin killing, turned when first baseman James Loney threw out Brock Holt trying to score from second on a hard Ortiz groundout into the shift in right field.
Even with the short outing from their starter, the double plays and the runners left on base, the Rays continued their roll. They're within two games of .500 at 51-53, and they're 27-11 since June 10, the best mark in baseball. They moved to within 6 1/2 games of American League East-leading Baltimore and 3 1/2 games of the second AL Wild Card spot, the closest they've been in both races since May.
"It was really hard to drive the ball off [Lackey]," said Ben Zobrist, who was the only Rays hitter who did -- his seventh-inning solo homer gave Tampa Bay its final run. "We scratched and clawed and got a few knocks and were able to push some runs across."
The first of those runs came early. Desmond Jennings dropped down a bunt leading off the first inning and scampered all the way to third when Red Sox catcher Christian Vazquez threw the ball away down the right-field line. He scored two batters later on Matt Joyce's single grounded through the right side.
Tampa Bay added a run in the fourth when Kevin Kiermaier drove in Yunel Escobar from second with a single to left-center. Two pitches prior, the Red Sox looked like they had Escobar picked off, when Vazquez caught him too far off the base and threw behind him, but he was called safe and Boston manager John Farrell didn't challenge.
"Yeah, a challenge would have been nice there," Lackey said. "Looked like he was pretty out."
The Red Sox came close to scoring several times. In the top of the first, Ortiz thought he had a solo home run off Hellickson, but it was called back for fan interference and Big Papi was awarded a ground-rule double. A Red Sox fan had reached over the right-field wall to catch the ball.
With Dustin Pedroia on first and two outs in the fifth, Ortiz ripped a ball marked for the right-field corner, which likely would have scored Pedroia. But Loney, holding Pedroia on, was just in position to snag the rope, ending the inning.
And in the sixth, Boston got runners to first and third with no outs when Evan Longoria and Escobar miscommunicated on Jonny Gomes' broken-bat infield dribbler, letting it roll between them into short left field. But relievers Jeff Beliveau and Grant Balfour combined for back-to-back strikeouts of Stephen Drew and Xander Bogaerts, and Balfour got Jackie Bradley Jr. to bounce out to second to end the threat.
"It's just tough pitching is what it comes down to," Zobrist said. "That happens. Those are the games you just have to find a way to do the little things and push runs across.
"Our pitchers did a great job of holding them when they were in the same position that we were in earlier. That sixth inning was really the key inning for our pitching, to shut them down there."
David Adler is an associate reporter for MLB.com. This story was not subject to the approval of Major League Baseball or its clubs.