Matzek, offense cruise past Bucs to take series
Rookie lefty tosses seven shutout frames to pick up second career win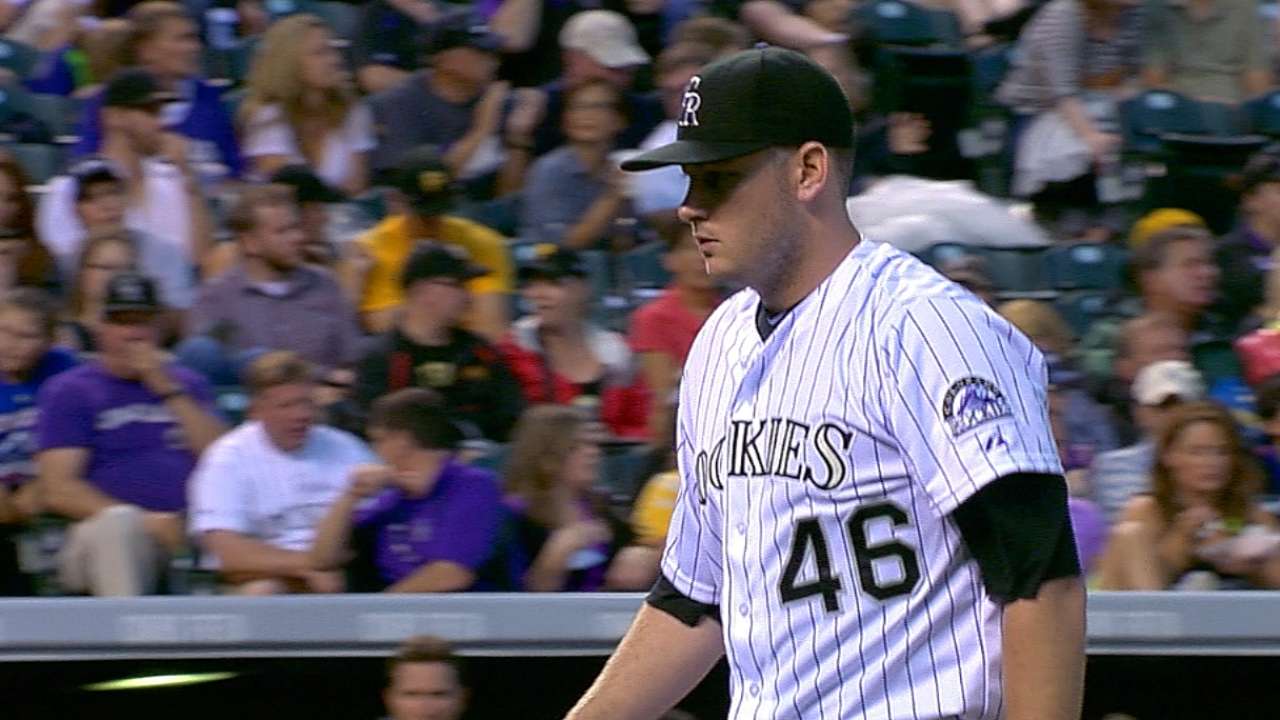 DENVER -- After the Rockies made Tyler Matzek their No. 1 Draft pick in 2009, his road to the Majors was paved with walks and questions. But early in his rookie year, he is demonstrating that those difficult years led to the right answers.
Matzek's comfort has increased with each of the first nine starts of his rookie season. Saturday night was his best, when he held the Pirates scoreless for seven innings of the Rockies' third straight victory, 8-1, at Coors Field in front of 44,611.
This three-game streak and a three-game run on July 7-9 mark the only times the Rockies have won consecutive games since the middle of June, and the hitting was a big part of Saturday. Nolan Arenado had three hits, including a home run, a night after he received a punitive benching after not running out a ground ball. Drew Stubbs and Corey Dickerson also had solo shots.
But Matzek's strong start was Saturday's key.
"His command was probably the best it's been," Rockies manager Walt Weiss said. "He threw some good sliders. He had it all working. He's got a good arm, man, and stuff. He's growing up right before our eyes."
Matzek held the Pirates to three hits, struck out three and shrugged off two walks while throwing 93 pitches. He has emerged as a bright spot in a Rockies season full of injuries, especially to starting pitching.
Four of Matzek's last six outings have been quality starts -- six or more innings pitched, three or fewer earned runs allowed. In his last two starts, against the National League Central-contending Pirates, he has gone 13 innings, struck out 11 and given up 10 hits.
Saturday was a prime example of how Matzek's often difficult path prepared him.
The Pirates placed a runner at second with one out in the fourth, and Matzek forced a Gaby Sanchez grounder to Arenado, who made an outstanding play, and a Neil Walker grounder to first baseman Wilin Rosario, usually a catcher.
Also, with two on in the seventh, Matzek completed his night by working Brent Morel into an inning-ending double play for the last of his eight ground-ball outs.
Matzek, 23, the 11th overall pick out of Capistrano Valley High School in Mission Viejo, Calif., in '09, said he learned to deal with traffic in the Minors, when he walked 360 in 537 2/3 innings.
"Failing when I was younger helped," Matzek said. "You never want to get comfortable with runners on, but I got comfortable with runners on. I could deal with guys moving around, doing stuff behind me and it really just stopped bothering me.
"The game's about not letting the guy cross the plate. So I did my best to keep the ball on the ground and keep that guy from advancing."
Also, the Rockies toyed with making Matzek a reliever for this year. He pitched in relief in the Arizona Fall League last year and in Spring Training, before the Rockies scrapped the project and sent Matzek to Triple-A Colorado Springs to begin the year in the rotation.
"Them putting me in a reliever role kind of changed my mindset, made me think less and be more aggressive," Matzek said.
Matzek's development is part of what looks to be a long-overdue Rockies trend -- solid front-of-the rotation pitching.
The last two times through the rotation, three lefties have pitched well in consecutive starts. Jorge De La Rosa held the Pirates to one run in seven innings in Pittsburgh eight days ago, and struck out 11 in 7 1/3 innings and gave up one earned run (two total) in defeating the Nationals on Wednesday. Brett Anderson gave up one run in seven innings at Pittsburgh a week ago, and threw 6 1/3 scoreless innings before leaving with an index finger blister Friday night in an 8-1 victory over the Pirates.
"Really, since the [All-Star] break, our starters have been commanding the game," Weiss said.
The Rockies scored six runs on 10 hits, including all their homers, against Pirates starter Jeff Locke in 6 1/3 innings. For the second straight night, the Pirates didn't score until the ninth. On Saturday, Ike Davis homered with one out off Rockies reliever Brooks Brown.
Thomas Harding is a reporter for MLB.com. Read his blog, Hardball in the Rockies, and follow him on Twitter @harding_at_mlb. This story was not subject to the approval of Major League Baseball or its clubs.