Teheran struggles with arm, delivers with bat
Right-hander pitches well enough for 10th win, adds RBI squeeze bunt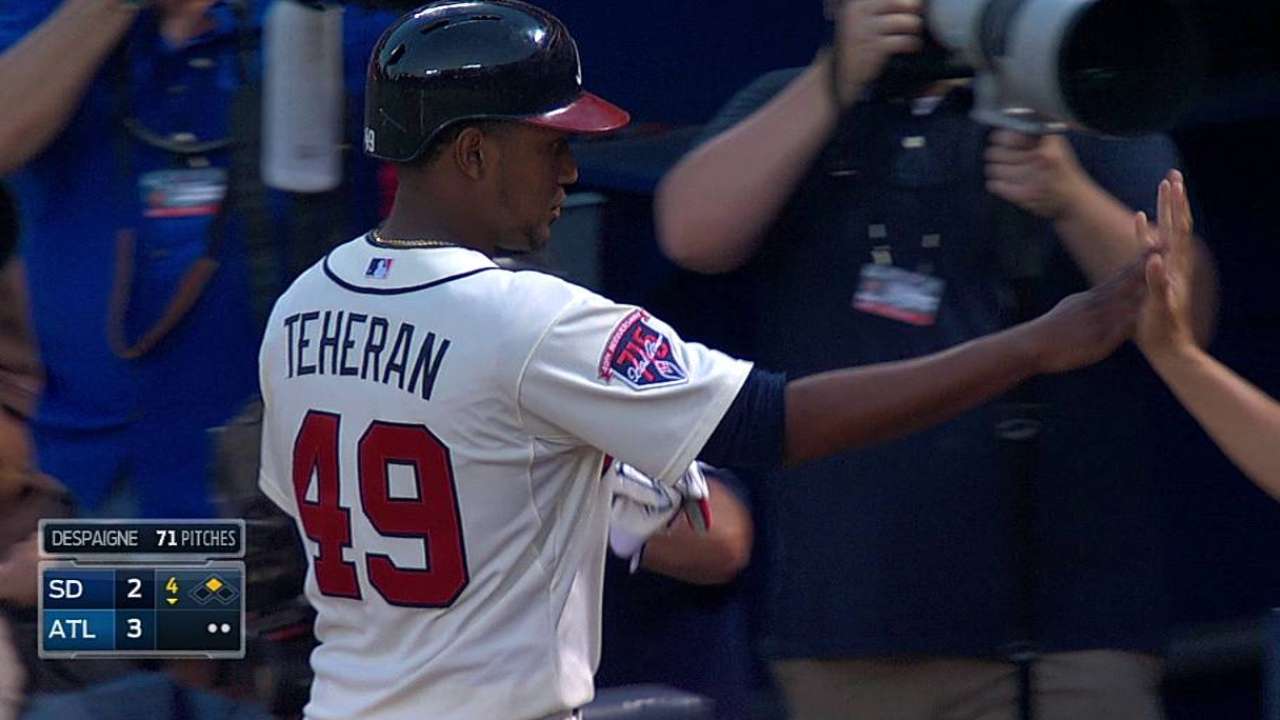 ATLANTA -- Julio Teheran has been nearly unhittable at Turner Field this season, entering Saturday with a 1.23 ERA in 10 home starts. So on a night when he was hittable, he pitched in and helped his own cause.
Teheran brought Chris Johnson home from third on a squeeze bunt for the go-ahead run in the bottom of the fourth as Atlanta's bats came back to life in a 5-3 win against San Diego on Saturday night.
With the victory, the Braves cut their deficit behind the first-place Nationals in the National League East to 1 1/2 games.
"I wanted to get the lead again," said Teheran, who lost Atlanta's early 1-0 advantage when he gave up two runs in the top half of the fourth. "I wanted to get the lead, and that's what I concentrated on that pitch. Just to put the ball in play."
Johnson, who gave the Braves an early lead with his RBI groundout in the second, said he and Teheran established eye contact before the squeeze play in an exchange Johnson described as, "You got it? I got it. OK, cool. Let's go."
"Please bunt it," Johnson said of his thoughts in the moment. "I say that anytime you get that suicide squeeze, but Julio's a pretty good athlete. I would've been a little more nervous if there was another pitcher up there or something."
"Your heartbeat always goes a mile a minute because you never know," Braves manager Fredi Gonzalez added. "I knew Julio would get it because I told him verbally before he went up that we were going to do it, so I wasn't worried."
Fortunately for Johnson, Teheran got the bunt down on the first pitch as the Braves jumped ahead for good when they took a 3-2 lead.
"There's a couple of guys in our rotation that you feel confident that they can handle a bat, and we always talk about guys that can handle a bat, field the position usually hang around in the game a little longer," Gonzalez said. "He's one of those, obviously."
Teheran's squeeze bunt was one of four runs in a pivotal fourth inning against Padres starter Odrisamer Despaigne, whose velocity ranged from a 93 mph sinker to a 64 mph curveball.
Atlanta got the job done against the right-hander thanks to six hits and five walks, including three bases on balls that kept the line moving during the fourth-inning rally.
"It's different, you don't see it all that often," said Tommy La Stella, who went 3-for-4, of Despaigne's changing speeds. "He definitely has a unique repertoire."
Johnson added: "It's tough, especially the first time you see somebody and the speed differentials are that big."
The Braves tagged Despaigne and his 1.31 ERA for five runs in 3 2/3 innings, but only two were earned as Atlanta took advantage of two of San Diego's three errors in the fourth.
The squeeze play would not have been possible had Despaigne made a clean throw to third baseman Chris Nelson when he tried to retire Johnson on an Andrelton Simmons comebacker.
The throw was too high to nab a sliding Johnson, giving Atlanta runners on first and third with nobody out. Johnson scored on the next pitch, and Simmons came home later on a La Stella single.
"You can say [the Braves] caught a break there," Padres manager Bud Black said. "We didn't really execute that play like we should have. It looks as though the throw might have taken [Nelson] to his left. Probably, it would have been wise to take the out at first and face the pitcher."
Freddie Freeman capped the big inning with an RBI single that eased the pressure on Teheran, who surrendered three earned runs on nine hits, marking only the third time he has given up nine or more hits in 28 career starts at Turner Field.
"I had to work a little bit today," Teheran said. "I got a couple of innings in trouble. Good thing that we got the win tonight."
The fourth inning proved most damaging to Teheran's line as he gave up three consecutive hits to the Padres to lead off the frame. The third knock was a two-run double by Yasmani Grandal, who is 6-for-19 with seven RBIs in five career games against Atlanta. San Diego plated another run in the fifth and even placed the tying run on base against Teheran in the sixth, but the right-hander fanned Carlos Quentin to end the threat and notch his 18th quality start.
"It really took a lot out of him," Gonzalez said. "There was people on base every single inning, and we didn't want to push him out there for the seventh. The fourth, fifth and sixth innings, he battled. People on base, they scored some runs, but he gave us everything he had."
The Padres threatened again once Teheran exited, putting the tying run on base in the seventh, but they came up empty. Craig Kimbrel then cracked 100 mph as he struck out the side in the ninth, recording his Major League-leading 31st save.
The Braves may have gained a game on the Nationals in the NL East, but they still need to win on both Sunday and Monday to close this 11-game homestand with a winning record.
"We've got to keep going," Johnson said. "We're still behind."
Joe Morgan is an associate reporter for MLB.com. This story was not subject to the approval of Major League Baseball or its clubs.