Another first for Despaigne: A rough outing
Padres rookie right-hander gone after 89 pitches over 3 2/3 innings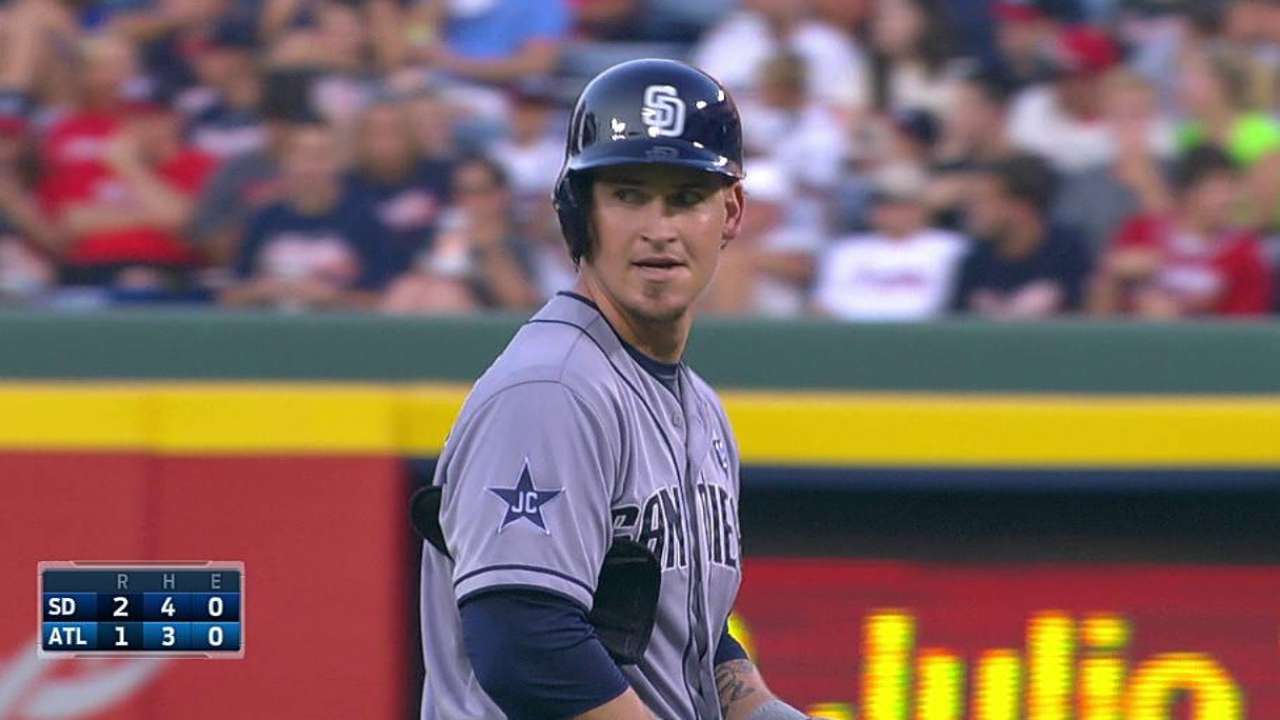 ATLANTA -- The first month of rookie pitcher Odrisamer Despaigne's Major League career has presented him with all sort of notable achievements -- his first big league start, his first victory and six days ago, his first brush with history, as he came within four outs of the first no-hitter in Padres history.
On Saturday, the 27-year-old Cuban was the recipient of another right of passage, though this one surely rated as far more dubious.
Despaigne stumbled through his first nightmarish inning in the big leagues, a 42-pitch undertaking that netted him only two outs and a whole lot of frustration that fed directly into the Padres' 5-3 loss to the Braves before a crowd of 33,820 at Turner Field.
Despaigne opened his career with five starts of six or more innings with two or fewer runs, though that good fortune dissipated quickly on a sticky night in Georgia, as he walked five and couldn't get out of that vexing fourth inning where a confluence of walks, errors and poor judgment buried him.
"It looked as though he was trying to be a little too fine," said Padres manager Bud Black of Despaigne, who wasn't available to comment after the game. "He just couldn't throw a first-pitch strike."
And not enough strikes in general in that fourth inning.
The Padres (46-57) had just taken a 2-1 lead on Yasmani Gradnal's two-run double in fourth inning off of Braves starting pitcher Julio Teheran (10-6) when Despaigne came out to start the bottom of the inning.
It wasn't as if things had gone smoothly for him to that point. He had five baserunners in the first three innings, two on singles in the third inning, but got Justin Upton to bounce into a double play to end the inning.
To be sure, on a first look, Despaigne and his multiple arm angles, different grips and pitches and varying velocities can be tough on a team.
"It's different. You don't see it all that often," said Tommy La Stella of Despaigne's changing speeds. "He definitely has a unique repertoire."
Despaigne (2-2) walked Jason Heyward and Evan Gattis to start the fourth and Chris Johnson followed with an RBI single to tie the game. Andrelton Simmons then hit a comebacker that Despaigne snagged but instead of throwing to first base, threw to Chris Nelson at third base.
Nelson was upended by the slide by Johnson and never applied the tag. Despaigne was later given an error on the play.
"You can say they caught a break there," Black said. "We didn't really execute that play like we should have. It looks as though the throw might have taken him [Nelson] him to his left. Probably, it would have been wise to take the out at first and face the pitcher."
Teheran followed with a squeeze that brought in Johnson for a 3-2 lead. Another walk, this time to B.J. Upton followed, then a single by La Stella that included a throwing error by second baseman Yangervis Solarte, which allowed another run to score to make it 4-2.
Finally, Despaigne allowed an RBI single to Freddie Freeman on his 42nd pitch of the inning -- and his 89th of the game -- which ended his night. The scoring change on the Simmons ball softened his pitching line -- two earned runs over 3 2/3 innings instead of five -- but it did little to ease the blow of a rough night.
"I think he was trying to hit corners instead of making pitches," Grandal said. "His curveball wasn't that sharp. His changeup wasn't that sharp today. I still think he pitched good. They got a couple of hits here and there. If it wasn't for the walks, I think he would have had a good day."
For those who have been waiting for regression to kick in with Despaigne, Black isn't quite there yet.
"Six [starts] is a small sample-size," he said. "... Five pretty good one and one where he didn't throw strikes."
The Padres saw their three-game winning streak end. Seth Smith had three hits to raise his average to .300. Solarte had two hits, as did Nelson.
Corey Brock is a reporter for MLB.com. Keep track of @FollowThePadres on Twitter. This story was not subject to the approval of Major League Baseball or its clubs.