Tepesch's strong start wrecked with two swings
Righty gives up back-to-back HRs in sixth, later exits with sore knee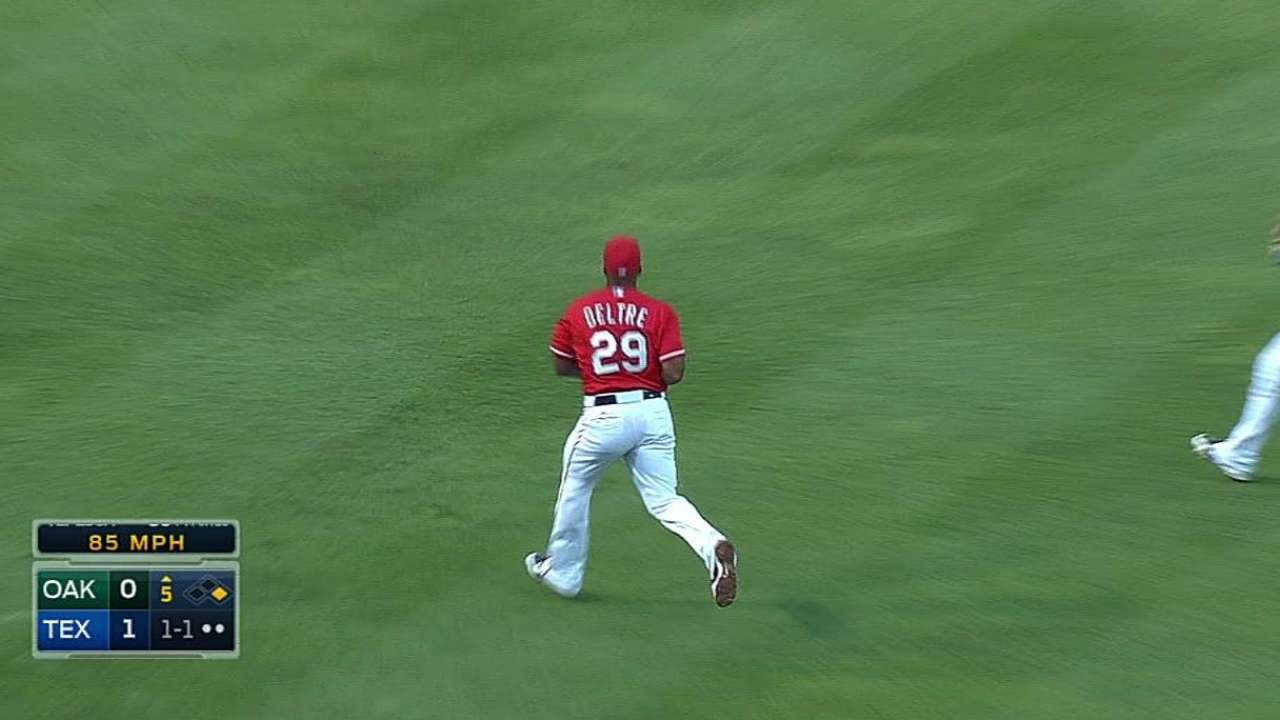 ARLINGTON -- Nick Tepesch was terrific for five innings on Saturday night. But, as manager Ron Washington keeps preaching, the Rangers need more than five-inning starters.
The sixth inning proved to be Tepesch's undoing as he gave up back-to-back home runs to John Jaso and Yoenis Cespedes that helped carry the Athletics to a 5-1 victory. The Rangers are now 3-6 since the All-Star break.
Tepesch only threw 73 pitches as he left in the top of the seventh inning because of soreness in his left knee. There is no word yet on the extent of the injury but the Rangers have some flexibility with Jerome Williams on the roster. Tepesch looked fine after the game, but Williams could step back into the rotation if Tepesch needs extra time because of the knee.
"I just felt a little discomfort in the knee," Tepesch said. "It got me on my last pitch. When my front leg landed, I felt it a little bit. I had never felt anything like that before."
The Rangers would prefer Tepesch keep pitching. He is high on the list of young players they are trying to evaluate in the second half and he started out great on Saturday night in a head-to-head matchup with Athletics starter Sonny Gray.
"He's making tremendous progress, but if you got a chance to finish off an inning, you've got to finish it," Washington said. "You get two outs, you have to get one more. But if he can keep pitching the way he did today, he'll be fine."
Tepesch allowed just two baserunners in the first five innings. Brandon Moss led off the second with a single and was erased when Tepesch got Josh Donaldson to hit into a double play. The only other batter to reach was Stephen Vogt on first baseman J.P. Arencibia's error.
The Rangers gave Tepesch a 1-0 lead in the fourth when Jim Adduci reached on a single, stole second and scored on a single by Arencibia.
It was still 1-0 into the top of the sixth and Tepesch started the inning by getting Nick Punto on a fly to left. Eric Sogard then doubled down the left-field line, but Tepesch got Coco Crisp on a grounder to second.
That brought up Jaso, who had grounded out in his two previous at-bats. Tepesch got ahead with a slider but then Jaso slammed a 0-1 changeup into the right-field seats for a two-run home run.
"It was going really good until I made a bad pitch on the changeup to Jaso," Tepesch said. "There's nothing I can do about it."
Cespedes followed with a home run in the same general direction to give the Athletics a 3-1 lead. Tepesch retired Moss on a flyout to left to end the inning, then went back out for the seventh. He threw three pitches to Donaldson before having to come out of the game.
"Your goal as a starter is to go as deep in the game as you can," Tepesch said. "Going six to seven innings is a good goal to start with but I just take it inning by inning instead of saying I have to go six or seven innings. If you that, you'll go six or seven innings."
Nate Adcock, making his Major League debut, took over for Tepesch and gave up home runs to Donalson and Josh Reddick in the seventh.
"They powered the ball out of the ballpark tonight," Washington said. "They got guys up and down the lineup that can hit the ball out of the park."
The Athletics also had Gray on the mound and he held the Rangers to one run in 6 2/3 innings. He allowed seven hits and four walks but the Rangers were 1-for-5 with runners in scoring position while leaving eight on base.
"That's why he is one of the best pitchers in the game," Washington said. "He knows how to finish innings. It looked like he was on fumes in the sixth and seventh innings but he got out of the innings. He's not 12-3 for nothing. He can pitch."
T.R. Sullivan is a reporter for MLB.com. Read his blog, Postcards from Elysian Fields, and follow him on Twitter @Sullivan_Ranger. This story was not subject to the approval of Major League Baseball or its clubs.