A's turn on power, wake up bats in Texas
Oakland gets four HRs in span of six batters; Gray moves to 12-3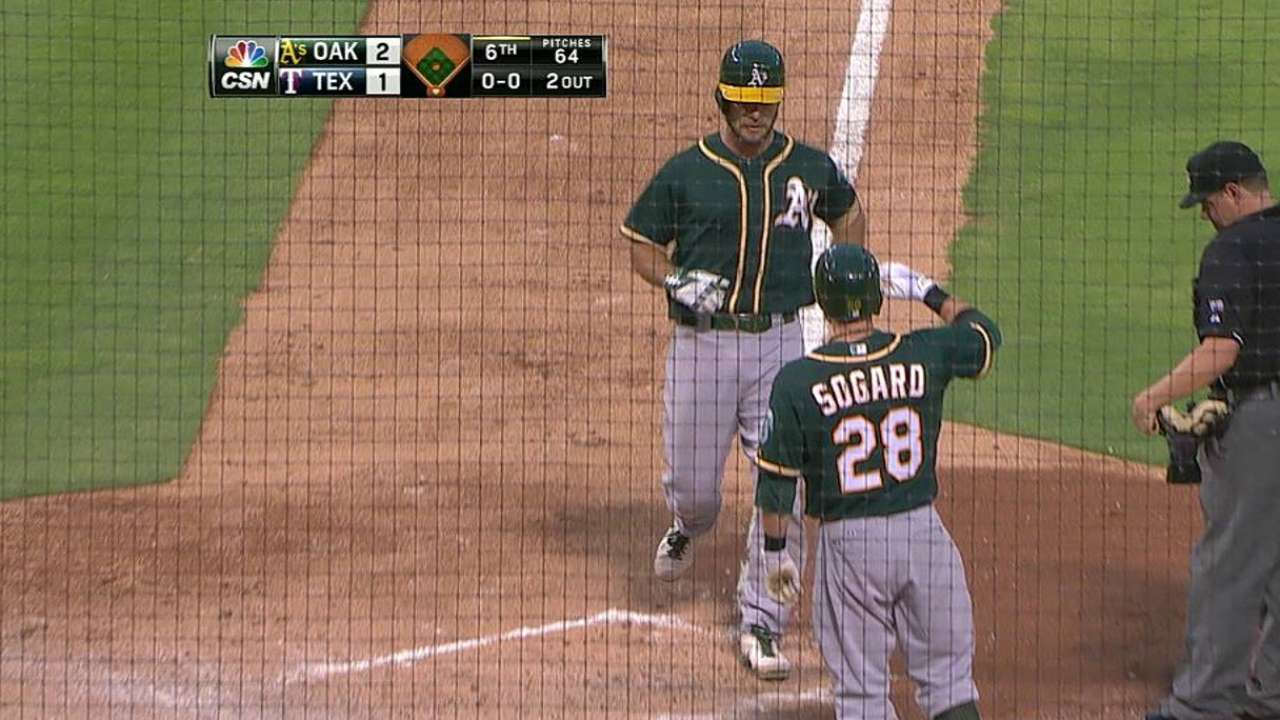 ARLINGTON -- Just in time to make a winner out of Sonny Gray, the A's found their old bag of tricks in the sixth inning Saturday and counted off four homers in a span of six batters for a 5-1 victory over the Rangers.
"Home runs are a part of our game," said manager Bob Melvin, "so you just have to stay with it at times when you go into some droughts a few innings in a row and know that one swing can get you going."
Baseball's best team improved to 13-8 in July, effectively clinching a winning record for the 14th consecutive month, a new Oakland record.
Gray, now 12-3, is responsible for five of those wins this month, finishing July with a 1.04 ERA.
"We'll take that," said Melvin, grinning.
That was likely his same response when Nick Tepesch's shutout abruptly came to an end on John Jaso's two-out, two-run shot to right field in the sixth. Home Run Derby champ Yoenis Cespedes couldn't be shown up, though, so he, too, hit one out to the same spot, marking the third time this season the A's have gotten back-to-back homers.
"Mine went into the first row," said Jaso, "and then Cespedes hit one a few rows further than mine, in the same spot -- once again."
It was Cespedes' 17th of the season and third since the All-Star break. And the revelry wasn't over.
Fellow Derby competitor Josh Donaldson notched his 22nd of the year to lead off the seventh against Nate Adcock, after Tepesch left with knee pain, and Josh Reddick slugged a line-drive homer to right field one out later, further exploiting the hitter-friendly park that Globe Life really is.
The same A's team that had one hit through the first five innings after posting just one run in Friday's loss.
"We've got guys one through nine who could leave the ballpark at any moment," said Reddick. "Even though he was throwing well at that point, we knew we had a chance with a one-run game and Sonny doing his job. We knew it was a matter of time we were getting on him.
"Jaso had a huge hit, and J.D. and I were happy to do what we did. You tip your cap to Sonny for keeping us in the game as long as he did."
Gray gave the A's 6 2/3 innings of one-run ball, despite walking a career high-tying four and scattering seven hits -- all of which were hit on the ground.
"It just shows that his stuff is really good," said Jaso. "He was using that two-seamer down and away to righties, getting ground balls like that."
Gray's changeup has also come a long way. He threw it for a strike 82 percent of the time Saturday.
"When you don't have your best command you just get everything involved and try to make them put the ball in play," he said.
"That's why he is one of the best pitchers in the game," said Rangers manager Ron Washington. "He knows how to finish innings. It looked like he was on fumes in the sixth and seventh innings but he got out of the innings. He's not 12-3 for nothing. He can pitch."
Jane Lee is a reporter for MLB.com. Read her blog, Major Lee-ague, and follow her on Twitter @JaneMLB. This story was not subject to the approval of Major League Baseball or its clubs.