Butler does it again with two-run HR to lift Royals
Key fourth inning helps erase Tribe's early lead, extend win streak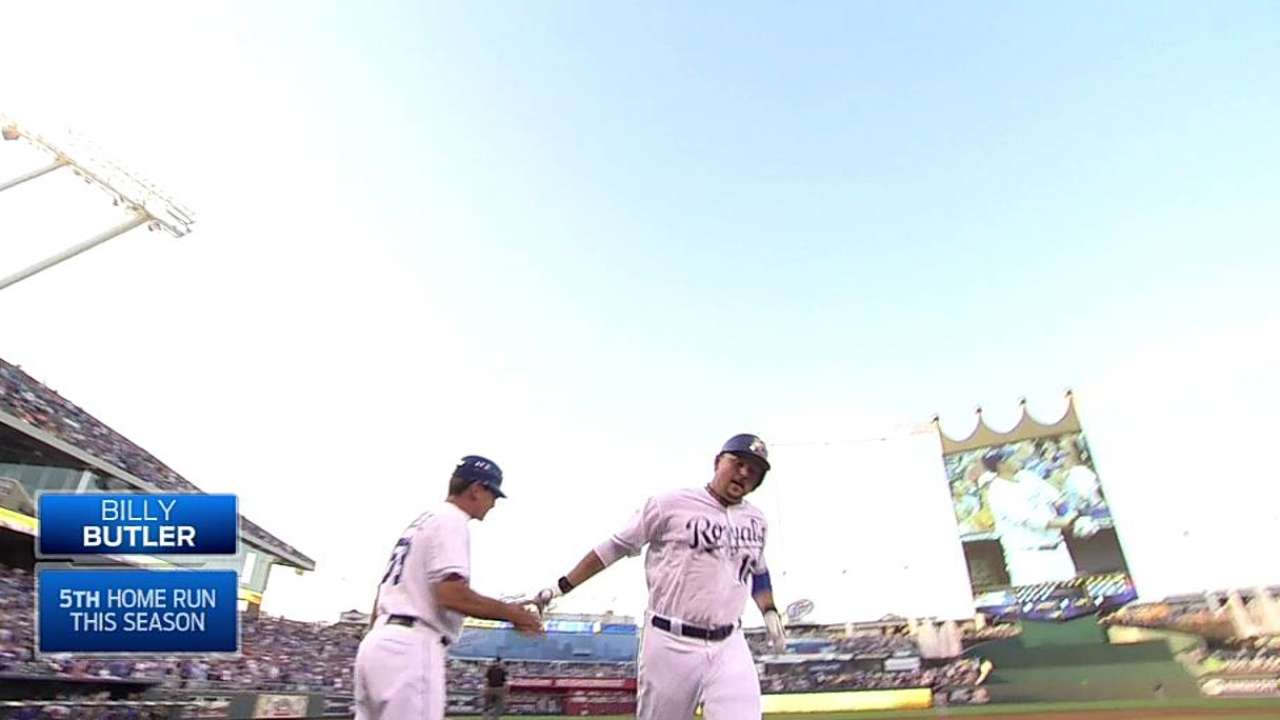 KANSAS CITY -- For the second straight night, Billy Butler basked in the glory of a majestic two-run, go-ahead home run.
Butler took the time to admire his fifth-inning, 433-foot blast on Saturday night that led the Royals to a 7-5 win over the Indians at Kauffman Stadium, their fifth straight victory. The previous night, Butler cracked a pinch-hit home run in the eighth to key a 6-4 win. That two-run shot traveled 422 feet.
"I've never been a guy that's usually gotten distance, but I've caught the last two pretty good," Butler said.
Butler's home run marked the completion of a furious comeback. The Indians grabbed an early lead with a five-run second inning. But the Royals quickly erased the deficit with a run in the third and four in the fourth. Butler's home run the next inning broke a 5-5 tie.
"We're down 5-0, but it's early and the guys still believed that they could get back into the game, and they darn sure did," manager Ned Yost said.
Jeremy Guthrie's final line of 5 2/3 innings, 10 hits and five runs allowed does not properly indicate the importance of his start.
Guthrie did not wither after Cleveland buried him in a 5-0 second-inning hole. He racked up 57 pitches in the two frames, an ominous sign at the time given that the Royals could ill-afford a short start with a taxed bullpen.
But Guthrie kept the damage to five runs, while his team chipped away. Scott Downs relieved Guthrie in the sixth inning.
"Jeremy Guthrie came out and did a phenomenal job in the third, fourth, fifth, and even after we got the lead to get two outs in the sixth, which was huge with the way that our bullpen has been going," Yost said.
After escaping the sixth unscathed, Downs put the first two men aboard in the seventh. Yost then called for Kelvin Herrera.
Herrera induced a popup, a flyout, then struck out Nick Swisher to strand two.
"Tremendous," Yost said. "[He] came in and did a great job."
Wade Davis and Greg Holland took care of the eighth and ninth innings, respectively. Both relievers rested in Friday's win after pitching three days in a row.
Holland's pristine ninth meant Kansas City's bullpen has allowed one run in the last 26 innings.
"Our bullpen guys right now, they're going above and beyond the call of duty," Yost said.
Cleveland accumulated its five second-inning runs on a Carlos Santana solo home run -- his third jack of the series after a two-homer Friday -- along with an RBI single by Mike Aviles and a two-run double by Jason Kipnis. Michael Brantley capped it with an RBI double.
"I'm at about 97 percent capacity of anger and frustration," Guthrie said on his mindset after the inning. "I didn't feel as bad as the results were in the second inning, unfortunately, I just couldn't make a big pitch to get anybody out."
Indians starter Zach McAllister had his own unraveling in the fourth that allowed the Royals to close the gap.
Trailing 5-1 after Omar Infante's RBI fielder's choice in the third, the Royals knotted the score with four runs, highlighted by Nori Aoki's two-run triple.
Alcides Escobar's second hit of the game drove in Lorenzo Cain, and Aoki scored on a passed ball by catcher Yan Gomes, making it 5-5.
McAllister only faced one batter in the fifth, as manager Terry Francona pulled him after Salvador Perez smacked a leadoff single.
Francona brought on lefty Nick Hagadone, and Butler made him pay for the move with the homer two batters later.
"Whenever you get a five-run lead, you think you're gonna win," Hagadone said. "When it doesn't happen, it's disappointing."
Butler's play this season has come under scrutiny. Before Friday's win, his home run total stood at just three, 100 games into the season.
He's homered in back-to-back games for the first time since Aug. 26-27 in 2013. Butler's 123 career homers match Carlos Beltran for eighth place in Royals history.
Jackson Alexander is an associate reporter for MLB.com. This story was not subject to the approval of Major League Baseball or its clubs.