Indians can't capitalize after early five-run frame
McAllister labors in four-run 4th after Santana's HR keys early lead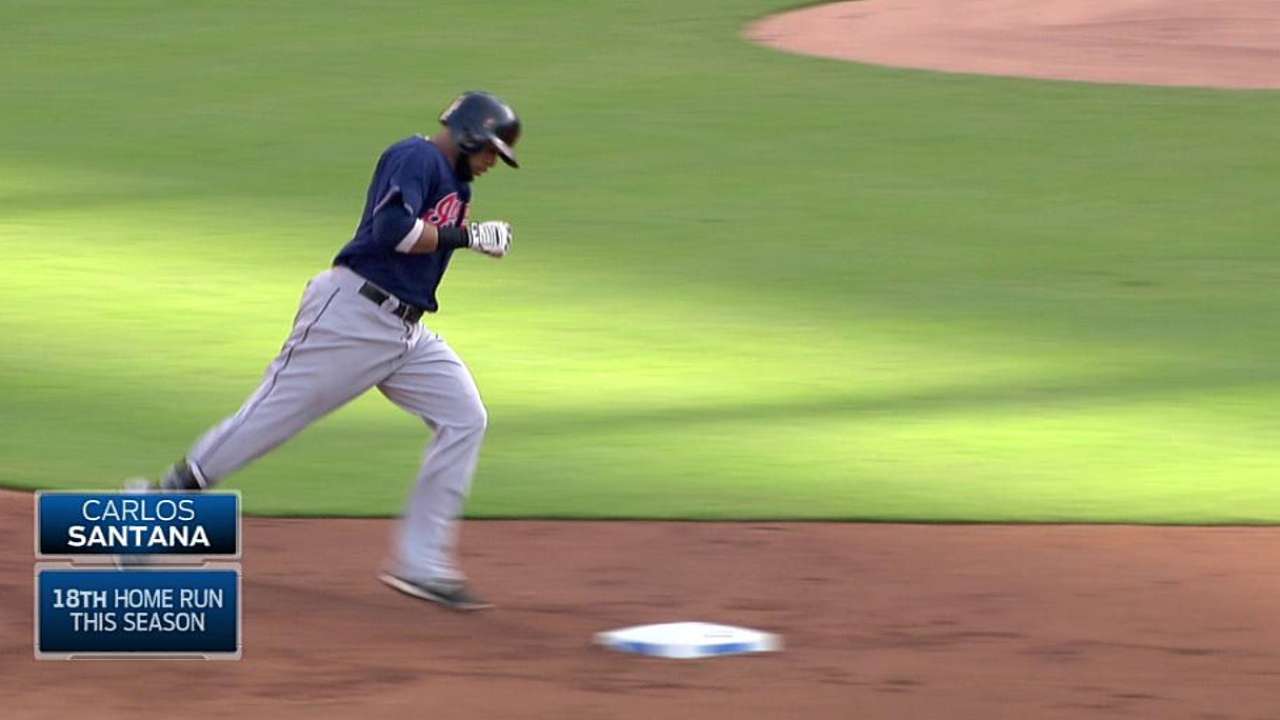 KANSAS CITY -- Saturday served as a fitting summation of the Indians' current road trip. They stormed out of the gates in impressive fashion, but then went quiet and limped along to the loss column once again.
An early five-run outburst was not enough to avoid a 7-5 loss to the Royals, who have used this four-game series to again put some distance between themselves and the third-place Tribe in the American League Central. A shaky outing from Zach McAllister and one bad pitch from Nick Hagadone led to a sixth loss in seven games.
The latest run of tough luck and poor play follows a stellar opening to the season's second half for the Indians. In the opening four-game series in Detroit, the Tribe took three games against the division leader and reclaimed sole possession of second place.
It has only been a week, but that now feels like ages ago.
"Any time that you're able to do that in Detroit against a team like that," McAllister said, "you always get in good moods. Sometimes, you can get overexcited about it, a little bit too happy, and take the foot off the gas pedal. But, you know what? We've played extremely close games here. Kansas City is a good team."
In a span of seven days, road-weary Cleveland has gone from three games over .500 to a 51-53 record, which has the club 2 1/2 games back of Kansas City (53-50) in the AL Central. With one game left in this 11-game, 10-day trek through the Motor City, the Twin Cities and Kansas City, the best the Indians can do now is a 5-6 showing.
The Tribe enjoyed a promising start to its Saturday night, when the offense pounced on right-hander Jeremy Guthrie for five runs in the second inning. That was all the Indians managed in Guthrie's 5 2/3 innings, but they were confident that it could hold up.
"Whenever you get a five-run lead in a game, you expect to win," Hagadone said. "When that doesn't happen, it's disappointing."
Carlos Santana got things rolling with a leadoff homer, marking his fourth shot in the past five games and team-leading 18th long ball of the season. Before the Indians' 11-batter inning was over, Jason Kipnis contributed a two-run double and All-Star Michael Brantley chipped in a run-scoring two-base hit of his own.
Kansas City then proceeded to cut into Cleveland's five-run cushion.
The Royal rally began in the third inning, when Alcides Escobar led off with a single and later scored on a fielder's choice groundout from Omar Infante. In the fourth, McAllister issued a leadoff walk to Mike Moustakas and slipped into a two-out, two-on jam with Escobar up again. The KC shortstop sent a pitch into right field for an RBI single, cutting the Indians' lead to 5-2.
"I didn't think he got hit hard," manager Terry Francona said. "[But] I thought he was up with a lot of pitches. When we scored five, he came out the next inning and gave up two 2-0 hits. They weren't hit hard, but just elevated. Then in the fourth inning, the leadoff walk, and [then he] just couldn't get the ball down enough."
Nori Aoki followed by pulling a pitch from McAllister down the right-field line and into the corner, giving him just enough time to sprint around the basepaths for a two-run triple. One pitch later, Tribe catcher Yan Gomes could not corral a fastball, leading to a costly passed ball that allowed Aoki to score the game's tying run.
"We're down 5-0," Royals manager Ned Yost said. "But, it's early and the guys still believed that they could get back into the game, and they darn sure did."
McAllister threw 24 fastballs within his final 27 pitches and admitted that he should have mixed things up more against the aggressive Royals.
"My last two outings here, I had a really good mix," McAllister said. "Today, I didn't do that. I think that's something I have to realize -- whether it's out there or in the dugout, whenever it is -- I have to mix my pitches up."
McAllister -- promoted from Triple-A Columbus prior to the game -- was charged with six runs (five earned) on eight hits in four-plus innings. The last of the runs tagged on his pitching line came after he bowed out of the ballgame in the fifth inning.
With one out and a runner on first base, Kansas City first baseman Billy Butler crushed an 0-1 offering from Hagadone, sending the pitch to the base of the Royals Hall of Fame behind the left-field seats. The rocket shot landed in nearly the same spot as Butler's game-deciding homer on Friday night.
It was another frustrating night within the Tribe's critical road trip.
"It doesn't matter, the level of frustration," Francona said. "We set out to win and we didn't. We came out and did a good job offensively, and then we let them back in the game."
Jordan Bastian is a reporter for MLB.com. Read his blog, Major League Bastian, and follow him on Twitter @MLBastian. This story was not subject to the approval of Major League Baseball or its clubs.