Santana hits two for five-homer series vs. Royals
First blast caps four-run fifth, while Salazar fans seven in fine start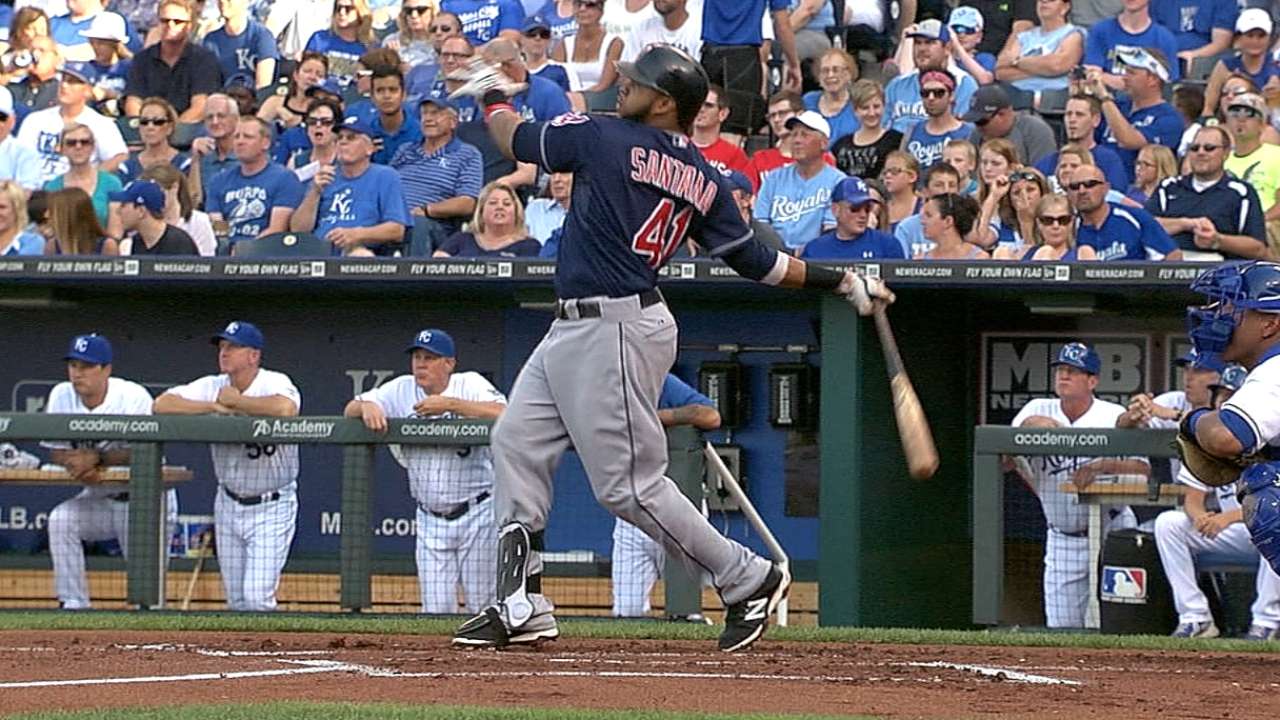 KANSAS CITY -- There were days early on this season when Carlos Santana looked lost at the plate. It reached a point where manager Terry Francona conceded that stubbornness had overtaken patience in his continual use of the first baseman in the cleanup spot.
Those days have long since gone by.
On Sunday afternoon, Santana continued his two-month surge and incredible series against the Royals, launching two home runs to help carry the Indians to a 10-3 victory at Kauffman Stadium. Danny Salazar held up his end of the bargain by giving the Tribe a quality start, making for a happy flight home after a grueling road trip.
"He's been a blessing for us," Francona said of Santana. "The more guys we can get hot, the better. But, when Carlos is hot, it's not singles or hits. It's a lot of damage, which is really welcomed."
The Royals claimed the first three games in the set, overshadowing Santana's personal success in the final stop of Cleveland's 5-6 showing through Detroit, Minnesota and Kansas City. El Oso turned The K into his personal launching pad, delivering five home runs in the series.
Santana equaled a franchise record with five shots in a single series, joining Travis Hafner (2004), Matt Williams (1997), Albert Belle (1995), Joe Carter (1989) and Hal Trosky (1934) on that short list. Cleveland's first baseman became the first Major Leaguer to have five homers in one series this season and the first to ever have five in one set against Kansas City.
Santana's signature blend of patience and power was on full display over the past four days.
Overall in the series, Santana hit .643 (9-for-14) with five long balls, five walks, six runs and eight RBIs. With his multi-homer showing on Sunday, Santana became only the 11th Indians batter in the past 100 seasons (20 occurrences) to have at least one home run and one walk in three consecutive games. Andre Thornton holds the record with four such games in a row in 1982.
"I feel strong," Santana said. "The first two months, I wasn't hitting well and I was struggling. But now, like I keep saying, I'm staying focused, playing hard, and that's happening now."
In his first 46 games this season, the switch-hitting Santana posted a .146 average with only five home runs, 13 RBIs and a .572 OPS in 201 plate appearances. Throughout that slump, Santana continued to see pitches and draw walks, providing hope that a turnaround would arrive at some point.
Francona briefly removed Santana from the cleanup spot, but it did not take long for the first baseman to regain the manager's trust.
In the 48 games (209 plate appearances) that followed that early subpar stretch, Santana flipped the script, hitting .301 with 13 home runs and 33 RBIs, entering Sunday. His 1.011 OPS during that time period ranked second to only the Angels' Mike Trout (1.081).
"It's impressive, man," catcher Yan Gomes said. "A guy that has a rough start like that, a lot of guys could either shut it down or get really upset. You could tell, the guy wasn't that way at all. It's good. We're getting Santana back and he's loose now. It's that heart of the lineup that we've needed, that big bat that everybody talks about."
In the finale against the Royals, Santana drew a walk from Royals lefty Bruce Chen in the second inning, was hit by a pitch in the fourth and drilled the first offering he saw in the fifth for a two-run home run to right field. The blast punctuated a four-run outburst that helped the Indians run to a 5-2 lead that they would not relinquish.
Santana then launched his 20th home run of the season in the ninth inning, sending a 1-0 pitch from reliever Aaron Crow towering over the wall in right field for his second shot of the day. Santana also had a two-homer showing in Cleveland's 6-4 loss on Friday night.
"Oh, man, he's hot as a firecracker, isn't he?" Royals manager Ned Yost said. "Hitting homers right-handed, hitting homers left-handed. Five homers in the series, right? Really swinging the bat well. He's hot."
There were offensive contributions up and down the lineup, too.
Gomes delivered an RBI single off Chen in the fourth and belted a solo homer off Crow in the ninth. Asdrubal Cabrera -- in the lineup after missing five games with back spasms -- added a run-scoring single off Chen in the fifth. Michael Brantley also chipped in a sacrifice fly, Ryan Raburn belted a solo homer and Nick Swisher snapped an 0-for-21 skid with an RBI hit.
The offensive showing was sufficient in supporting a solid effort from Salazar, who piled up seven strikeouts, allowed three runs and walked none in seven innings.
Salazar smiled wide when asked about the show Santana put on.
"That was awesome," Salazar said.
Down the hall in the manager's office, Francona said he is thrilled to have his cleanup hitter back.
"I think we all knew [the turnaround] would come," Francona said. "I really never wanted to get him out of the cleanup spot. It just got to a point where I thought it was weighing on him a little bit. And then, when he got hot, to not move him back there would've been penalizing him for the first two months, which didn't make much sense.
"So, it's nice to have him back swinging like that. It's really helpful."
Jordan Bastian is a reporter for MLB.com. Read his blog, Major League Bastian, and follow him on Twitter @MLBastian. This story was not subject to the approval of Major League Baseball or its clubs.