Chen, Royals derailed in bid for sweep of Tribe
Veteran lefty gives up two jacks, labors in pivotal four-run fifth frame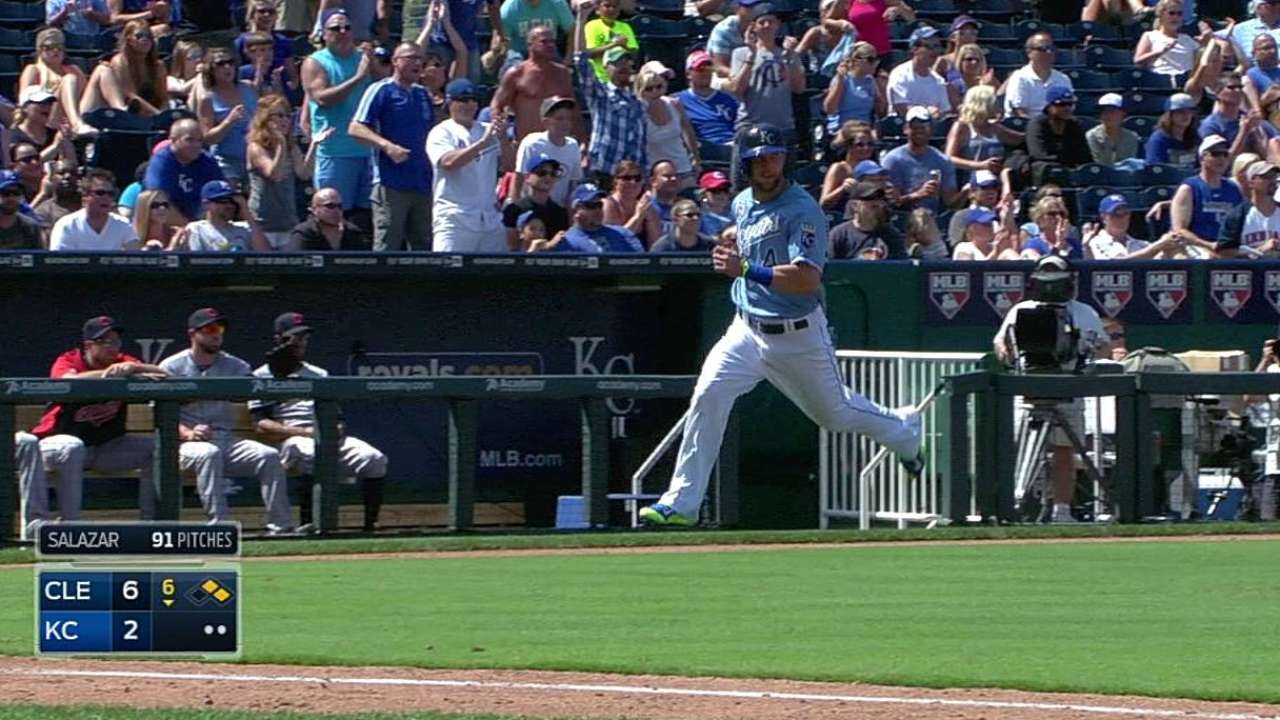 KANSAS CITY -- Carlos Santana did something that the Royals had not seen in the 46 years of their existence.
Santana became the first opposing player to blast five home runs in a series against them. The last two homers came on Sunday as he powered the Cleveland Indians to a 10-3 victory at Kauffman Stadium.
That prevented the Royals from accomplishing a first of their own. A victory would have given them their first four-game sweep against the Indians in Kansas City since the rivalry began in 1969.
With 23,409 fans basking in the 87-degree sunshine, the Royals had their five-game winning streak come to an end. But they headed into Monday's open date in second place, trailing Detroit by five games in the American League Central. They're two games behind in the Wild Card race.
"Winning three games against these guys is pretty good," Royals left fielder Alex Gordon said. "That's a good team over there and we're not satisfied with losing today, but we're happy with the series."
Billy Butler had three more hits for the Royals, adding to his go-ahead homers in back-to-back games on Friday and Saturday nights. Butler was 6-for-12 with five RBIs in the series. Maybe that's a sign of his resurgence.
Normally the designated hitter, Butler has been filling in at first base for injured Eric Hosmer, who is expected back in the lineup on Tuesday night.
"Billy filled in nicely over there at first base. He had a nice series, so that was big for us." Gordon said. "Hopefully, having Billy and Hoz in the lineup together will be a big key."
But Santana put on a bigger show Sunday. Each of his two homers came with a man on base. He also singled, walked and was hit by a pitch.
"Oh, man, he's hot as a firecracker, isn't he?" said Royals manager Ned Yost. "Hitting homers right-handed, hitting homers left-handed. Five homers in the series, right? Really swinging the bat well, he's hot."
Santana's first home run finished off a four-run fifth inning against left-hander Bruce Chen, thrusting the Indians into a 5-2 lead. Santana, batting right-handed, sent the ball just inside the right-field foul pole.
When Ryan Raburn opened the sixth inning with a blast over the center-field wall, Chen's afternoon was over.
Because the Royals' bullpen was worked overtime in this series, Yost ruled out using Kelvin Herrera, Wade Davis and Greg Holland in the series finale. But he employed all of his remaining four relievers.
That included Aaron Crow, who gave up the Santana's second homer -- hit from the left side -- in the ninth inning. So in the four games, the switch-hitting cleanup hitter was 9-for-14 with five homers and eight RBIs.
Santana homered off Jeremy Guthrie on Saturday night and belted two homers off Yordano Ventura on Friday night.
Santana now has 20 homers and 50 RBIs this season.
"I feel strong," he said. "The first two months, I wasn't hitting well and I was struggling. But now, like I keep saying, I'm staying focused, playing hard and that's happening now."
Santana was the sixth Indians players to have five homers in the same series. The others were: Hal Trosky (1934), Joe Carter (1989), Albert Belle (1995), Matt Williams (1997) and Travis Hafner (2004).
Right-hander Danny Salazar pitched seven innings for the victory and struck out seven, giving him 60 strikeouts in his 52 2/3 innings.
"He's got good stuff. I was comparing him to Ventura -- just electric fastball, good off-speed," Gordon said. "When he's attacking the zone with all his pitches, he's a tough guy to hit."
Winning a series three games to one might be satisfying to some, but not to the Royals' manager.
"No, not when you lose the fourth game," Yost said. "If you lose the first game, then win three, yeah, you feel pretty good. You never feel good when you lose the last game."
Dick Kaegel is a reporter for MLB.com. This story was not subject to the approval of Major League Baseball or its clubs.