Cueto throws zeros as Reds end seven-game slide
Fighting fatigue, ace fans nine in 7 IP with clutch defense behind him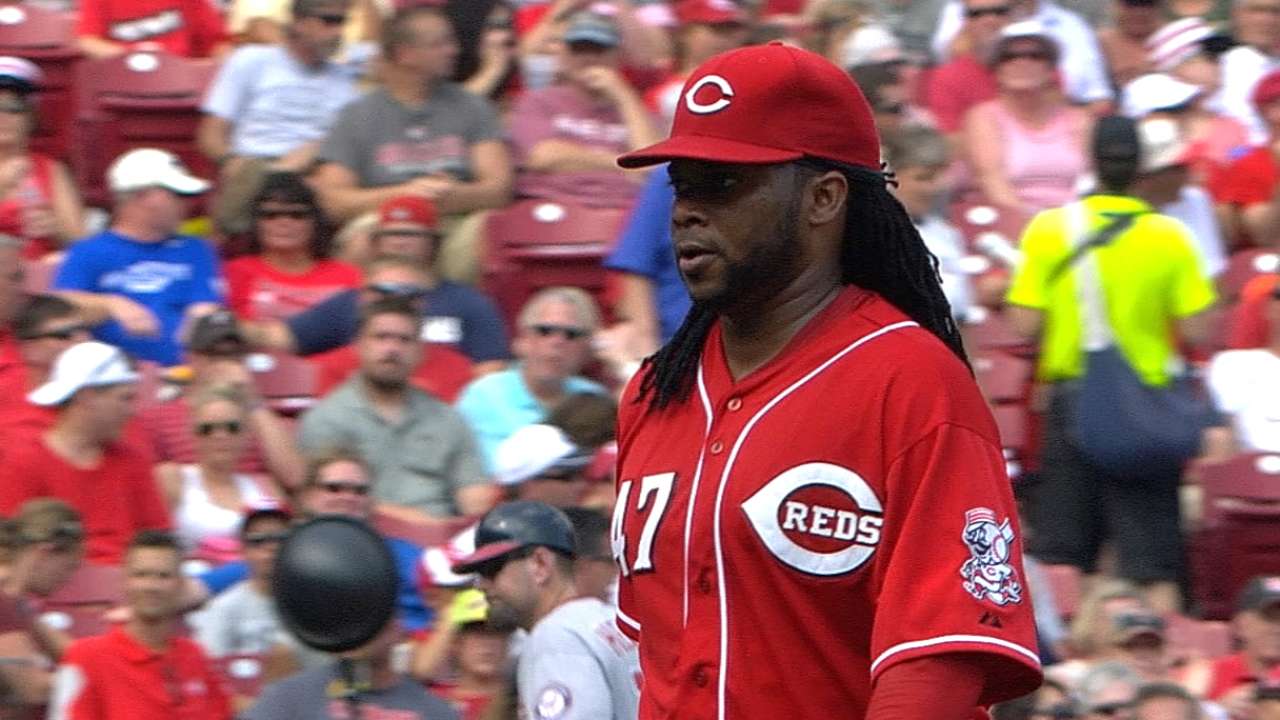 CINCINNATI -- The Reds needed a win in the worst way on Saturday. They turned to their ace, and he delivered.
Johnny Cueto tossed seven sparkling innings, and Brayan Pena singled home the game's only run in the fifth as Cincinnati snapped a season-long seven-game losing streak with a 1-0 victory over the Nationals at Great American Ball Park.
Cueto wasn't feeling well at the outset of the game, as the mid-afternoon heat and humidity at game time had him experiencing fatigue. But he turned things around and held a hot-hitting opponent in check; going into the contest, Washington had been hitting .318 since the All-Star break.
"I felt without strength [early in the game]," Cueto said through translator Tomas Vera. "[But] I told [Reds manager Bryan Price], 'Don't worry, I'll keep going. I will do it.'"
The All-Star found himself in trouble in the first inning. He allowed a leadoff single to Denard Span, and after Anthony Rendon's fielder's-choice grounder to short, Cueto walked Jayson Werth to put two on with one out. But the right-hander got Adam LaRoche to line out to center on a nice catch by Billy Hamilton and retired Ian Desmond on a 3-1 groundout to escape the jam.
The ball hit to center by LaRoche seemed to take off on Hamilton, who initially broke a step in before turning to his left to chase after it and make a leaping catch.
Hamilton's play wasn't the only instance of excellent Reds defense that helped Cueto early on. With Bryce Harper on first and nobody out in the second, Wilson Ramos hit a deep drive to right-center that Jay Bruce ran down. Bruce immediately turned and fired to first to nab Harper, who had gotten all the way around second before the ball was caught.
"You're really looking at what's made us successful, and what makes most teams successful: the pitching and the defense and good situational hitting," Price said. "You don't have to be dynamic offensively; you just have to be productive."
Cincinnati's offense was far from dynamic, continuing its post-All-Star break hibernation. But Pena gave Cueto all the run support he'd need in the fifth. Following a Chris Heisey leadoff double and steal of third one out later against Washington starter Gio Gonzalez, Pena singled to left for a 1-0 lead.
Cueto scattered three other hits and yielded two more walks, but beyond that he was strong, striking out nine -- fanning the side in both the third and sixth innings -- to give the Reds a chance to finally get in the win column for the first time since the All-Star break.
"Early in the game, the humidity was beating him up, but boy, when we took that lead, it was like a whole different guy out there," Price said of Cueto.
"I started to breathe more deeply, and I was just slowing down a little more, and I was painting the ball where I wanted," Cueto said of the remainder of his outing. "I was throwing the pitches where I wanted, and it gave me the aggressiveness that I wanted."
Cueto handled things through the seventh, after which he gave way to the bullpen. Jonathan Broxton came on in the eighth, but after getting two outs, he walked Rendon and hit Werth. That's when Price summoned Aroldis Chapman to try for a four-out save.
"I love the way Broxton is throwing the ball; going into that at-bat, LaRoche is 1-for-7 off Jonathan, but it just seemed to me with the matchup, left-on-left, it just seemed to make sense to make that move to Chappy."
Chapman got LaRoche to ground out to short. But in the ninth, he walked Desmond to lead off the frame. Desmond tried to steal second, but Pena fired a perfect strike to nail him.
Pena recalled what happened in New York against the Yankees last Sunday -- a game also started by Cueto -- when a similar situation arose in the ninth with Chapman in. The Reds battery was unable to hold the winning run at first, leading to an eventual walk-off loss.
"We kind of let [Jacoby] Ellsbury take a big jump, and he ended up being the winning run," Pena said. "We talked about it after the game, and I told [Chapman], 'You know what, from now on, no matter who's running on first, we have to give them a couple of looks. [Chapman] gave me a quick step, and he gave me a chance to throw him out."
Chapman proceeded to strike out both Harper and Ramos to pick up his 22nd save of the season. It was his fourth career save in which he pitched more than one inning and first since Sept. 14, 2013, against the Brewers. With the two punchouts, he extended his MLB-record streak of consecutive relief appearances with a strikeout to 43.
But most importantly, the Reds hung on and experienced a victory for the first time in 13 days.
"In order to get on a roll and really start feeling good about what we're doing, it starts with putting wins together," Price said. "We're not going to get back to where we want to be by playing .500 baseball; we have to be a lot better than that. Today was a good start."
Manny Randhawa is an associate reporter for MLB.com. This story was not subject to the approval of Major League Baseball or its clubs.