Yanks' home winning streak against Blue Jays ends
Roberts can't corral popup in seventh; Capuano solid in club debut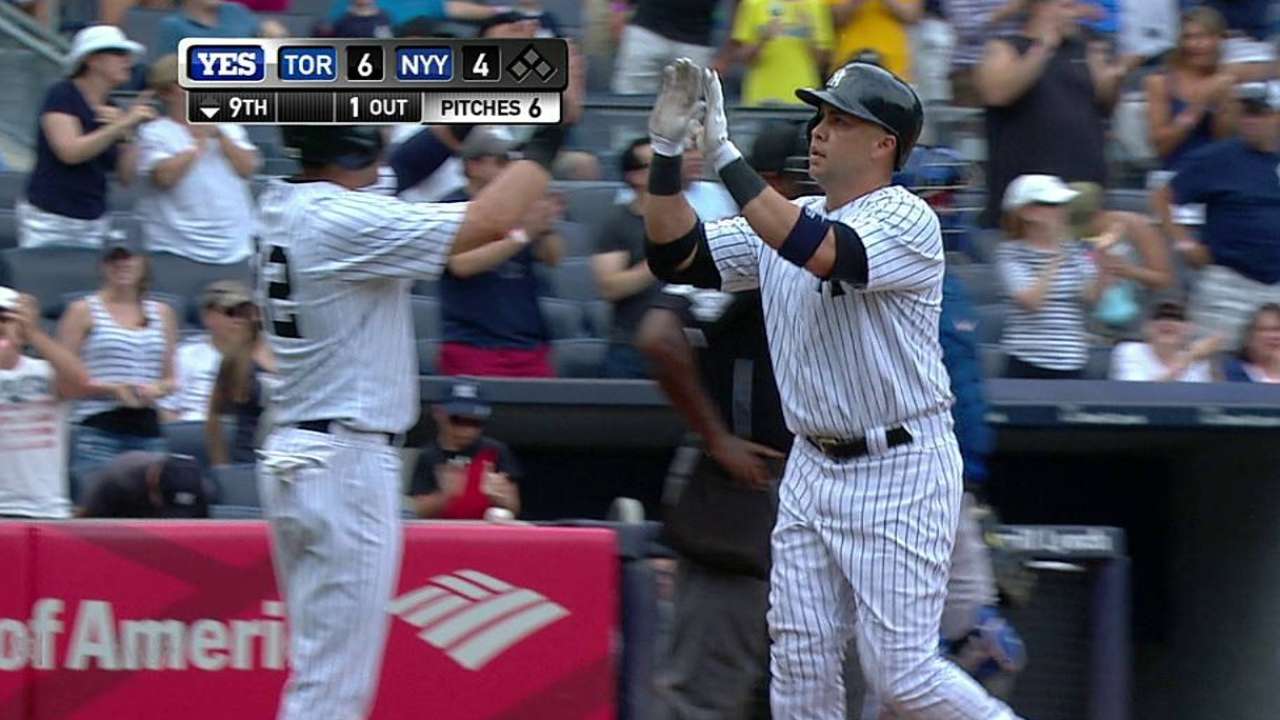 NEW YORK -- A pair of defensive miscues by the Yankees in the seventh inning paved the way for a 6-4 victory by the Blue Jays on Saturday afternoon at Yankee Stadium.
The loss snapped the Yankees' 17-game home winning streak against the Jays, who earned their first win in the Bronx since 2012.
In a tie game with no outs and runners on second and third, Dioner Navarro hit a sharp ground ball toward Brian McCann, the Yankees regular catcher who is playing at first base in place of the injured Mark Teixeira.
McCann fielded the ball cleanly and saw the runner at third, Melky Cabrera, a couple steps off the base and charged toward Cabrera to force him back to third. No runs scored, but McCann, who was making his seventh career start at first (all this season) didn't get an out.
"The first time I'd seen it from that angle," McCann said. "I wish I could have slowed the game down a little bit, but the game sped up on me a little."/p>
The next batter, Steve Tolleson, struck out swinging, and the Yankees called on left-hander Matt Thornton to face Dan Johnson.
Thornton got Johnson to hit a shallow popup between the mound and second base, but Yankees second baseman Brian Roberts could not make the catch or field the ball cleanly after it fell to the ground. The Blue Jays took a 3-2 lead on that infield hit and never relinquished the lead.
It was one of those funky plays," Roberts said.
Johnson hit his first homer of the year in the ninth, a three-run shot off Jeff Francis that extended the Jays' lead to 6-2, and nulled the impact of Carlos Beltran's two-run homer in the bottom of the inning.
New York was not able to capitalize on a solid outing from its newest addition, left-hander Chris Capuano. He admitted to having some nerves at the start that played into a 25-pitch first inning. The Blue Jays loaded the bases in the inning, but Capuano escaped without allowing a run.
"That was huge; that was a situation that could have got out of control a little quickly," he said. "To make a pitch and get out of that situation kind of gave me a little lift going forward."
Capuano surrendered just two hits through the first four innings and the Yankees had a 2-0 lead, too, on McCann's two-run homer in the fourth.
But the Jays struck in the fifth when Cabrera laced a double into the left-field corner that plated Jose Reyes from first base. Cabrera scored a sacrifice fly from Tolleson to tie the game at 2.
That was all Toronto would muster against Capuano. He allowed two runs on five hits in six innings and although he walked four (one intentional), he also struck out four. The Yankees traded for Capuano on Thursday from the Rockies in exchange for cash considerations.
Earlier this season, he was a reliever for the Red Sox before being released and signed as a free agent with Colorado, where he was working in the Minor Leagues as a starter.
"Good job. He did a really good job, gave us six good innings," Yankees manager Joe Girardi said. "I said we'd use him around 100 pitches and that's what he gave us and he did a nice job."
Blue Jays starter Drew Hutchison stifled the Yankees for much of the day, allowing two runs on five hits in 6 2/3 innings and earning his first win since July 1.
Both benches were warned in the first inning after Beltran and Jose Bautista were both hit with pitches, but the rest of the game was played without incident.
Tied for second in the American League East, the teams will conclude a three-game series with Sunday afternoon's rubber game.
"What's happened, everybody knows about it, we don't really need to talk about it," Hutchison said. "But it was nice to get a win today and have a chance to win the series here tomorrow."
Jamal Collier is an associate reporter for MLB.com. This story was not subject to the approval of Major League Baseball or its clubs.