Blue Jays halt 17-game Yankee Stadium losing streak
Johnson puts club ahead, then hits crucial HR; Hutchison sharp in win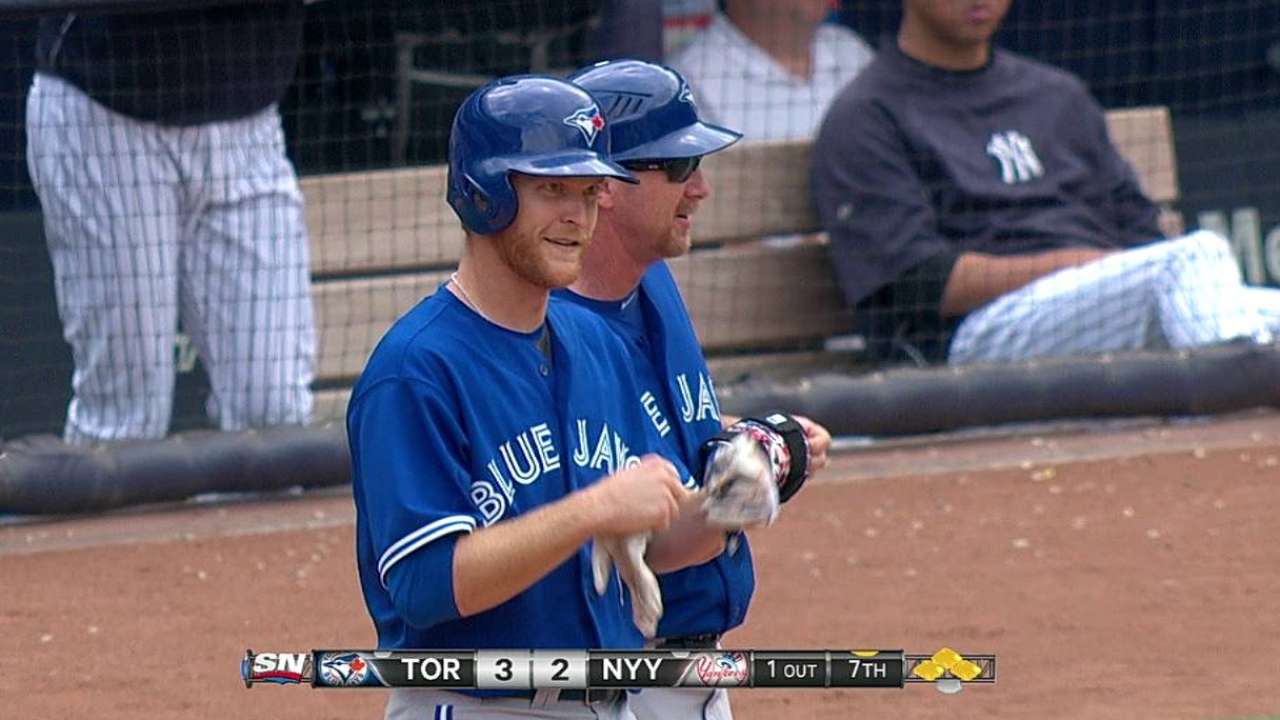 NEW YORK -- The Blue Jays' losing streak at Yankee Stadium has finally come to an end.
It wasn't easy and it certainly wasn't pretty, but when it was all said and done, none of that mattered. Toronto was prepared to take a victory any way possible to close a dark chapter in franchise history.
Drew Hutchison pitched 6 2/3 strong innings while Dan Johnson homered and drove in four runs as the Blue Jays snapped their 17-game skid in the Bronx with a 6-4 victory over the Yankees on Saturday afternoon.
"Big, big day, Hutch was outstanding," Blue Jays manager John Gibbons said. "I've never felt so excited about winning a ballgame."
Gibbons laughed shortly after, but it's hard to tell whether he was joking. In the end, it's just another win in the 162-game schedule, but it means much more than that inside a clubhouse that has been forced to talk about the streak for the past two years.
It's long been assumed that if the Blue Jays are going to remain relevant in the American League East race this year, they needed to find a way to win at Yankee Stadium. For at least one game, they got the job done.
The streak goes into the books as the second-longest in franchise history. Toronto lost 19 consecutive games to the Orioles at Memorial Stadium from 1978-81. The losing ways at Yankee Stadium began on Sept. 19, 2012, and spanned parts of seven series.
It's also the fourth-longest losing streak by a Major League club against any team since division play began in 1969. Toronto also made that list for its issues with the Orioles, while the Pirates lost 22 straight road games vs. Milwaukee (2007-10), and the Rays lost 18 consecutive to the Indians (2005-10).
"We won, we win tomorrow and we win another series," catcher Dioner Navarro said when asked if the Blue Jays had a weight lifted off their shoulders with the victory. "It's a strange game and we finally came through."
Toronto had the lead in 12 of the 17 losses, but wasn't able to close things out. That trend was in danger of continuing Saturday, but instead it was the Blue Jays who battled back from a two-run deficit after Brian McCann homered in the fourth off Hutchison.
The Blue Jays responded with a rally in the fifth. Jose Reyes walked and came around to score when Melky Cabrera doubled to the corner in left field. Two batters later, Steve Tolleson's sacrifice fly tied it at 2.
Toronto then jumped ahead by one in the seventh with a helping hand from the Yankees. With Cabrera on third and Jose Bautista on second with nobody out, Navarro hit a sharp grounder to first base. McCann fielded the ball as Cabrera took a few steps toward home plate before stopping.
McCann looked Cabrera back to third, but by the time he tried to get the out at first, it was too late. Navarro reached to load the bases, and two batters later, Johnson drove in the go-ahead run on a blooper between the mound and second base. Yankees second baseman Brian Roberts couldn't come up with the catch and then dropped the ball after it bounced.
"That hurt us, it definitely hurt us," Yankees manager Joe Girardi said. "For [McCann], it's inexperience. With what we've got going on with [Mark Teixeira out], we really don't have a first baseman. He's done a pretty good job and it's a tricky play the one hit to Brian, he makes that play we get the out at home, and it just changes the way you do things at the end of the game."
Hutchison held onto the lead until he departed with two outs in the seventh. He allowed five hits and three walks while striking out seven to earn his second victory since the middle of June. He entered the game with 1-5 with a 6.97 ERA over his previous six starts.
Johnson broke the game open in the ninth when he hit a three-run homer off Canadian left-hander Jeff Francis. The insurance runs proved crucial as Carlos Beltran hit a two-run shot in the ninth off closer Casey Janssen.
It was far from textbook baseball, but the Blue Jays got their win.
"Things that have happened previously, there's nothing you can do about them once they happen," Hutchison said. "It's a fresh game, go out there and do everything you can do to give your team a chance to win."
Gregor Chisholm is a reporter for MLB.com. Read his blog, North of the Border, and follow him on Twitter @gregorMLB. This story was not subject to the approval of Major League Baseball or its clubs.