Orioles' offense contained in Norris' rough outing
Three-run eighth-inning rally not enough as O's tally only three hits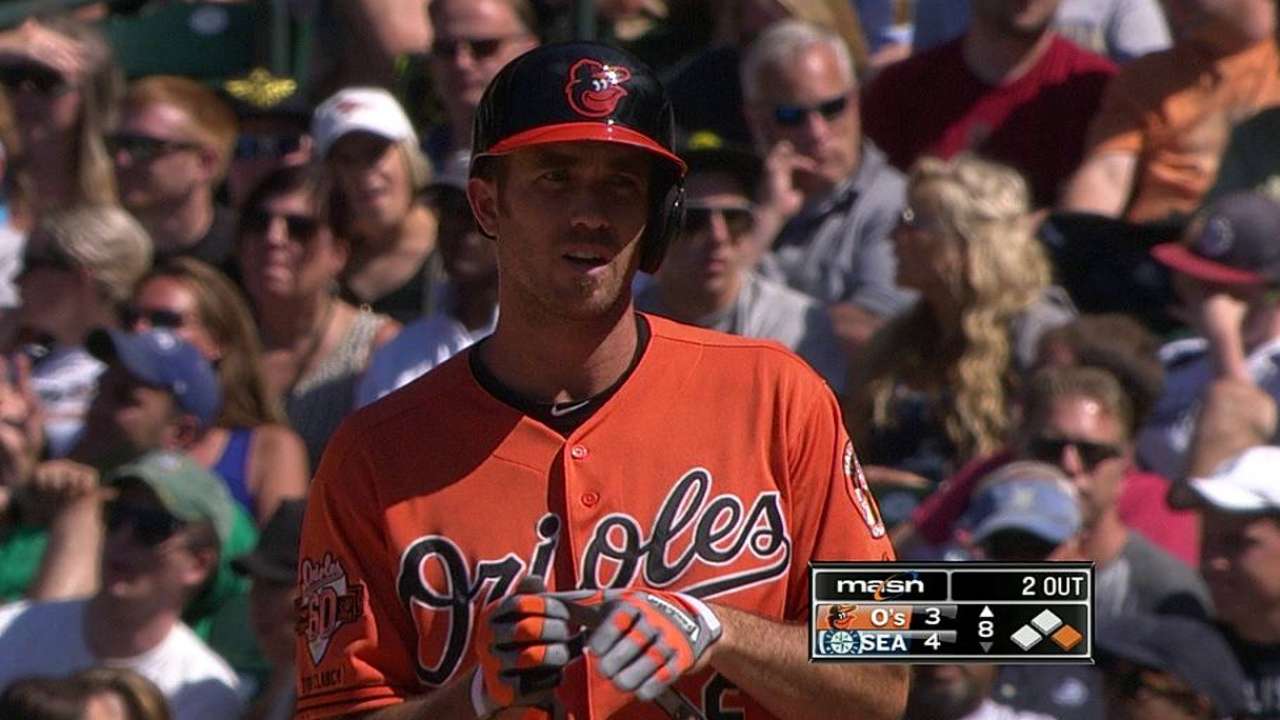 SEATTLE -- A previously high-flying Orioles club looked pretty flat on Saturday afternoon at Safeco Field.
Right-hander Bud Norris couldn't keep Baltimore's impressive quality start streak alive, struggling with command in a five-inning outing, while the offense had no answer for Mariners starter Chris Young. The O's, who scored all of their unearned runs in the eighth inning, couldn't capitalize enough in the 4-3 loss to the Mariners, squandering a chance to increase their lead in the American League East.
Baltimore (57-46), which dropped just its second game in its last six, is still three games up in the division and 5-4 on a three-city West Coast trip with one game remaining. But with a key play going against them -- Kendrys Morales' bases-loaded hit-by-pitch -- and an underwhelming afternoon from both Norris and the offense, the Orioles were lucky the game was as close as it was.
"I wouldn't say fortunate," manager Buck Showalter said of his team hanging around despite Young's dominance. "A little frustrated. I think we all knew we were going to be challenged by a presentation that you don't see much. ... Chris is good, athletic. I've had him. He's a good man. He's in a good situation there, they are lucky to have him. [We] had a shot there."
While Young dealt, Norris -- coming off an excellent outing in Anaheim in which he struck out a season-high eight batters -- had command issues from the get-go. After working around a pair of two-out walks in the first, he gave up a leadoff third-inning single to No. 9 batter Jesus Sucre. One out later, Dustin Ackley doubled and Norris intentionally walked Robinson Cano.
Norris paid for the move, as Morales was struck by a pitch to bring in a run. After catcher Nick Hundley checked with third-base umpire Brian Knight on Morales' checked swing, Showalter came out to argue.
"I don't want to say too much about it, because it happened and I didn't get the call," said Norris, who surrendered three runs in the third. "When I'm trying to execute that pitch and I'm ahead in the count in a situation with the bases loaded, I'm trying a back-foot slider there and I got a swing, even when I went back to look at it here. Unfortunately, it would have changed the situation in the entire inning for our team and so forth, but they got the call. Sometimes they're going to get the call.
"It's unfortunate, but I've got to keep getting better and get out of that inning and minimize the damage, and they put a couple across."
It was a lead Seattle would never relinquish as Norris -- who also allowed RBI singles to Kyle Seager and Logan Morrison -- was tagged with six hits and three walks in the 97-pitch outing.
"I think the swing that wasn't called on the hit-by-pitch hurt him a little bit," Showalter said. "Maybe lost some concentration. He made a good pitch there and we didn't get the call. Pretty obvious he swung.
"Why couldn't you look at if he was hit by a pitch or not and then see if he swung, which he obviously did? It doesn't work that way [with replay review], so it's kind of inconsistent."
The Orioles' offense, which scored two runs on third baseman Seager's error, couldn't get anything going against Young. Anyone not named Delmon Young was held in check by the 35-year-old Mariners starter, who struck out eight in his first outing against Baltimore since 2005.
"He's got that fastball that he elevates and it's hard to catch up to," said shortstop J.J. Hardy. "It's just deceiving, it's different. He's good. He's been good for a while."
The O's used a two-out hit-by-pitch and walk to threaten against reliever Danny Farquhar in the eighth, with the pair advancing on a wild pitch by Farquhar's replacement, Joe Beimel. Chris Davis, who was Friday night's hero with a 10th-inning homer, hit a hard ground ball that skipped by Seager's glove and into left field to cut the deficit to two.
Hardy followed with an RBI single to left, the O's third hit of the afternoon, but Yoervis Medina got Manny Machado to ground back to the mound to end the inning.
"I wish we had a little better at-bats," Showalter said of his club, which won the first two games of the four-game set. "Two tough ballgames coming into today and a quick turnaround. They just pitched a little better than we did today."
Norris, who navigated through a scoreless fourth inning, allowed the Mariners to score their fourth and decisive run with a pair of doubles by Ackley and Cano in the fifth. He was replaced by lefty T.J. McFarland, who allowed one hit over the next 2 2/3 innings to keep the O's within striking distance.
But the trio of runs in the eighth was too little, too late as the O's couldn't make up enough ground to negate Young's early dominance.
"My last start, the team spotted me three early and I gave it right back in Anaheim," Young said. "That's another very good lineup, so that was in the back of my mind. 'Don't let up. Don't lose focus. Continue to make one good pitch after the next.'
"They're very capable of coming back, and coming back very quickly. As we saw, they almost did today. You don't take it for granted."
Baltimore threatened briefly against Seattle closer Fernando Rodney, with pinch-hitter David Lough working a one-out walk. But Nick Markakis flied out and Lough was picked off with Young at the plate to end the game.
"A loss is a loss," Young said. "We could have lost like we did in Oakland or we could lose on a walk-off. A loss is a loss, but we still have a lead in the division. We got plenty of games to play. So we just got to come out tomorrow ready to play."
Brittany Ghiroli is a reporter for MLB.com. Read her blog, Britt's Bird Watch, and follow her on Facebook and Twitter @britt_ghiroli. This story was not subject to the approval of Major League Baseball or its clubs.