Young turns in career start with seven two-hit innings
Vet K's eight over seven scoreless; Rodney's 200th save squashes rally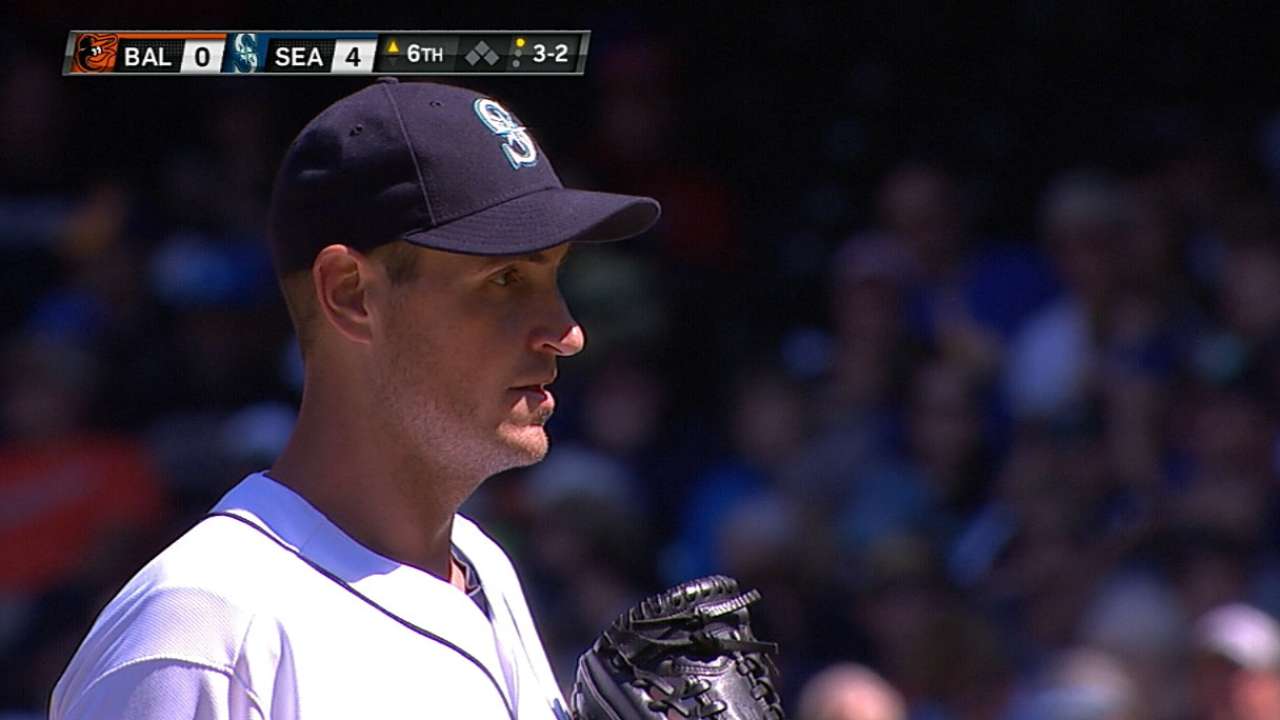 SEATTLE -- Veteran right-hander Chris Young continued to dominate at Safeco Field, the Mariners offense offered a few timely hits and Seattle snapped a four-game losing streak by holding on for a 4-3 win over the Orioles on Saturday afternoon.
It nearly unraveled in the top of the eighth inning.
Seattle led, 4-0, with two outs and two on when Kyle Seager allowed a Chris Davis ground ball to scoot under his glove as two runs came around to score. J.J. Hardy then hit an RBI single to cut the lead to 4-3 before Mariners reliever Yoervis Medina came in and got Manny Machado to ground out to end the inning.
The win moved the Mariners back to 54-50, while the Orioles dropped to 57-46.
Young, like most of Seattle's pitching staff, has received minimal run support during the 2014 season -- just 29 runs in his last 10 starts. But in his 21st appearance (20th start) of the year, he had a four-run lead at the end of five innings and had little issue taking advantage of the newfound cushion.
"My last start, the team spotted me three early and I gave it right back in Anaheim," Young said after improving to 3-2 with a 2.12 ERA over his last eight starts. "That's another very good lineup. That was in the back of my mind.
"'Don't let up. Don't lose focus. Continue to make one good pitch after the next.' That was my goal, and today I did a better job of it than last time."
The 6-foot-10, 35-year-old began the day holding opponents to a .188 batting average in Seattle, and he built off those numbers against the O's, allowing just two hits over seven scoreless innings. Young struck out eight, walked three and hit one batter while picking up his ninth win and lowering his ERA to 3.04.
"He did an outstanding job for us," manager Lloyd McClendon said. "He really kept them off balance all day. I thought his secondary stuff was pretty sharp and he had real good command of the fastball."
It was a much-needed effort for a Mariners offense that entered Saturday at or near the bottom of the American League in runs, hits, batting average, on-base percentage and slugging percentage.
For a day, none of it mattered as Seattle handed Young an early lead with three runs in an odd third inning.
The rally started when No. 9 hitter Jesus Sucre hit a bloop single into right field. After James Jones struck out, Dustin Ackley hit a check-swing double that beat an infield shift when it rolled past third base and down the left-field line.
"I think when you're expecting good things to happen, sometimes they do," Ackley said after going 2-for-4 to lift his batting average to .245. "That one was a pleasant surprise for sure."
With first base open, the Orioles opted to intentionally walk Robinson Cano and load the bases to face Kendrys Morales. The maneuver backfired when O's starter Bud Norris (8-7) hit the designated hitter to force in Seattle's first run. Morales checked his swing on the pitch, and third-base umpire Brian Knight ruled that Morales didn't go around.
"He made a good pitch there and we didn't get the call," said O's manager Buck Showalter. "Pretty obvious he swung."
Seager followed with an RBI single to make it 2-0.
After Corey Hart struck out, Logan Morrison lined an 0-2 pitch into left field for a single. Another run scored, but when the ball was misplayed by left fielder Nelson Cruz, Morales didn't try to score from third and was subsequently tagged out because he rounded the base too far after Cruz hit the cutoff man.
Young, meanwhile, breezed through the first two innings before issuing a two-out walk to Nick Markakis in the third, then giving up a single to Delmon Young. But he rebounded to get Adam Jones to fly out to right field to end the inning.
Jones came up in the fifth inning with runners on second and third and two outs, but Young induced a groundout to get out of the jam. Ackley and Cano led off the bottom of the frame with back-to-back doubles to give Young a 4-0 advantage and ensure that the three unearned runs in the eighth inning didn't come back to cost them.
In the ninth, closer Fernando Rodney issued a one-out walk to pinch-hitter David Lough, but he retired the next hitter. With two outs and Young at the plate, Lough broke early trying to steal second. Rodney calmly stepped off the rubber and threw to second base, nailing Lough to end the game. The save was Rodney's 28th of the season and 200th of his career.
"Congratulations to my closer for his 200th save," McClendon said. "That's a phenomenal accomplishment and we're extremely proud of him."
Adam Lewis is an associate reporter for MLB.com. This story was not subject to the approval of Major League Baseball or its clubs.