Darnell falters as Twins shut down by Chicago
Rookie surrenders seven runs as bats are silenced by Sox ace Sale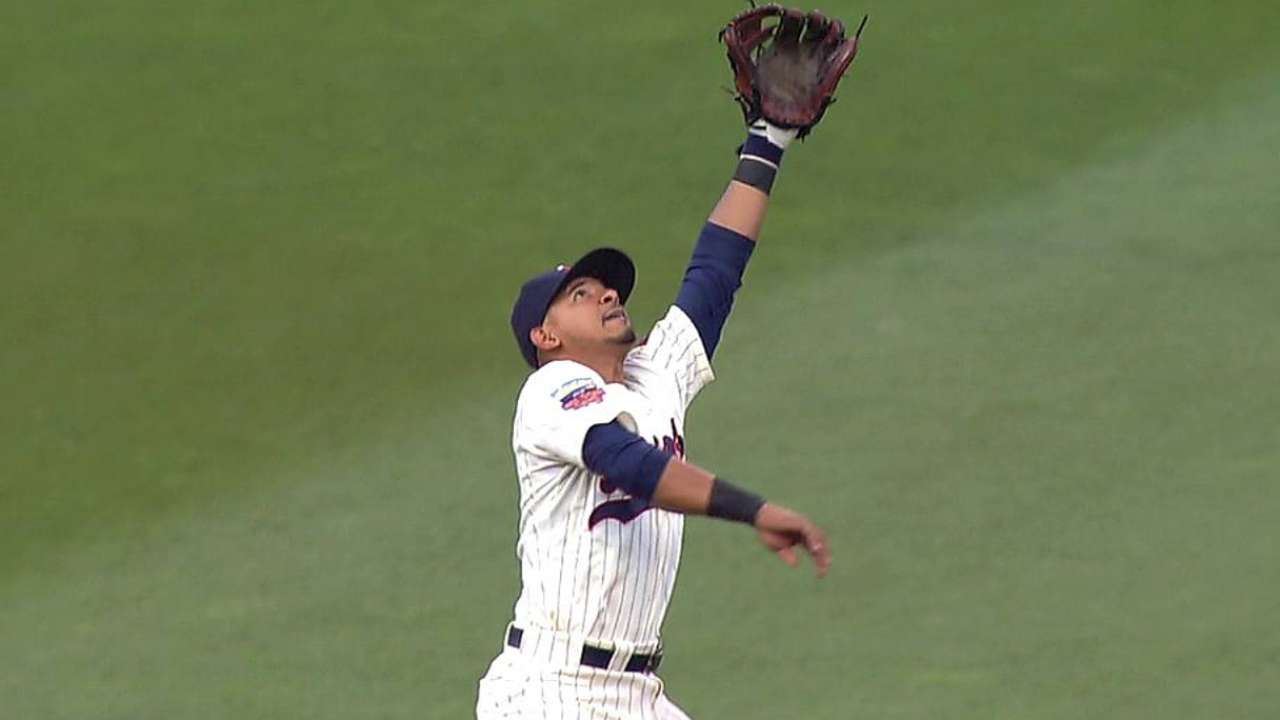 MINNEAPOLIS -- With the way White Sox ace Chris Sale dominated the Twins Saturday night, it likely wouldn't have mattered how well Logan Darnell fared in his first Major League start.
But Darnell, who was called up from Triple-A Rochester on Friday, struggled through five-plus innings, and the offense was shut down by Sale in a 7-0 loss to the White Sox at Target Field.
Darnell, making his second career big league appearance after throwing three perfect innings in relief against the Indians on May 6, didn't fare nearly as well in a spot start. The left-hander gave up seven runs on 11 hits over five-plus innings with seven strikeouts to get his first career loss.
"It's not really how you picture it," Darnell said. "I started off early really good, but later in the game the aggressiveness that I knew was going to come happened and I didn't make good enough pitches with two strikes."
Darnell, who had a 3.43 ERA at Rochester and never allowed more than six runs in any of his 17 Triple-A starts this season, made quick work of the White Sox in the first inning, but he gave up a run in the second on a two-out RBI single from Tyler Flowers before surrendering another run in the third on a sacrifice fly from Jose Abreu.
Alexei Ramirez doubled Chicago's lead with a two-run homer in the fifth that hit off the foul pole in left field. It was Ramirez's second homer in as many nights and his 10th of the year.
"Alexei's big home run to get us up by four, you feel pretty lucky," White Sox manager Robin Ventura said. "He had one earlier in the week that went foul, and now you get one that hits the foul pole."
The White Sox put the game away with a three-run sixth inning keyed by an RBI double from Flowers and RBI single from Alejandro De Aza with no outs. Right-hander Ryan Pressly relieved Darnell and allowed an inherited runner to score on a sac fly from Gordon Beckham before getting out of the inning.
"It was one here, one there and then a big two-run homer to put us down four," Twins manager Ron Gardenhire said. "And then he couldn't get anyone out in the sixth, so it was kind of a rough one there. And when you're facing that guy [Sale] it's pretty tough to give up anything. And tonight, that was one of the better nights we've seen from Sale."
Sale, meanwhile, was his usual dominant self, as he scattered just five hits and two walks over eight frames to improve to 10-1 with a 1.88 ERA. The left-hander also struck out 12 batters to mark the fifth time he's reached double digits in strikeouts this season.
Sale's gem handed the Twins their third straight loss to the White Sox and dropped them to 2-7 on their 10-game homestand, which comes to a close in the series finale on Sunday. Minnesota also dropped to a season-worst 11 games under .500 on the season.
"Like always, I was just trying to find a groove, get in a rhythm," Sale said. "Yet again, we're scoring early -- we've been swinging the bats great. Any time you get offensive help like that, it gives you the confidence to go out there and just keep pitching and try to stay in that groove."
The Twins have yet to a hold a lead against the White Sox this series, and Gardenhire said it's up to the offense to start scoring some runs to help Minnesota get out of its post-All-Star break rut. The Twins have yet to score more than five runs over their last nine games, and are averaging just 2.44 runs per game this homestand.
"When you start getting hits and start running around, that usually makes things better," Gardenhire said. "That's about the only thing we can do here. We need to start getting hits and getting guys to cross the plate. That kind of livens things up. But to stand there and play a lot of defense with no offense isn't fun for anybody. So we have to have some hits and score some runs."
Rhett Bollinger is a reporter for MLB.com. Read his blog, Bollinger Beat, and follow him on Twitter @RhettBollinger. This story was not subject to the approval of Major League Baseball or its clubs.