Sale's dominance clinches series win for Sox
Lefty fans 12 Twins in eight scoreless; Ramirez hits 10th homer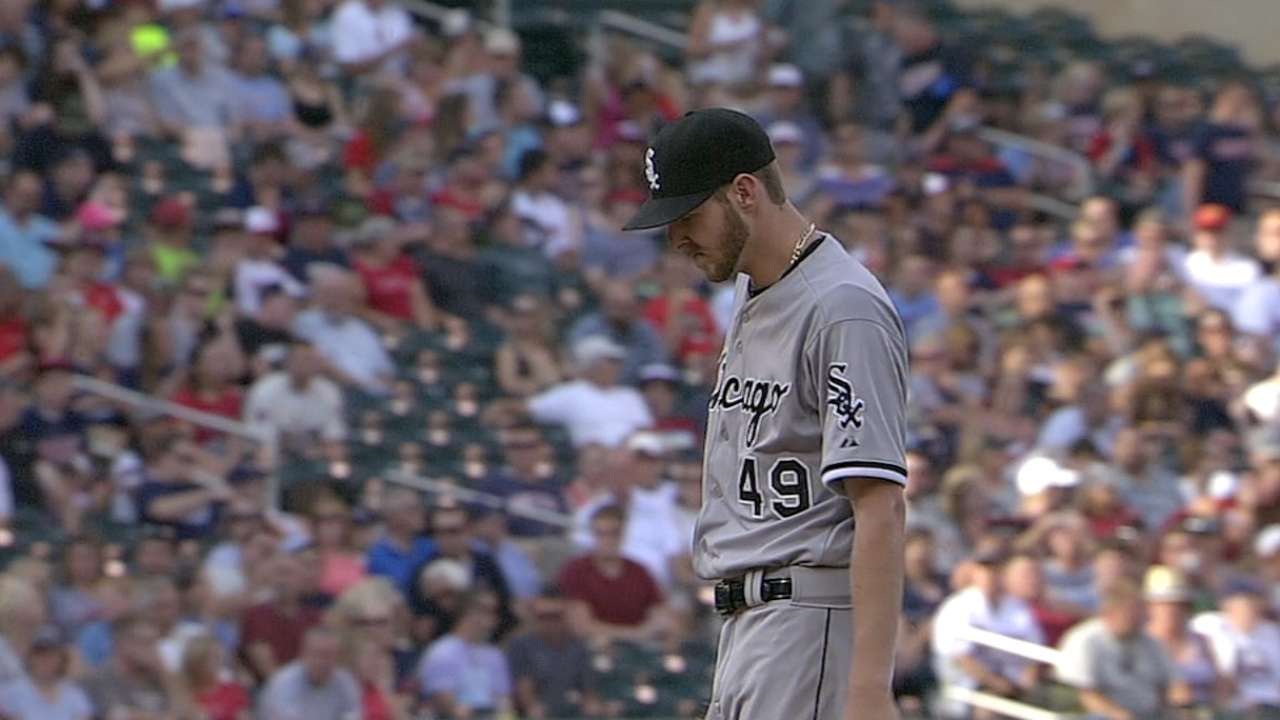 MINNEAPOLIS -- Chris Sale made quick work of the Twins on Saturday night -- something the White Sox have done all weekend.
Sale struck out 12 and Alexei Ramirez led a 14-hit attack with a two-run homer to carry the White Sox to a 7-0 win over the Twins at Target Field. Chicago has taken the first three games of the series and hasn't trailed in the 27 innings played so far. After losing two of three to the Royals at home earlier in the week, the White Sox have picked a great time to play some of their best baseball of the year.
"This team is very voracious in the desire to keep winning, and to keep getting better," Sale said. "I think we've shown that on a nightly basis coming in here and working hard, and just never giving up. When things aren't really going our way, we're still playing and we still come to win."
Sale over eight innings allowed five hits, walked two and tied his season high for strikeouts in a game. With his 15th career start of 10 or more strikeouts, Sale moved into a tie for second place with Juan Pizarro on the all-time franchise list, trailing only Ed Walsh, who did it 17 times.
"That's cool stuff to talk about in the offseason and stuff, and for your family and friends to talk about," Sale said. "For me personally, I just try to stay focused on what we have at hand. For me, I have a team here that needs me to help them win, and that's my job."
The Twins barely left a mark on Sale all night. They managed a minor threat in the second when Josh Willingham singled and Kurt Suzuki drew a two-out walk to put a runner in scoring position. Eduardo Nunez made a bid for a hit up the middle, but Sale speared it and flipped to Paul Konerko at first base to end the inning.
And that was about it. Minnesota didn't get two runners on base in the same inning again until the eighth, and that came after Eduardo Escobar and Trevor Plouffe singled on balls that traveled about 40 feet combined.
"He was great. He seemed to have everything," manager Robin Ventura said. "He was just working fast, too. I think this is probably the fastest I've seen him work, just getting the ball, not a lot of shaking off or anything like that. He was just throwing. And he was throwing everything, too."
The White Sox struck first, stringing together a pair of two-out hits to get on the scoreboard in the second. Twins left-hander Logan Darnell, making his first Major League start, mowed down the first five Sox in order, including swinging strikeouts of Dayan Viciedo and Konerko to start the second.
But Conor Gillaspie rifled a pitch down the right-field line for a two-out double, and Tyler Flowers followed with a seeing-eye single to center field to drive in the run.
They doubled their lead in the third when Jose Abreu -- who singled in the ninth to extend his hitting streak to 16 games -- hit a sacrifice fly. They doubled it again in the fifth when Ramirez looped a fly ball down the left-field line and off the foul pole for his 10th home run of the season and a 4-0 White Sox lead.
According to Ventura, the key to his team's offensive success on Saturday and over the past three days -- in which the Sox have banged out 42 hits -- is finding holes in the defense.
"Sometimes you get in a groove where you're hitting the ball hard, and early on it just wasn't going at anybody," Ventura said. "Flowers had a nice hit up the middle, Alexei's big home run to get us up by four, you feel pretty lucky -- he had one earlier in the week that went foul, and now you get one that hits the foul pole."
The offense provided the knockout punch on Darnell in the sixth when Konerko, Gillaspie, Flowers and Alejandro De Aza led off with consecutive hits. By the time Gordon Beckham capped the inning with a sacrifice fly, the Sox were up, 7-0.
That was more than enough for Sale, who lowered his ERA to 1.88 with the eight dominant frames. In his four starts this month, Sale is 3-0 with a 0.85 ERA and 38 strikeouts in 31 2/3 innings.
"He's a really good pitcher," Ventura said. "I think it gets proven every time he goes out there, that he's one of the best pitchers in the league."
Patrick Donnelly is a contributor to MLB.com. This story was not subject to the approval of Major League Baseball or its clubs.