Smyly bends in sixth inning of 11-K effort
Lefty sets career high in strikeouts; Miggy swats 16th HR of year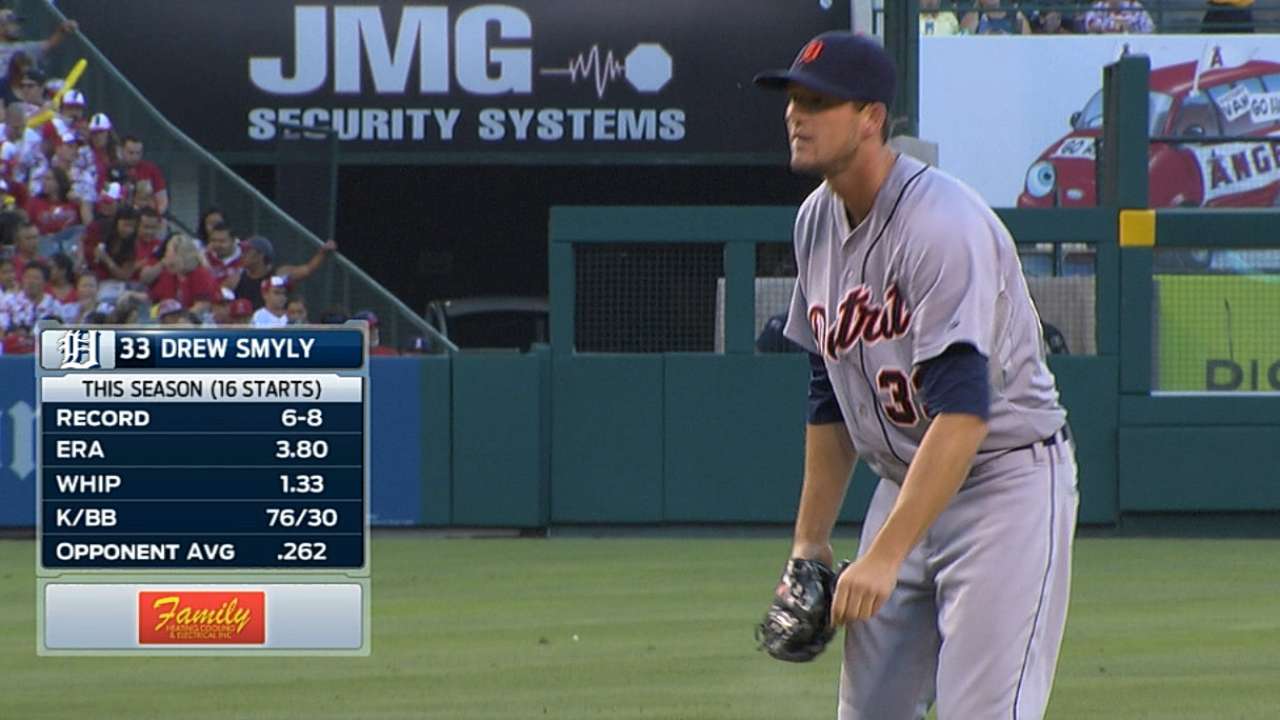 ANAHEIM -- They're called the Los Angeles Angels these days, but they're nowhere near Hollywood. For Drew Smyly, they produced a fate that would've seemed implausible in a script.
For half of his game Friday night, Smyly made a run at a history by defying the stats. In the end, his tragic fate came because he defied the stats. That's what made the 2-1 Tigers defeat so encouraging, yet so maddening for him, despite becoming the first Tigers left-hander in 21 years to strike out 11 in a game.
"That definitely gets under my skin a little bit," Smyly said.
As far back as the Tigers' Winter Caravan, a month before camp, Smyly knew his return to Detroit's rotation would hinge his performance against right-handed hitters. The .307 average and .895 OPS they posted off him entering Friday sustained the discussion.
He stuck in the big leagues last year because he owned left-handed hitters, so much so that when he lost a rotation spot, he thrived as a reliever. They batted just .155 (17-for-110) with 32 strikeouts off him entering Friday.
Smyly met up with an Angels offense that led the Majors with a .796 OPS off lefties and trailed only the Tigers in batting average. He not only retired the first 13 Angels he faced, he struck out nine. He fanned all seven right-handed hitters his first trip through the order -- all of them swinging.
He matched his season high in strikeouts after just three innings. He became the first Tigers left-hander to fan 11 batters in a game since David Wells did it on June 4, 1993 -- also against the Angels.
"He had us baffled for the first four or five innings," Angels manager Mike Scioscia said.
Smyly his had own manager trying to figure it out himself.
"The rotation on his cutter, it just must have been so tight tonight that they all thought it was fastballs coming in," Brad Ausmus said.
It was a little more complicated than that, and yet it was remarkably simple. A few starts ago, he worked with pitching coach Jeff Jones to stop raising his hands in his delivery. He eliminated unnecessary motion.
"It's given me a lot more arm speed," he said. "That just in general is making everything a lot crisper and sharper."
He took a no-hit bid into the fifth inning last year, but that was a Cleveland lineup heavy on left-handers. These were the Angels he was owning.
"His cutter was really good," catcher Alex Avila said, "but his curveball I think was even better. … Basically, we played one off the other."
It was a statistically improbable run that Smyly took into the fifth inning. Even after Howie Kendrick broke it up with a one-out double, Smyly maintained his shutout by fanning David Freese, matching his career best with his 10th strikeout on just his 16th batter. Again, it was a right-handed hitter, swinging and missing at the cutter.
Smyly had a 1-0 lead built on Miguel Cabrera's 16th home run of the year, an opposite-field loft over the high wall in right, and the 381st homer of his career -- tying him with Albert Belle for 65th on MLB's all-time list. That, however, was all the Tigers could do off lefty Tyler Skaggs, who otherwise shut down a Detroit lineup batting .282 off lefties.
Chris Iannetta's one-out double in the sixth suggested the splits might come back around on Smyly his third time through the lineup. The two hits that doomed him, however, came from lefties.
"You kind of get a look the first couple times around," said Kole Calhoun, whose ensuing double tied the game.
It was a lefty-lefty situation, but Smyly could live with it.
"You can't really do anything about that," he said. "That was a good pitch and he just slapped it right down the line."
It was the other lefty-lefty hit that ate at him. He struck out Mike Trout for the second time, his 11th strikeout of the night, to get the second out, then intentionally walked Albert Pujols.
Up came Efren Navarro, who entered in the fourth inning after left knee soreness forced Josh Hamilton out. Navarro struck out in the fifth against one of Smyly cutters. With a 1-2 count, Smyly (6-9) went back to it.
"It was on the outer half of the plate, but it was a little up," Smyly said. "I think he hit it right off the knob."
It was a ground ball hit where no one could get it, slowly enough that center fielder Austin Jackson didn't have a play at the plate.
The irony wasn't lost on Smyly.
"That was the biggest at-bat of the game," he said. "That was the guy I have to get. That's the guy I got all last year coming out of the bullpen. To get a loss on that guy beating you is a little frustrating, but that's how it goes."
Jason Beck is a reporter for MLB.com. Read Beck's Blog and follow him on Twitter @beckjason. This story was not subject to the approval of Major League Baseball or its clubs.