Navarro steps up as Angels rally past Tigers
Filling in for Hamilton, outfielder delivers go-ahead RBI in sixth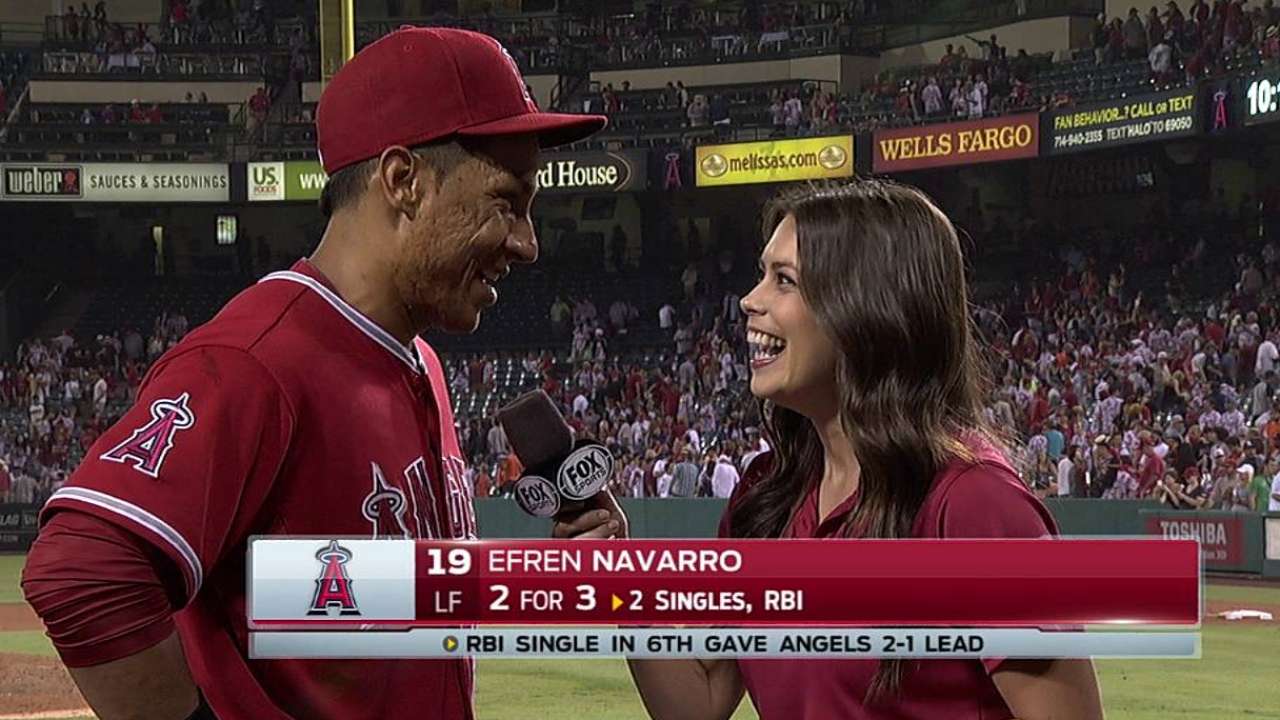 ANAHEIM -- Efren Navarro has done his waiting. Now he has his opportunity.
On Friday night, Navarro had the big hit for the second time in a week, backing a Tyler Skaggs' one-run performance and lifting the Angels to a 2-1 win over Detroit.
The win pulled the Angels (61-41) within two games of the American League West-leading Athletics, while the loss was just the second in the last six games for the Tigers (57-43).
Navarro, the 28-year-old with 14 career at-bats entering 2014, squeezed an RBI single up the middle in the sixth inning to give the Angels a one-run lead that the now-dependable bullpen turned into a win.
Last Friday, Navarro punched a double to center that gave the Angels a walk-off win in the 16th inning.
"He's doing what he's capable of doing and he's getting an opportunity," manager Mike Scioscia said. "Efren's a guy that kept playing, kept improving, playing winter ball every year. Now that he's getting his opportunity, he's very prepared and he's playing very well."
Now in his third stint in the Majors this season, Navarro is making it count. In nine games since being recalled, he is hitting .333 (9-for-27) with four walks. He has multiple hits in three of his last five games.
"He has a real good idea of his swing," Scioscia said. "He's not going to try to overpower a pitch. I think he understands using the whole field and I think that, for the most part, he's going to go in there and give you a tough at-bat every time. ... He's just having a great run right now, he's getting the opportunity and playing well."
But two of Navarro's biggest moments -- including his 16th-inning walk-off -- have come as a replacement. On Friday, he filled in for an injured Josh Hamilton, who exited the game in the fourth inning with left knee soreness.
Navarro struck out in his first at-bat before knocking two singles in his next two at-bats.
"I think that's my role," Navarro said. "I have to make sure my mind's right and physically, my body's ready."
But Navarro's game-winner may not have happened if Detroit didn't intentionally walk Albert Pujols with two outs. Navarro made the Tigers pay when he poked a 1-2 cutter from Drew Smyly into center field that scored Kole Calhoun.
"I was going to do my job," Navarro said. "Either way, I knew I was going to come through."
Smyly confused the Angels early and threw 4 1/3 perfect innings before Howie Kendrick doubled off the right-center-field wall. Through three innings, Smyly had tied a season high with seven strikeouts. He struck out six straight Angels at one point, and had struck out every spot in the batting order by the end of the fifth inning. He finished with a career-high 11 strikeouts.
"I think he struck out nine out of the first 11, or something like that," Scioscia said. "He had real good stuff and for us to match him pitch for pitch was important.
"He had us baffled for the first four or five innings."
Skaggs did his best to keep up with Smyly, allowing just one run on five hits across 5 2/3 innings. Miguel Cabrera's opposite-field home run in the fourth was the only blemish.
"In between some of the erraticness we saw from Tyler, I think he made some terrific pitches, kept us in the game against a tough lineup with a lot of tough right-handed hitters," Scioscia said.
After Cabrera's homer, Skaggs did not allow another Tiger past second base the rest of his outing.
The Angels bullpen took care of the rest.
Mike Morin, Kevin Jepsen, Joe Smith and Huston Street combined to throw 3 1/3 innings of scoreless relief, and Street collected his second save as an Angel.
"Those guys all did a terrific job against groupings that were tough every inning," Scioscia said. "That lineup is deep, they really don't give you a breather and our guys did a great job."
After Cabrera and Victor Martinez hit consecutive singles in the fifth, Scioscia pulled the left-handed Skaggs and opted for the right-handed Morin to face Detroit's righties.
J.D. Martinez reached on a fielding error by David Freese to load the bases, but Morin punched out Torii Hunter with his trademark changeup. Hunter was the first of nine straight Tigers retired by the Angels 'pen.
The Angels have scored fewer than four runs in six of their last eight games and have gone 4-4.
"We haven't really scored the runs like we can, these guys will get it going, the only way to do it is to match them pitch for pitch and we've been doing that particularly with our bullpen," Scioscia said.
Matthew DeFranks is an associate reporter for MLB.com. This story was not subject to the approval of Major League Baseball or its clubs.