Astros can't connect for Keuchel in loss to Marlins
Hernandez's error leads to lone runs off lefty; Houston held to 3 hits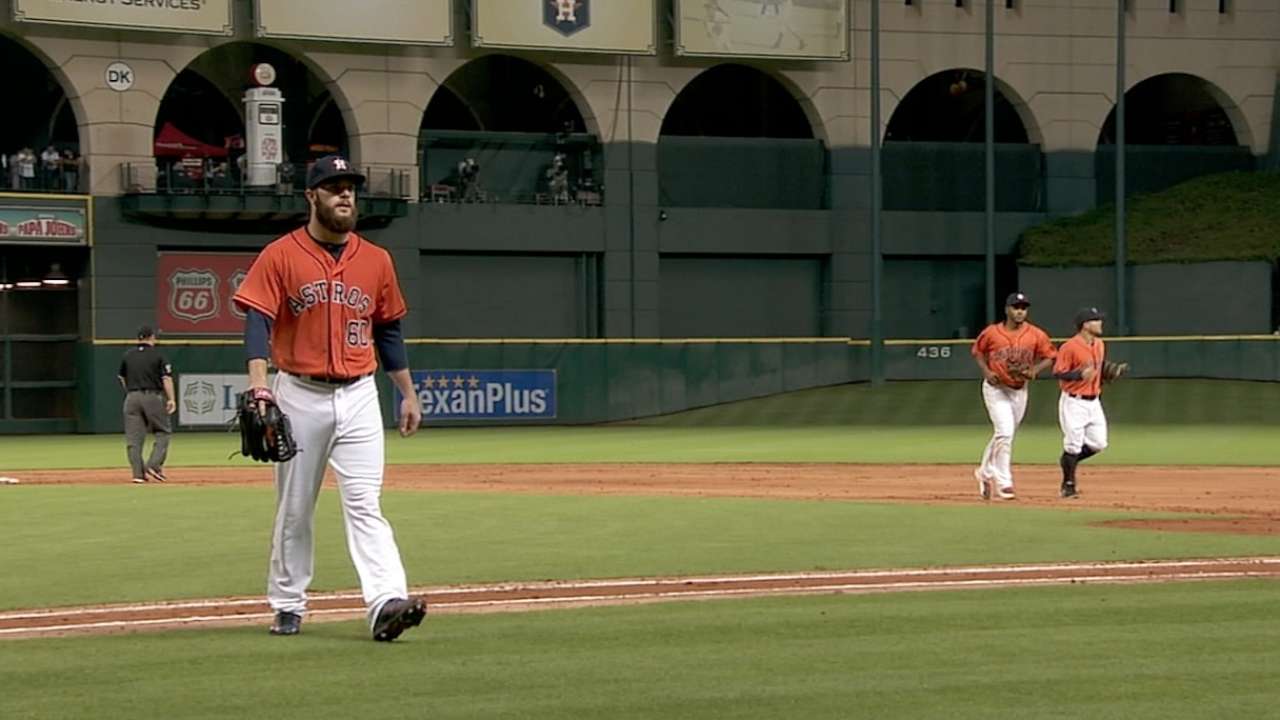 HOUSTON -- The bearded pitcher walked past the Astros' rookie in the clubhouse, offering a gesture by means of a fist pound and a few words.
The rookie made a costly error that kept Dallas Keuchel from a potential shutout Friday night. Still, Keuchel wanted to see how Enrique Hernandez was doing.
"You all right?" Keuchel asked.
"I told him I was sorry," Hernandez said. "I cost him the game."
The seventh-inning error from Hernandez interrupted a pitchers' duel and led to two unearned Marlins runs in the Astros' 2-0 loss Friday night at Minute Maid Park.
With one out in the inning, Jarrod Saltalamacchia smacked a drive directly to center field, and Hernandez -- who was playing in his sixth Major League game in center -- misjudged the ball, jumped to keep it from going over his head and couldn't make the catch.
"Should've read it a little bit longer," Hernandez said. "Should've made the play. It cost us the game."
Three batters later, Jeff Mathis broke up Keuchel's shutout with a two-out, two-run double to left-center field. Mathis had hit into a double play earlier in the game and was able to capitalize on the Astros' error.
"I was frustrated before. I had a chance to push a run across and wasn't able to do it," Mathis said. "I got another opportunity, and luckily I got it done."
Keuchel's shutout was gone and the pitcher blamed himself, even saying he needed to be better for his team. Yet the game's only two runs were unearned, as Keuchel appeared to return to his early-season form rather than his recent struggles.
"I think I've been pitching well, it's just the results haven't been there," Keuchel said. "You go through stretches like that as a pitcher. Even position guys do the same thing. The mental aspect of this game is tough, and like I said before, the tough survive, and I'm right there."
The results that Keuchel mentioned have shown a struggle. In his previous five starts, Keuchel had a 6.07 ERA and gave up 48 hits in 29 2/3 innings. His ERA was 2.39 before that stretch, and starts like the one he turned in Friday will inch that number back toward his mid-June mark.
The runs were limited from Keuchel, but the baserunners certainly weren't. Until the seventh inning, the Astros defense' frequently limited the damage from the Marlins nine' hits off Keuchel. In the fifth inning, with runners on first and third, the lefty forced a shallow flyout before inducing Mathis to hit into the double play.
Again in the sixth, Keuchel gave up a pair of leadoff singles before getting Giancarlo Stanton to fly out while breaking his bat. The Astros would again turn an inning-ending double play.
Then came that seventh inning as the 22-year-old Hernandez couldn't handle the ball knuckling at him in center field.
Houston's lineup, on the other hand, couldn't muster anything against Brad Hand, who pitched 7 1/3 innings and gave up just three hits.
"I felt like we had some pitches we could've hit," manager Bo Porter said. "We didn't put them in play efficiently."
Mike Vernon is an associate reporter for MLB.com. This story was not subject to the approval of Major League Baseball or its clubs.