Duda's two-run homer caps Mets' rally in ninth
New York comes back after Wheeler's stellar outing vs. Brewers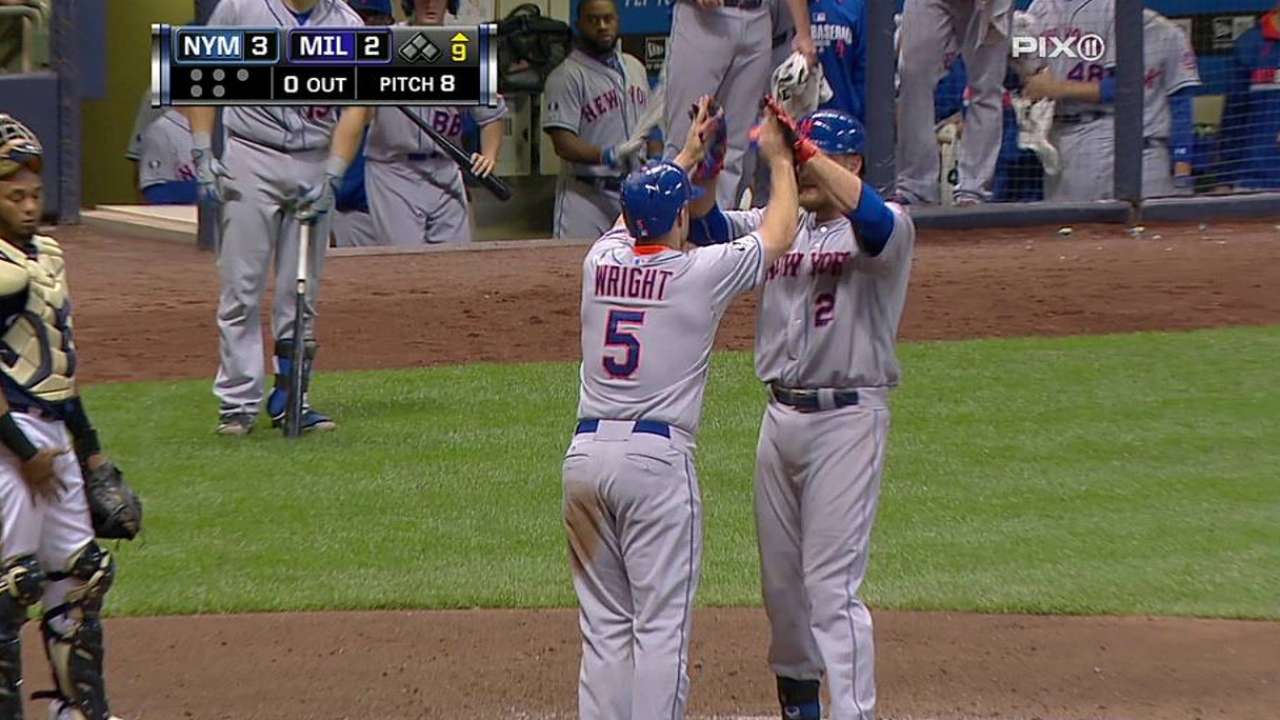 MILWAUKEE -- The Mets' four hits through the first eight innings of Friday's game were enough to double their total from the series-opening loss on Thursday night, but they weren't going to be enough to produce a different result. With Brewers closer Francisco Rodriguez coming in, New York looked headed for another loss, doomed by an offense that's been subdued since the All-Star break.
But the slumbering big bats in the Mets' lineup woke up just in time, producing four more hits in a ninth-inning rally that reversed the team's fortunes in a 3-2 win at Miller Park.
Daniel Murphy and David Wright plated the team's first run with back-to-back doubles, and a two-run go-ahead home run by cleanup hitter Lucas Duda pushed the Mets past the Brewers and salvaged a great outing from pitcher Zack Wheeler.
"Make no mistake: Those are our guys," said Mets manager Terry Collins. "We've got to get 'Grandy' going now, but those are our guys. They're our main guys. As we saw about two weeks ago, when they're hitting, we win. If we can get those three guys going, we get on base, we score runs, and we win games."
"They jumped me right away," Rodriguez said. "First-pitch double [by Murphy]. Wright put together a great at-bat. First-pitch homer and first-pitch base hit right up the middle. They came out swinging. Everything was up and out over the plate. Just bury it. There's nothing much I can do about it."
Murphy and Wright are the big names, but Duda's had the hot hand lately, batting .304/.448/.609 since the break. The home run was his second of the series and 17th of the season.
"I think I've been trying to be more aggressive on my pitch, and that's really it," Duda sad. "Just trying to get a pitch that I could handle. That's really it. There's nothing scientific behind it."
Uncharacteristically, the big blast came on the first pitch he saw, a 91-mph fastball from the former Met Rodriguez.
"He's been told and told and told, and one of the things we've talked about is you've got to apply it with confidence when you get in the batter's box," Collins said of Duda's aggression early in the at-bat. "He knows he's got to do it, he's talked about it in the past, he knows it. He's got a reputation for taking a first pitch. Tonight he got a ball and did what he's supposed to do with it."
The late heroics spared Wheeler from taking a tough loss. The righty pitched a fantastic game, lasting 6 2/3 and giving up two runs (one earned) on three hits. He struck out nine, had a one-hitter through six and didn't allow a ball to leave the infield until Carlos Gomez tagged him for a solo home run in the seventh inning.
"I feel for him tonight, because that was plus stuff against an outstanding lineup," Collins said. "You're looking at a guy that, until Gomez hit the home run, pretty much was a dominating performance by Zack. Great we came back and didn't get the loss, and he can go home saying, 'Hey, I did my job and gave my team a chance to win, which he did.'"
Since a two-inning, six-run debacle against Oakland on June 25, Wheeler has allowed one earned run in each of his last five starts.
"I think I just found a good rhythm," said Wheeler of this recent stretch. "I was able to repeat on the mechanics, and that's really the biggest thing for me is just repeating everything and being able to try to get ahead of guys earlier in the count and try to keep them away a little bit faster. I've been able to repeat my mechanics. If it's one or two pitches getting away, it's not my mechanics anymore. It's a matter of concentrating a little bit more, I think, and focusing in."
While Wheeler continued his hot streak, the Mets were encouraged by the re-emergence of their lineup cornerstones. Wright recorded two hits and Murphy went 3-for-4, atoning for the two errors he made, including one that set up the Brewers' first run of the night.
After the rally in the ninth, Jenrry Mejia recorded his 14th save to complete the win.
"We were sitting there in the eighth inning and talking about what a tough loss it would've been, because if not for a miscommunication in the first inning, [Wheeler's] pitching a no-hitter in the [seventh] inning," Collins said. "Just, amazing, great ninth inning. Of course, Murph gets it started. Huge win for us."
Caitlin Swieca is an associate reporter for MLB.com. Follow her on Twitter at @CaitlinSwieca. This story was not subject to the approval of Major League Baseball or its clubs.