Longo's big hit pushes Rays' streak to eight
Price K's 10 while holding Red Sox to three runs over eight innings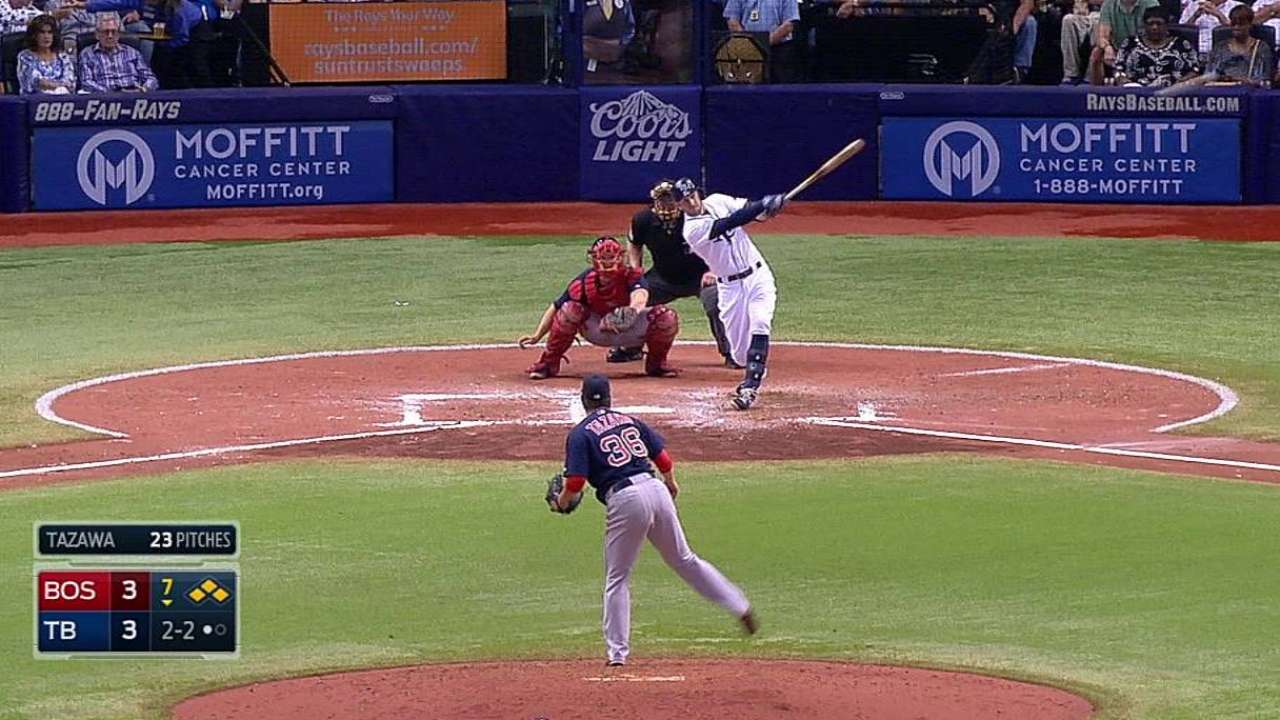 ST. PETERSBURG -- One pitch. Evan Longoria fought off Junichi Tazawa's strikeout pitch, then the slugger came through for the Rays.
Longoria's three-run double in the seventh paved the way for a 6-4 Rays win over the Red Sox on Friday night at Tropicana Field.
"It felt good [to come through]," Longoria said. "It's one of those things, it's definitely nice to be reminded every once in a while you can still hit in those situations. So for me it was good. But more importantly for the team, we're fighting to get back into this thing.
"That team over there, I know they don't believe they're out of it either, so we have to take these opportunities when we get them to try and separate ourselves a little bit from them."
The Rays have won eight in a row to move to 50-53 -- the first time they have been three games under .500 since they were 15-18 on May 6. At the end of play on June 10, the Rays had lost 14 of 15 games to drop to a season-high 18 games under .500 at 24-42. Since then they are 26-11.
Tampa Bay trailed 3-2 heading into the bottom of the seventh when Andrew Miller took over for Red Sox starter Jon Lester.
"I felt good with [leaving the game with the lead]," Lester said.
After hitting the leadoff batter, Jose Molina, Miller struck out Logan Forsythe before Tazawa took over and walked the first batter he faced, Desmond Jennings. Cole Figueroa pinch-ran for Molina, then scored on Ben Zobrist's opposite-field single to tie the game at 3.
Brandon Guyer walked to load the bases for Longoria, who fell behind 0-2 to Tazawa, a pitcher he had a history of struggles against. Heading into the at-bat, Longoria had never gotten a hit against the right-hander and he'd struck out three times in eight at-bats. Longoria described the situation in which he found himself as "battle mode."
"[Tazawa is] tough," Longoria said. "And he's been tough against me, so it was really just trying to get something I could handle, and he'd thrown a breaking ball earlier in the count that was way out of the zone. And I didn't think that he was going to come back to that."
Once Longoria fought to even the count, he barely got a piece of a 2-2 fastball to stay alive. The slugger then slapped a double down the left-field line that emptied the bases to give the Rays a 6-3 lead.
"I thought he would stay with the split or something hard away," Longoria said. "So, I just had my foot down early and it was a breaking ball across the middle of the plate."
David Price continued his excellence Friday night with six strikeouts through four innings, a stretch that included a seven-pitch fourth, but it also included Shane Victorino's second home run of the season, a solo shot that put the Red Sox up 1-0.
Meanwhile, Lester posted four scoreless frames before Jennings hit a 2-0 pitch into the left-field stands for a two-run homer, giving him nine for the season and the Rays a 2-1 lead.
Given the verbal battles between Price and David Ortiz that have gone on this season, the slugger received plenty of boos throughout the game. Ortiz fought back with an RBI single off Price in the sixth and Victorino added an RBI single in the inning to put the Red Sox up 3-2.
Price has won six consecutive starts, a career high, and has worked eight innings in eight of his last nine starts. But he preferred to talk about the offense.
"That was a great job by [the offense]," Price said. "Lester, the way he's been throwing the ball. You give up three runs you kind of expect to lose."
Clearly, something special is suddenly happening for the Rays, leaving the team cautiously optimistic.
"We've won some games and we've done some things that kind of remind us of what we're capable of," Longoria said. "But by no means are we where we want to be. We definitely have to continue to keep ourselves in this thing and keep reminding ourselves on a daily basis that we have a lot of work to do."
Rays manager Joe Maddon added about his team's winning streak: "A little bit of the swagger is back. Confidence is definitely on the rise. ... In the dugout, we get behind, no big deal, we can come back. It's a really good feeling. It's the exact opposite of what we had been a couple of weeks ago. Really proud of the guys."
Bill Chastain is a reporter for MLB.com. This story was not subject to the approval of Major League Baseball or its clubs.