Puig triples thrice as Dodgers rout Giants
Slugger has 11 total bases; Greinke fans 10 for 12th win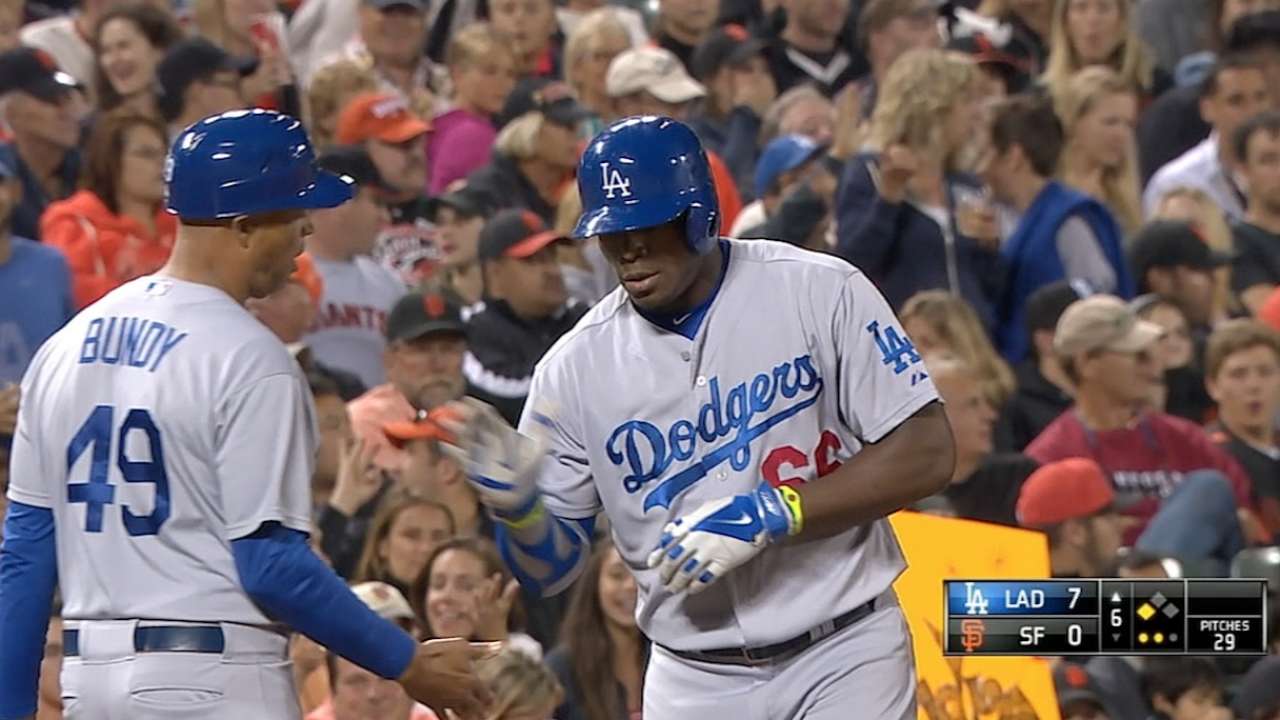 SAN FRANCISCO -- All-Star Yasiel Puig was a triples-hitting record-setter on Friday night.
Puig unleashed three of the Dodgers' five triples, plus a double, while Zack Greinke struck out 10 in seven scoreless innings of an 8-1 win over the Giants in their showdown series opener, cutting San Francisco's lead in the National League West to one-half game.
Puig started in center field for the first time this year as he and Hanley Ramirez returned after missing all three starts in Pittsburgh with hand injuries. Ramirez added a pair of hits as the bolstered lineup chased Tim Lincecum during a three-triple, five-run fifth inning.
Puig's three triples set a Los Angeles single-game record and matched Jimmy Sheckard's franchise record, set Opening Day in 1901. He was the first in the Major Leagues since Denard Span with Minnesota in 2010 and the first in the National League since Rafael Furcal in 2002. Puig's four extra-base hits and 11 total bases were career highs, the total bases were the most for a Dodger since Kevin Elster had 12 in 2000.
"I saw I'm the second guy in franchise history, and it's important, but it's way better to win the playoffs and win the World Series," Puig said when asked about the three triples.
The Dodgers' five triples matched a franchise record previously achieved in 1902 and 1921 and gave them a league-leading 31.
Dee Gordon and Matt Kemp had three hits each and joined Puig with triples in the fifth inning, which started with a single from Greinke, the first of five consecutive hits. Adrian Gonzalez drove in a pair of runs, as did Kemp and Puig.
"That was crazy. Never seen anything like that," Kemp said of Puig's triple-triple, two three-baggers finding the deepest part of right-center at AT&T Park. "One of those games where everybody hit the ball hard."
Afterward, Puig sounded just as pleased with his new defensive role as his offensive exploits. He caught the only two balls hit his way, one in each of the last two innings.
"I like it [center field] a little better because there's more room to run," he said. "In right field, it's a little spot."
Puig's first triple came two batters into the game, and it required a crew chief review to ensure that it wasn't a home run.
Puig hit a ball to the wall in left-center, did a bat flip and watched for a few steps, before starting to run. It looked as though it may have hit a fan in a Puig jersey in the first row, after clearing the wall, before it bounced back into play, but the triple call on the field would stand.
Second-base umpire Alfredo Marquez had ruled fan interference as Puig slid smoothly into third base, so Giants manager Bruce Bochy came out to argue that Puig should be sent back to second base. But he stayed at third and was singled home by Gonzalez for a 1-0 lead.
Bochy was asked to talk about the performance by Puig, who is now 8-for-13 against Lincecum.
"I don't really want to; he had a good night," Bochy said with a smile. "I'll say that. We made some mistakes and good hitters take advantage of it."
Greinke took a no-hitter into the fourth inning, thanks in part to a four-strikeout third inning prolonged by a wild pitch. It was the fifth time a Los Angeles Dodgers pitcher had a four-strikeout inning. He improved to 12-6, in a four-way tie for the NL wins lead. Clayton Kershaw (11-2) will try to join the group on Saturday.
Ken Gurnick is a reporter for MLB.com. This story was not subject to the approval of Major League Baseball or its clubs.