Bullpen can't finish job after Lester exits vs. Rays
Tampa Bay scores four runs in the seventh to pull ahead for good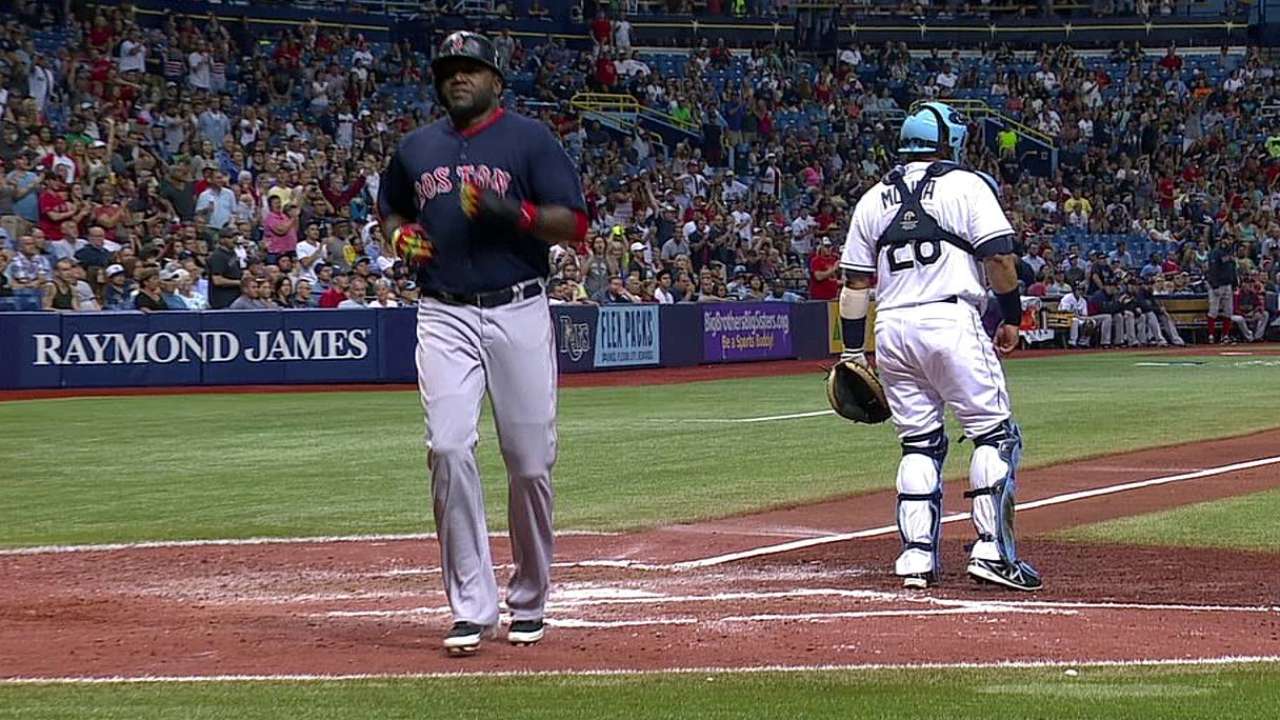 ST. PETERSBURG -- For most of his time as a setup man for the Red Sox, Junichi Tazawa has been a picture of dependability, backed by his ability to pound the strike zone.
But the righty picked an inopportune to have an off night on Friday at Tropicana Field, and the reeling Red Sox paid the price with a 6-4 loss to the Rays in the opener of a three-game series.
After providing some hope by reeling off eight wins in nine games, Boston has lost four in a row and is risking the possibility of falling out of any kind of realistic contention before Thursday's July 31 non-waiver Trade Deadline.
"It's crazy," said designated hitter David Ortiz. "Hopefully it gets better."
Tazawa has clearly had better nights than this one.
"Uncharacteristic with him misfiring as much as he did," said manager John Farrell. "It was just off the edge on a number of pitches. It's not typical that you see him walk a couple of guys in a given inning."
Ace lefty Jon Lester gave the Red Sox what they've come to expect, holding the Rays to two runs while walking one and striking out seven over six innings. He left with a 3-2 lead against David Price in a compelling duel.
Andrew Miller hit Jose Molina to open the seventh inning. After Miller struck out Logan Forsythe, he was removed in favor of Tazawa.
But Tazawa didn't have it. He walked Desmond Jennings and then gave up a line single to Ben Zobrist that Jonny Gomes bobbled, allowing pinch-runner Cole Figueroa to score from second.
Up stepped Longoria, who hammered a 2-2 curveball into the corner in left for a three-run double that put the Rays back in front at 6-3.
"Battle mode," Longoria said of the at-bat. "He's tough. And he's been tough against me, so it was really just trying to get something I could handle, and he'd thrown a breaking ball earlier in the count that was way out of the zone. And I didn't think that he was going to come back to that. I thought he would stay with the split or something hard away. So, I just had my foot down early and it was a breaking ball across the middle of the plate."
Heading into that at-bat, Longoria was 0-for-8 with three strikeouts against Tazawa.
"He's certainly a good hitter," said Tazawa. "He hit my curveball that I don't use that often. He sort of scooped it. I probably should have located that a little lower, but he's certainly a very good hitter."
Tazawa, who has struggled mightily throughout his career against the Blue Jays, did not pitch in Boston's four-game series in Toronto that preceded the trip to Tropicana Field.
"He threw on the side up in Toronto, we gave him a couple of days down, not because of any health reasons, just felt like it was a chance to give him some added rest in this series, and like I said, between he and Andrew, a very uncharacteristic seventh inning," said Farrell.
It was another tough loss for the Red Sox, particularly when you consider that they battled Price well enough to have the lead through six.
"I felt good," said Lester. "We made David work pretty hard, but he was able to get a lot more early count outs than I was tonight. That's why he was able to go a couple more innings. But we did a good job battling, putting some swings on some balls. To leave up 3-2 against David Price is a good feeling. But they were able to put some good at-bats there against Andrew and Taz. Unfortunately we were on the bad side."
Shane Victorino gave the Red Sox an early lead when he lined a solo homer over the wall in left against Price.
Lester was in fine form early, keeping the 1-0 edge through four.
In the fifth, James Loney got something started for the Rays with a leadoff single to left. With two outs, Jennings hammered a two-run homer to left-center and the Rays suddenly had a 2-1 lead.
The bad news for the Red Sox was that Lester had to throw 35 pitches in the frame.
But the Red Sox bounced right back in the sixth. Dustin Pedroia ripped a one-out double into the gap in left-center for his first extra-base hit since July 11. Ortiz came through with an RBI single to right-center to tie it. And after a two-out single by Gomes kept the rally alive, Victorino lashed an RBI single up the middle to put Boston back in front at 3-2.
Unfortunately for the Red Sox, the momentum swings weren't finished.
"Time is running short," said Lester. "We all know what's coming next week. Like I said, we can only do one thing, that's take one game at a time, show up tomorrow and try to win tomorrow. That's all we can control."
Ian Browne is a reporter for MLB.com. Read his blog, Brownie Points, and follow him on Twitter @IanMBrowne. This story was not subject to the approval of Major League Baseball or its clubs.