Phillies ride early surge to win over D-backs
Sizemore, Brown lead way with bats; De Fratus escapes key jam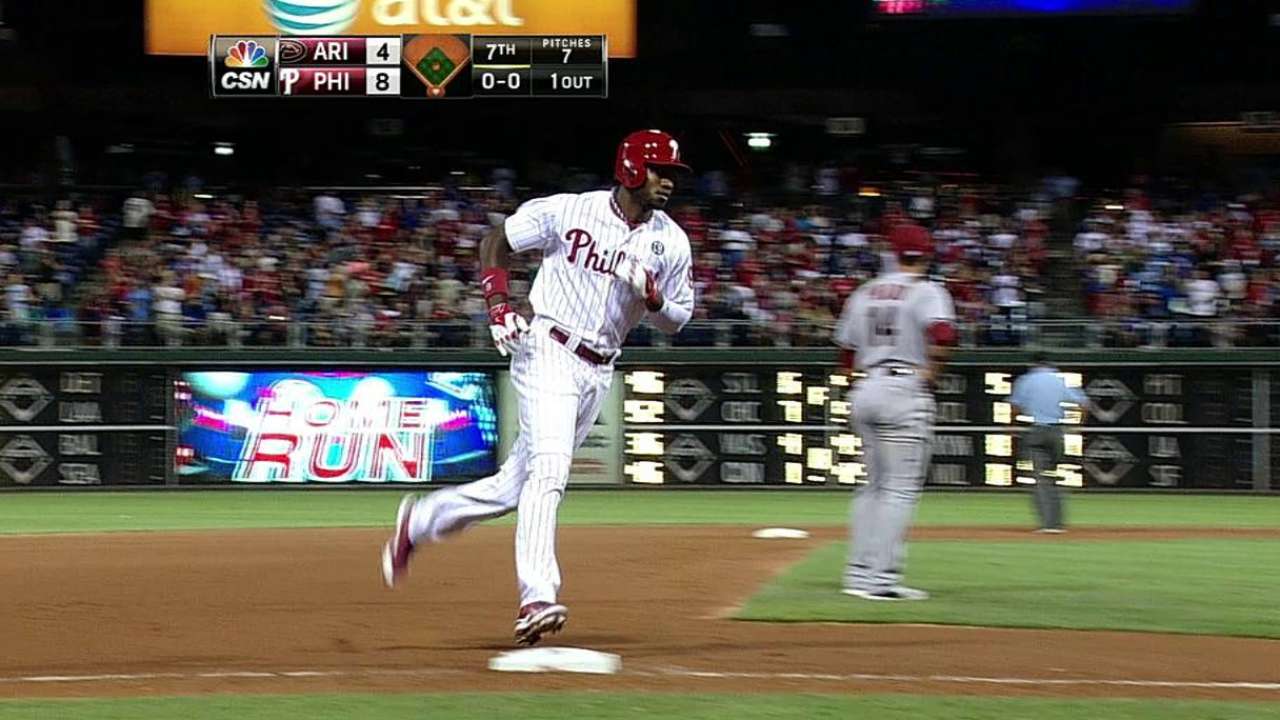 PHILADELPHIA -- Uncertainty has led to opportunity in the Phillies' lineup.
The outfield is a revolving door. First base has become a day-to-day thing. So for those getting playing time, there's no better time to take advantage than right now.
Grady Sizemore, Domonic Brown and Darin Ruf did just that on Friday night, combining to go 6-for-11 with a homer, four doubles and five RBIs to lead the Phillies to a 9-5 victory over the D-backs at Citizens Bank Park.
The Phillies had averaged just three runs per game over their last nine. That stat wouldn't surprise starter Kyle Kendrick, whose 3.81 runs of support per game ranked among the bottom 20 in the league entering Friday. But the right-hander was given the unfamiliar advantage of pitching with a lead.
Wade Miley came into Philadelphia red-hot, with a 1.88 ERA and three wins over his last four starts. But a slew of singles and walks led to two runs off Miley in the first inning, and the Phillies were just getting started.
"I actually felt all right, but I just couldn't command the ball. I had no feel for the fastball at all, and the breaking ball was not very good, either," Miley said. "I walked three guys in the first inning and right then it puts everyone on their heels, and it's just tough to come back from that."
Sizemore, who collected his 1,000th career hit in his first at-bat, doubled with one out in the second and was brought home on a Chase Utley single to make it 3-0.
Sizemore finished 3-for-5 with two runs and a stolen base, and is now batting .400 (12-for-30) in seven games as the leadoff hitter since joining the Phillies.
"I feel good no matter where I'm at. I just want to be in the lineup, honestly," Sizemore said. "I feel like the more I play, the stronger I get."
It's still too early to compare the acquisition of Sizemore to catching lightning in a bottle, but for now, the 31-year-old outfielder -- who has reached base in nine of his 11 games played (.386 on-base percentage) -- has proven he's comfortable playing in Philly.
"I feel these guys have been very welcoming. Making me feel just like I'm at home," Sizemore said. "I feel like I've just kind of come in and just been able to play my game and go out and work hard."
In the third, Darin Ruf and Cody Asche each collected RBIs to extend Philadelphia's lead to 5-0.
Ruf, who has gotten playing time at the expense of Ryan Howard, drew a walk and hit the ball hard in two of his other three plate appearances -- a double and a 395-foot sacrifice fly -- in what was his best-looking game since returning to the Majors on July 22.
"Ruf crushed that ball to center field. I was surprised that didn't get out," Phillies manager Ryne Sandberg said. "Made some good defensive plays at first. He swung the bat aggressively. He had some good at-bats."
The Phillies carried a comforable 6-0 lead into the sixth, but reliever Antonio Bastardo made things interesting, allowing a pinch-hit grand slam with two outs before returning in the seventh only to surrender consecutive singles to the first two batters he faced.
However, for as shaky as Bastardo was in his relief appearance, Justin De Fratus had everything working following Bastardo. The right-hander got Aaron Hill swinging for the first out before battling Paul Goldschmidt for 12 pitches. Goldschmidt ultimately drew a walk, but the Phillies could live with that outcome against one of the league's best hitters.
"That was the whole goal there. I wasn't going to let Paul Goldschmidt beat me -- or beat us -- tonight," De Fratus said.
With the bases loaded, De Fratus struck out the next two batters to strand both inherited runners and preserve the Phils' 6-4 lead.
"Antonio's picked me up a few times this year, and so to get out there and pick him up is huge," De Fratus said. "A 'thank you' almost."
In the seventh, Brown padded the advantage with a laser two-run homer to right field.
Through nearly two-thirds of the season, Brown's .231 batting average and seven home runs have been a disappointment a year after an All-Star campaign. While he's still not operating like the player he was during the first half of 2013, in the past month, Brown has shown improvement. Since June 28, his average and OPS have increased 14 and 37 points, respectively.
"He looks a little more free up there, a little more level swing, more relaxed," Sandberg said.
For all of his inconsistency at the plate, Brown is still batting .322 with runners in scoring position and ranks fourth on the team in RBIs with 49. Those kind of numbers will keep granting him opportunities in the lineup to prove last year wasn't an aberration.
"There's a lot of time left in the season," Sandberg said. "It might be right on time for him to have nights like this and to put together some at-bats and to get hot. Now's a good time to do that."
Erik Bacharach is an associate reporter for MLB.com. This story was not subject to the approval of Major League Baseball or its clubs.